Alan Yamamoto: No regrets
Instructor Bob Myers turns off his desk light and walks toward the door. After a long day of teaching and Science Olympiad practice, he's ready to head home. Alan Yamamoto, a student at the time, stays. 
   Myers approaches Yamamoto to ask if he has a ride. To help him contact his parents, Myers hands him his desk phone. With one hand, Yamamoto holds an all Japanese character phone. In the other, Yamamoto holds the desk phone. He proceeds to have two different conversations–one in Japanese to his father, the other in Spanish to his mother.
   Before Myers could ask, Yamamoto flawlessly changes back to English to update Myers on his ride situation. Myers was impressed, but not surprised. In all his years of teaching, Myers had never met someone like Yamamoto–and for good reason. He was destined for success.
   At a young age, Yamamoto never really fit in. As a son of Japanese and Latino parents, Yamamoto's childhood was far different from his peers. "My parents are both immigrants, and we always traveled all over during our vacations. Back then, I wished I could just stay home to
play with friends or go to camp, but looking back I'm grateful because travel really does open our eyes to the greater world," Yamamoto said. 
   In school, Yamamoto found interests in engineering and science. "I think it helped me find my best path in finding friends who really appreciated me for who I am and finding clubs that didn't care how you looked where I could just do what I liked to do," Yamamoto said. 
   During his years at WO, Yamamoto participated in the jazz band, JV tennis, and Science Olympiad. By taking shop classes as well, he believes WO helped him become a more rounded person overall. "I work hard as an engineer, but I still play music and am still athletic. Overwhelmingly, I am grateful to all the staff who helped me along the way," Yamamoto said. 
   Growing up, Yamamoto's parents stressed the importance of education. Combined with influential teachers and clubs, engineering became a clear path. Science Olympiad became an integral part of his high school years. "From the teachers to my teammates, everyone was so encouraging and the projects were engaging and fun. It really fed my appetite for fun facts and hobbies," Yamamoto said.
   Myers, a long-time science teacher and Science Olympiad coach, witnessed Yamamoto's journey first hand. "Alan was one of the smartest students I ever had. Even as a middle schooler, he came over to the high school to work with the Science Olympiad team. He was one of the kids that made our state championship possible and allowed us to attend the national S.O. tournament for three years in a row," Myers said. 
   Yamamoto was a kind and humble member of the team, always ready for whatever concept might be thrown at him. All of his hard work and commitment solidified his path to success.
   Instructor Cherylyn Weyhmiller described Yamamoto as a hardworking, driven student. In Science Olympiad, Yamamoto competed in both building and academic events. 
   "In WOSO, he could build devices and then put in the time to collect data to be able to predict how that device would behave in various situations. A lot of kids like the building part of WOSO, but won't take the time to collect data to fine-tune the device," Weyhmiller said. 
   At the 2006 state tournament, Yamamoto placed third in food science, first in practical problems, and fourth in rocks and minerals. His successes helped the team reach nationals. Myers recalls those years fondly, "Oh the days."
   In order to study in France for his senior year, he graduated from WO early. In addition to growing up speaking English, Japanese, and Spanish, he became fluent in French as well. 
   After Yamamoto came back from France, he enrolled at Cornell University to study mechanical engineering. He was about to land his first job as an engineer. However, his plan fell through in the best way possible. 
   "I landed a job at SpaceX because the job I had lined up coming out of college evaporated. I think it was a week before graduation when they told me they couldn't hire me. Sucks! Lucky for me, SpaceX called me back within a couple days of sending my resume," Yamamoto said. His story goes to show how the biggest setbacks sometimes provide the greatest opportunities. Yamamoto's hard work finally paid off–his success evermore prominent. 
   After landing a job at SpaceX, he soon found out how difficult the work was. The stakes are high and the deadlines are tight. One mistake can lead to a failed mission. 
   During his years at SpaceX, Yamamoto learned to work under stressful and intense situations. "I learned a lot while I was there. Not just technically, but about organizations, motivation and teamwork; and about success and failure. Many people compare the time there to getting a graduate degree. I wouldn't know, but I'll take it," Yamamoto said. 
   When a mission fails, Yamamoto describes how hard it can be. After a failed launch for both the CRS-7 capsule and AMOS-6 satellite, the team atmosphere was grim. "Everyone was determined to help the company get back on track, but failure just sucks," he said. 
   Despite the failures, the team succeeded on several missions. Yamamoto could finally see his hard work and dedication pay off. 
   "Ultimately, it was an amazing place to start my career. And being there during some of the big breakthroughs was a great experience. It's hard to forget that feeling of watching your hard work launch into orbit," Yamamoto said. 
    Now, Yamamoto sees success differently. After his time at SpaceX, Yamamoto decided to test his own luck. Using the skills he learned from SpaceX, Yamamoto is currently a lead engineer for an upcoming stealth startup in California. Most of his days are spent helping build and test equipment in the lab.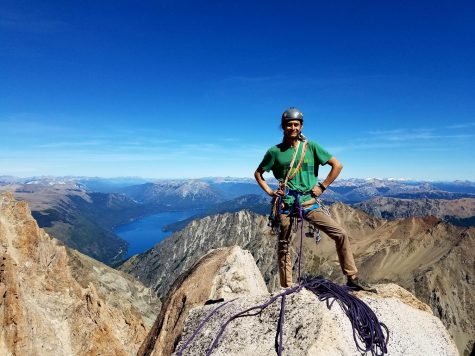 Now, Yamamoto is switching gears. Since moving to LA in 2012, Yamamoto and his wife have decided to climb some radical routes all over the world. He also loves snowboarding, mountain biking, and playing his guitar. Although he is using more time to explore the world, his engineering mindset never leaves, "I'm also building out a van right now, using all of those skills mentioned above to make an adventure machine," Yamamoto said.
   Now, Yamamoto is redefining the definition of success. After joining the upcoming startup, he hopes to spend more time on adventures. "My hope for the future is to continually find ways to trade work time for adventure time. A few years ago now my partner and I took a year off to climb around the world, so maybe doing something like that again would be awesome. No regrets," Yamamoto said.
   After years of hard work, Yamamoto is blazing his own path to success.