"I applied and the rest is history"
   West Ottawa Alumni Shelby Lacy always knew she was talented. Being a state-champion swimmer and successful student at WOHS ('11), peers and teachers thought that Lacy had it all figured out. However, at Michigan State, her "Major Declaration Form" remained blank. What major? What career path? Lacy had no idea.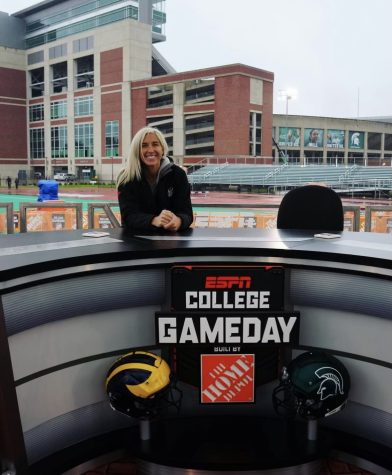 In both her freshman and sophomore years, Lacy was content in completing her prerequisites. There was no need to declare a major. She spent hours each day in the pool and weight room. Add studying in with a few social activities here and there and her schedule was full. But in her head, Lacy knew. She knew there was life after swimming. Life after college.
   The time came for the student-athlete to sit down with her academic advisor at the end of sophomore year. Still unsure of what the next year looked like, Lacy mentioned a hobby she had picked up, "I would make fun videos and there wasn't any rhyme or reason to it, I just enjoyed it." 
   With help from her academic advisor, she declared Media and Information as her major with a focus in TV, Cinema, and Radio. She participated in a Big Ten Network Student Program, "That was where my passion for sports broadcasting was born," Lacy said. She didn't know where she would end up, but she was doing what she loved.
   College graduation came in 2015, and it was time for Lacy to find a job. A short search on LinkedIn for entry-level positions involving video production led the new graduate to a position at ESPN. She applied, interviewed, and got the job. "I applied and the rest is history," Lacy said.
   A Big Ten Athlete working at ESPN, producing shows about athletes, collegiate and professional. It seems almost full circle. 
   A recent tweet from Lacy said, "On my way into the office for Selection Sunday and I pass by the Holiday Inn Express that 22-year old me stayed in when interviewing with ESPN. Can't help but laugh a little and remember that I said I would 'give it a year.'" Now, the Associate Producer has worked at ESPN for almost seven years and is continuing to work her way up.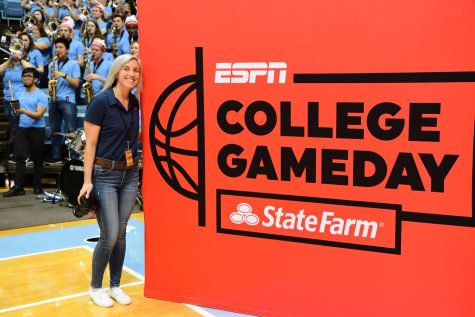 Lacy's professional career is filled with opportunities to learn and continue increasing her skills. Her years in athletics gave Lacy a competitive nature and desire to constantly improve. "I don't sit still very well and I don't like to feel like I'm stagnant. I like to keep going. I want a goal. I don't like feeling like I'm at the ceiling," Lacy said.
   Lacy's goal is to work behind the scenes on linear television shows (what can be found on TV channels) in the future, producing the segments watched by millions each day. It takes years of experience and hard work to get to the position, but Lacy is no stranger to hard work. The current job she has is preparing her for that next step.
   At first thought of ESPN, many picture cheery hosts on Saturday mornings. What the 140 million viewers do not see is the work required to produce these shows. In addition, it takes many years to be on "linear television." Lacy knows firsthand the effort required to produce the shows so many love. 
   Lacy's latest assignment is a Digital Video Associate Producer on "Countdown to Gameday." The show is exclusively for digital platforms and the content is closely connected with what will air on television that morning. Lacy's show, "Gives fans and the younger generation a taste of what is going to be on TV or maybe even get them to turn on their television."
   Throughout the week, Lacy and her team discuss the content their show on Saturday will include. NCAA
Basketball is at full force right now and her team works diligently to produce an engaging segment. "You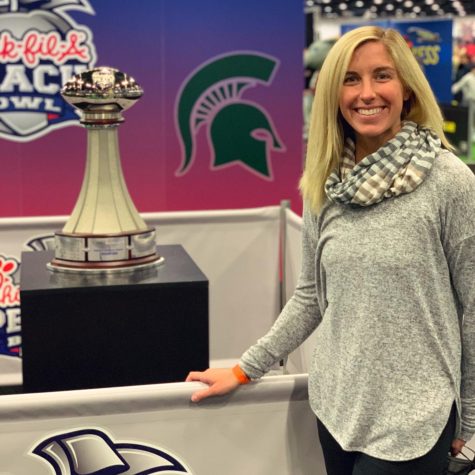 don't want to just turn on the TV and see a host talking about Tennessee and Arkansas playing each other. No, you want to see some highlights of the games they played, graphics, and stats of the last time this team met. It's the added elements that cannot be made on Saturday morning. We have to do that throughout the week."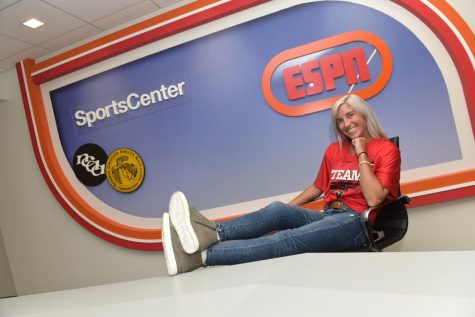 Each day brings an exciting challenge or event including National Championships, Bowl Games, and Selection Sunday. It took her longer than expected to find her true passion, but the journey has brought Lacy to Connecticut. To ESPN. Who knows what's next?