A COVID-Free Paradise
Stepping into the crowded room, the foggy haze creeps through the door frame and the flashing lights blind anyone who walks in. The sound of music is deafening. Hundreds of people are scattered around, dancing, drinking, and enjoying each other's company. For a moment, one could mistake this scene as a typical Saturday night in 2019, pre-COVID pandemic. But for West Ottawa alumni Sally and Greta Davis this is present-day in their current home of New Zealand. 
While much of the world is still grappling with the pandemic, New Zealanders are out and about, shopping, hugging, shaking hands, and partying. New Zealand is one of the only countries to be in a "phase one" lockdown, meaning no limit on people in cafes, malls, stadiums, nightclubs, etc. Life, for the most part, is back to normal. 
However, obtaining normalcy was not all that easy. A flip was not just switched, turning "off" COVID. New Zealand's government and health department took extreme measures since March 2020 to get to where they are now. 
Sally has been in New Zealand since February of 2017 and was there when the pandemic hit. 
"The government has been extremely involved the entire time. As it started getting worse in other areas of the world, they were already making announcements and discussing the precautions they were going to take before it had even reached NZ. Once the first cases hit, and it was known how contagious it was, the whole country was in full lockdown for about two months," Sally said.
The New Zealand lockdown looked a lot different than in the United States. The lockdown was strict and regulated. Fees were issued to people leaving their house for non-essential reasons. The only reason anyone was allowed to leave their house was to go grocery shopping. 
During the two-month lockdown, the citizens had a positive attitude and complied with the restrictions leading to New Zealand's success in limiting cases.  
"The government would make announcements twice a week with updates on the COVID cases and updates on the plan going forward. That is something I have been amazed by, is how much communication there has been between the government leaders and the people," Sally said.
Today, New Zealand has little to no active cases. However, there is still a pandemic raging beyond their shores, so the government continues to take precautions to prevent another outbreak. As New Zealanders go out into the public, they scan QR codes to track their movements. The app ensures that if anyone tested positive for the virus, essential workers could be notified and quarantined.
Due to these stringent measures, life in New Zealand is comparable to COVID-free life. New Zealand sits at a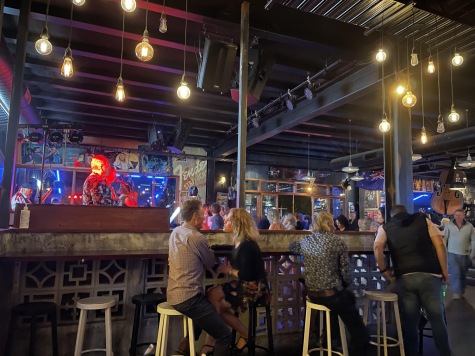 population of about 5 million people and is one of the only nations to have eradicated the virus from its borders. Offices are open again, and public buses and trains are packed with domestic commuters. While sanitizing stations and masks are recommended, their use is not mandatory. New Zealand will also be one of the first countries to allow people to watch professional sports at a stadium without a limit on spectators. Under the new rules, social distancing is not required and there are no restrictions on public gatherings, but borders remain closed to foreigners. 
Greta, a US citizen with dual-citizenship in New Zealand, was a senior at (WO) during the start of the pandemic. In the fall of 2020, she enrolled at the University of Michigan. After Greta found out that the University of Michigan would require its students to be online in the second semester, she decided another semester of online school was not for her. 
"I was born in New Zealand and have citizenship here, so I began to look into moving to New Zealand. New Zealand is a Covid-free paradise so it means I don't have to wear a mask, no social distancing, we can go to concerts and big events, in-person classes, all that stuff. My sister also lives in the town I am in so it was exciting to be living near her again," Greta said.
Compared to Michigan, school life looks drastically different for Greta. Greta is now enrolled in the University of Canterbury, where she is taking in-person classes and is no longer cooped up in her dorm room. For now, she plans to only stay in New Zealand for one semester. If the COVID situation continues, she may find herself staying in New Zealand for longer. 
When Greta arrived in New Zealand precautions were taken immediately. She was quarantined for two weeks in a hotel starting the minute she got off the plane. Greta shares her experience in quarantine as feeling more like a prison rather than a hotel. Army guards were guarding the building, there were daily symptom checks, and there were COVID testing requirements. Yet, the two weeks of precautions were worth it. Greta is now living in a completely different world. 
"The first time I was in a grocery store was really weird. No one had masks on, everyone was bustling past each other. There were lines close together. I just remember thinking how crazy it was! Honestly, I was a bit stressed about so many people in one place," Greta said.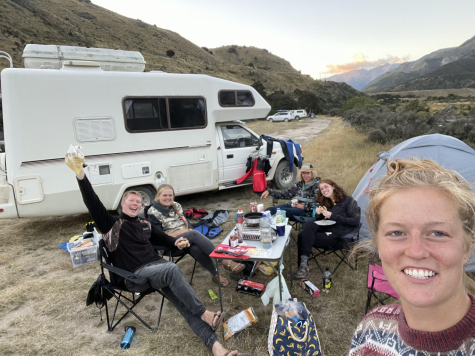 Since Greta left quarantine, she has been spending her time enjoying the nature of picture-perfect New Zealand.  From hiking to camping, she can't get enough of the breathtaking sights. She plans on continuing to explore during her school breaks.
Greta and Sally are experiencing something that seems unattainable for the rest of us. No masks. No restrictions. Life is back to normal. New Zealand truly is a COVID-free paradise.