A Hoosier for life
Standing at 6'8", Jamesohn Bader loomed over the window, peering into Cook Hall. He knocked against the glass, praying that someone would see him and let him into the facility. After five minutes of waiting, a shadowy figure came into view. Bader smiled as he recognized the figure approaching the window.
  This was his chance, this was the first step towards his dream. 
   In high school, Bader was involved in many activities: soccer, lacrosse, baseball, senior survivor, PALS, and Deca. He also participated in JV basketball his freshman and sophomore years.
   Bader's JV basketball coach, Steve Eidson said Bader stood out both with his knowledge of the game and his size. 
   "He had a love and knowledge of the game that was not matched by others. As a basketball player Jamesohn was a force to be reckoned with. For a big man he could move," Eidson said.
   Going into his junior year, Bader decided to try out for the varsity basketball team. Sadly, he did not make the team and turned to a local church team, Anchor. 
   For Bader, Anchor was a great opportunity to play without the competitive pressure of the high school basketball team. "At Anchor, it was more about having a good time, balling with some guys, and staying in good shape," Bader said. 
   Despite the casual environment, Bader still gave his all in practices and games. His former teammate, Sam Strobel, remembers Bader as a caring, energetic and ambitious player. 
   "Jamesohn quite literally didn't know how to 'take it easy' or 'go at 50% speed.' He couldn't help but try as hard as humanly possible for every rebound and drill," Strobel said. 
   Bader took the intensity he displayed in basketball and applied it to the soccer field as well. His passion for soccer and his work ethic allowed him to play all the way up through varsity. "My true love was soccer, I loved to play soccer," Bader said. 
   Bader's ambition and love for sports carried him to Indiana University (IU) where he studied Sport Management and Marketing.
   "I wanted to work in sports; that was something I had as a goal for a very long time and they have a really good program at IU," Bader said. 
   At first, Bader struggled with his new life at IU. Bader's former math instructor, Kevin Klassen remembers Bader's first few months transitioning into college. 
   "Freshman year was rough for him, especially the first semester," said Klassen. "He was disappointed I think because he really wanted to go to Michigan and then didn't get in."
   Klassen explained that within a few weeks of moving into IU, Bader had already looked into transferring to the University of Michigan to be closer to home. "He hated it, he didn't like being away from friends and family," Klassen said.
   Another one of Bader's former math instructors, Laurel Soto also remembers Bader's initial struggle at IU. "I think he felt like he never really made connections at IU right away," Soto said. 
   As his first semester rolled into Christmas break, Bader returned to Michigan. He had packed up all his stuff with the intent to never go back to IU. "I just felt so lost," Bader said.
   Despite his determination to stay in Michigan, Bader returned to Indiana for the second semester. This time, Bader sought out opportunities that would further him in his future career.
   During his second semester, Bader emailed around looking for summer internship opportunities. Eventually, he got in contact with Jon Phelps, the general manager of the Grand Rapids Gold (formerly the Grand Rapids Drive).
   After emailing back and forth, Phelps agreed to let Bader job shadow him during spring break. "He told me 'if you want to work in basketball, go back to IU and become a manager, and don't take no for an answer,"' Bader said.
   Bader took Phelps' words to heart and returned to IU with a new focus: become a basketball manager. He began to contact people who were involved in IU's basketball program to express his interest in getting involved. 
   However, the responses he received weren't all too promising. "They were like 'ok we will mark you down and talk to you about it sometime next year,"' Bader said. He was not deterred by the responses though, and instead looked for other ways to stand out. 
   During his time at West Ottawa, Bader was part of YoungLife, a religious program that centers around teaching kids about Christianity and impacting the community. When Bader graduated and moved to IU, he found himself getting involved in YoungLife once again as a college leader.
   As a leader, he was involved in many community service projects and one, in particular, opened the door to a crucial opportunity for Bader to stand out in the IU basketball program.
   "Through that (YoungLife), we had helped someone move. Well the person we helped move was the assistant basketball coach (Ed Schilling) at IU," Bader said. However, after the move, Bader had no way to contact Schilling. 
   So, one day during the summer after his freshman year, he had an idea."I grew up going to Michigan basketball camps and I knew that they would run camps in the summer and the entire staff would be there," Bader said.
   That day, Bader decided to drive down to Indiana to introduce himself to the staff at IU's basketball camp. "I wanted to do this because I knew that a bunch of people probably wanted this job and … I wouldn't just be another name," Bader said. 
   Five hours later he arrived at Cook Hall, the practice facility where the camp was being held. "I am knocking on the window of Cook Hall and as I was knocking on the window, the assistant coach that I helped move walked by," Bader said.
   Schilling immediately recognized Bader and let him into the facility. After Bader explained his goal of becoming a manager, the assistant coach took him and introduced him to Ben Sander, the current Director of Basketball Operations.
   After their conversation, Sander told Bader to stay in touch and to look out for interviews in the fall. When Bader returned for his sophomore year, he attended a call-out meeting for the position. 
   However, when he showed up he was shocked when he saw around eighty students applying for the four manager positions. "Basketball is different in Indiana, especially at IU. The kids that go there worship IU basketball. So I knew it was going to be an uphill battle," Bader said.
   After three interviews and a week of waiting, Bader got good news: he was hired.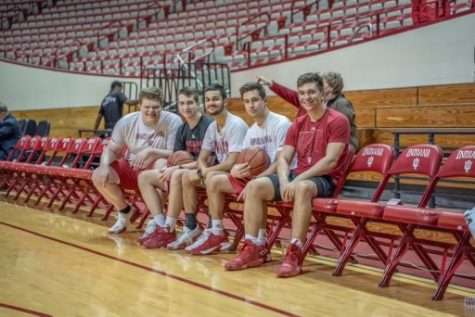 During his first few weeks, Bader realized the major time commitment the job required. "It was at least 35-40 hours a week, every week, during the season on top of going to school full time," Bader said. 
   Bader took the time commitment in great strides, determined to do his best in the position. "Being a manager at IU, I pretty much did everything," Bader said. 
   He explained one responsibility he had was practicing with the team as a practice player. "I would literally do post drills with guys who are now in the NBA," Bader said.
   As a manager, in addition to being hands-on with the players, Bader also had additional responsibilities. During his first year as manager, Bader was in charge of hosting and aiding the visiting team on days with home games. He also scouted other teams and cut film for the coaches on non-game days. 
   Because of his position in IU's program, Bader had many memorable moments with famous people. One of his favorite moments was when Bob Knight came back to IU.
   Bob Knight is one of IU's former basketball coaches and left due to the scandal surrounding his coaching methods. Despite the scandal, IU fans continued to support Knight. But, for the 20 years following his termination, Knight never came back to IU.
   "He had never gone on campus, he had never gone to any games, like anything. Then he ended up coming back for the Purdue game and it was incredibly memorable," Bader said. 
   In addition to Knight, Bader has also had the opportunity to meet Mark Cuban, Dick Vitale, John Beilein, Tom Izzo, and many other basketball legends.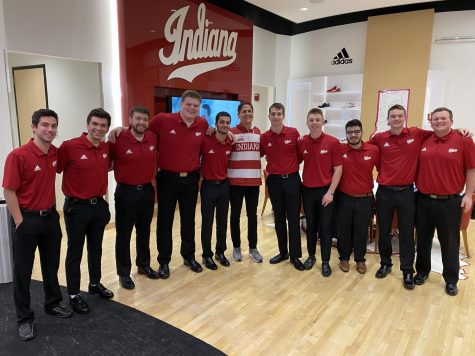 Bader kept his position as manager all through his sophomore, junior, and senior years. As he looked back at his job as a manager, he recognized WO's huge role in preparing him for all the activities that college has to offer.
   "West Ottawa had so many programs and activities, it made it really easy to spread your wings in high school to the point where you weren't overwhelmed when you got to college," Bader said. "I felt prepared when I went to college."
   He also recognizes the teachers that supported him during and outside of high school. "I really can't think of very many bad teachers I had during my time at West Ottawa, only great ones," Bader said. 
   Due to the preparation he received in high school and his determination, Bader eventually found his place at IU. He left IU with a varsity jacket, a ring to honor his services as manager, a class ring, and memories he will carry throughout his life.
   "It was the most rewarding experience of my life and it was all because I was like 'I am not going to quit on this, I made the decision to go here.' And I will tell you now and forever that I am a Hoosier for life," Bader said.
   Bader has one piece of advice for high school seniors and incoming college freshmen. Bader said, "I think that it has a lot less to do with the school and a lot more to do with you looking inside yourself and saying what do I want to make of this situation."
   Currently, Bader is at Rice University as a graduate assistant in the basketball program. At Rice, his responsibilities vary from his responsibilities at IU.
   "It's pretty much the next step," Bader said. As a graduate assistant, Bader is essentially a coach in training. He attends coaching meetings and observes what coaching entails. "I literally sit around and learn," Bader said. 
   As Bader looks into the future, he is unsure where his career will take him. "I enjoy what I do but there comes a point where I am unsure if that would be conducive to me having a family or a wife," Bader said.
    "I think whatever Jamesohn does, he will just inspire the best in everybody he works with. He just has this way of bringing out the best in people and I think wherever he goes people will be inspired by his positive attitude," Soto said. 
   While he is unsure of the future, Bader cherishes the memories he has had thus far. "I wouldn't give up any of the memories I was able to make for the world," Bader said.