Elizabeth Fris: Back home at WO
  On Saturday, November 17, 2012, then WO Sr. Elizabeth Fris stood on the diving block preparing to anchor the 200 yard freestyle relay, mustering up all the energy she had left after her previous event, the 500 yard freestyle. 
   Fris glanced up at the stands where her team and family roared before looking back at the pool where her teammate was nearing the flags. She steadied herself on the block, locking her hands and pointing them to the girl coming into the wall. With what little energy she had left, she launched into the pool.
   Seven years later, on Saturday, July 20, 2019, in the Saginaw Valley Aquatic Center, Fris stood on the side of the pool, holding a clipboard and a water bottle. She glanced down to her timesheet, noting the familiar name in a middle lane. She smiled, proud that her swimmer was seated in the last heat.
  When she lifts her head she stares at the swimmer and the scoreboard. Suddenly, the buzzer beeps and the swimmers dive into the water.
   For the majority of her life, West Ottawa alumni Elizabeth Fris has been part of WO's swim program. Her love for the sport originates from when she started swimming in West Ottawa's age group program.
   Fris joined the age group program around the age of seven. As she began to swim more and more, she quickly developed a strong friendship with some of the other girls on the team.
   Eventually, Fris and her group of friends were invited to swim in WO's USA swim program, a team that held harder practices and gave swimmers access to larger, more competitive meets. At the time, USA was a very elite group and only swimmers who received a letter in the mail could participate on the team.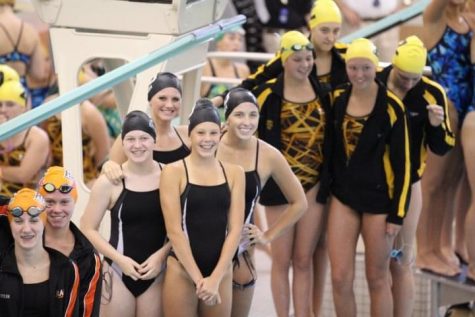 "My group that I swam with was the first big group to be USA swimmers- it used to be super different," Fris said.
   Through the rest of elementary and middle school, Fris and her friends swam with the USA program. However, when they entered high school, Fris faced a challenge.
  "I swam breaststroke through most of middle school and elementary school, and then when I got to high school there were a lot of breaststrokers so they didn't really need me to swim breaststroke so I became a distance swimmer,"  Fris said. 
   Fris took the challenge head on, determined to get better. Fris' coach and current WO Aquatic Director Steve Bowyer described Fris as a very determined and driven athlete, qualities he notes she still possesses. 
   "She didn't have the most efficient stroke in the world, and she just would grind out swims- that's how she swam, she just gutted out swims. It was pretty impressive," Bowyer said. 
   Her competitive attitude and drive followed her throughout her high school career, eventually leading her to the 2012 Division 1 State Meet her senior year.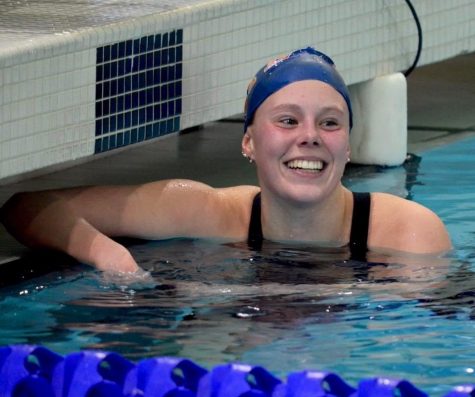 Going into the State Meet, Fris and her teammates had no expectations to win. Bowyer said, "That was kinda the interesting thing about that year is that I can 100% honestly tell you that we had zero expectations of winning a State Championship; it never even crossed my mind."
   Bowyer said during Fris' time on the team, they had held high placings in the State Meets, however they had never won. "We had been third in 2009, second in 2010, and then we finished seventh in 2011, which was a pretty disappointing finish," Bowyer said.
   Due to the previous year's disappointing placing, the team entered prelims just hoping for a fourth or even third place finish. However after prelims, the girls realized they had a chance to win. 
   "We went to Johnny Carino's for dinner, and I'll never forget Steve sitting us down and being like 'I scored out the meet and like we have a chance to win.' And we were all just baffled, we had just never thought about that," Fris said.
   Fueled with new determination, the girls came together the next day and won with 293.5 points, beating second place Farmington Hills Mercy (272 points) and third place Saline (266 points).
   Fris finished the meet with a fourth place finish in the 200 yard freestyle, a second place finish in the 500 yard freestyle, and two first place finishes in both the 200 yard freestyle relay and the 400 yard freestyle relay.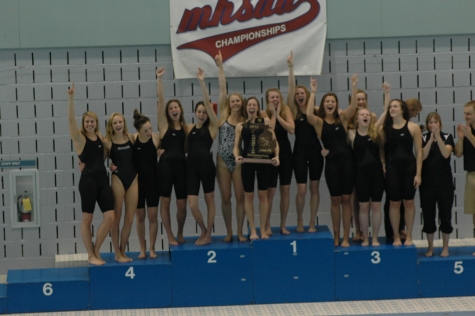 "Those relays, that just showed how well we came together as a team. Like the individual events were great but honestly I hardly remember anything about them, it was just those relays that were so exciting and fun," Fris said.
   Today, Fris looks back at the 2012 State Meet and her high school swim career fondly. "That was like the greatest four years of my life really," Fris said. 
   After graduating, Fris took her talents to Florida Southern where she swam for two years before transferring to Hope. At Hope she swam for another two years and started working at Making Waves, a swim apparel store in downtown Holland.
   One day, while working at a local swim meet, Fris ran into Chris Smith, the head of the WO swimming program. At the time, Smith was looking to leave the program but they needed more coaches. "She was like 'Do you want to come back?', and I said 'Sure!' so it all kinda worked out," Fris said. 
  Fris also said, "When you are done swimming you feel like there's a gap. Like something is missing from your life and it is hard to get that same satisfaction and feeling of success when you are just lap swimming on your own. So when I could be back on the pool deck, coaching, and sharing in that excitement is when I could feel that success again."
    So Fris came back as a part time coach while she student taught at Zeeland in the fall of 2018. After graduating from Hope in the winter of 2018, Fris accepted a long term substitute position as a second grade teacher at Pine Creek Elementary School. The next year, Fris officially received a full-time position, which she holds to this day. 
   After accepting the job at West Ottawa, Fris was offered the opportunity to be an assistant coach for Hope's swim program. She accepted and coached for the 2019-2020 season. 
 However, in the summer of 2020, a head coach position in the WO USA middle school group opened up and Fris returned to her home pool. 
   Fris said, "I just couldn't pass it up. This was in August, I was still gonna do Hope and then Steve was like we really need coaches. And I couldn't let the club down; I just felt so passionate about WO and I wanted to be a part of this."
    While she enjoyed her time at Hope, Fris said that WO will always be her home. "I always felt like this was my family, this is where I belong. I love the families we work with, I love the swimmers, and this program is who made me, me," said Fris.
   Today, Fris is a driving force in the WO USA swim program, encouraging and impacting her swimmers during every practice and meet.
   Eighth grade swimmer Monroe Milobinski has swum for Fris for about four years. She said Fris always inspires her to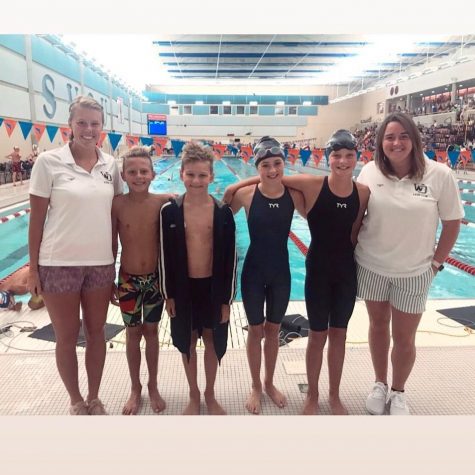 do her best at practice and meets. "She is very funny and fun to be around and always makes my day," Milobinski said.
   Frosh. Ellie Smith agrees that Fris is very encouraging. "She definitely pushed me really hard, I know swimming can be super super hard and she definitely pushes me to get better," Smith said. 
   Fris has been Smith's coach since Smith started swimming. Through all of Fris' encouragement and help, Smith and many other swimmers have grown as athletes and people.
   "I love her as a person and a coach; she definitely pushes me the hardest out of all the coaches but I am glad she does because otherwise I wouldn't be getting better," Smith said.  
   Fris' colleague, coach Kayla Larsen has coached with Fris for about four years in the WO USA program and agrees that Fris is an asset to the program. 
   "Elizabeth is passionate. She puts her everything into all she does- whether it's teaching her 2nd graders, coaching her swimmers or jamming out to J. Balvin- she is all in with whatever she's doing! She is kind and encouraging and pushes her athletes to be the best versions of themselves both in and more importantly out of the pool," Larsen said. 
   Larsen also notes that being a previous WO swimmer, Fris brings a lot to the team. Larsen said, "I love WO swimming but I didn't grow up here, so it's fun seeing someone who literally grew up in this program now give back so much to it."
   During her time in the program, Fris has been able to experience many amazing opportunities with her swimmers and fellow coaches.
   One of her favorite memories was the 2019 summer State Meet held at Saginaw Valley Aquatic Center. At the meet, Fris was so proud of her team and their accomplishments. 
   "They were so positive, it was so fun. They were at the top of the podium all the time; it was really cool. It is like this small little West Ottawa swim club with four or five swimmers there and they just made a name for themselves," Fris said. 
     After the State Meet, Fris was given the opportunity to help coach team Michigan in preparation for the Central Zones meet, a swim meet that hosted swimmers from all over the Midwest. 
   "That was just a really fun experience as well. I was a coach for team Michigan and it was just fun to be coaching the fastest kids in Michigan," Fris said.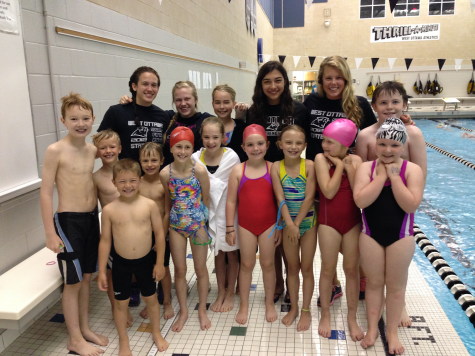 Despite traveling as far as Florida Southern, in the end, Fris made her way back to the West Ottawa pool, her home. 
   "This is where I spent all of my time when I was growing up and this is just what made me who I am today. And I think that it has just had such a huge impact on my life," Fris said.
   While Fris may no longer be the one diving off the black diving blocks into the cold pool, she will continue to support West Ottawa and her swimmers from the dry pool deck.