Best classes at WO according to alumni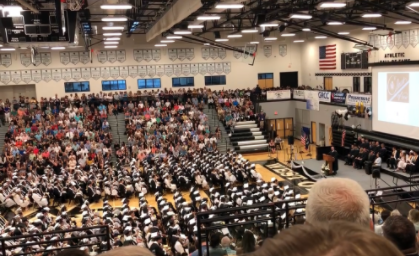 In a day, you spend 7 hours in school. 
   During an entire year, you spend 1,098 hours in school.  
   And in high school, you spend 4,392 hours in school.
   Since the amount of time that you spend at school is significant, course scheduling is especially critical. A top priority for you is to allot your time wisely to classes that are going to best prepare you for your future, but figuring out what these classes are is a seemingly impossible undertaking. Looking back on their high school and college experiences, WO alumni provide their advice.
AP English Literature and Composition
   "The books read and essays written in AP Literature help you, at the collegiate level, to both appreciate great prose and its power, as well as to write critically about them. The books I read in this class – Great Expectations, The Awakening, A Raisin in the Sun, Othello, A Tree Grows in Brooklyn – revived my love for literature. The kind of writing, and thinking, required in this class is a kind you must master before tackling undergraduate writing. This class is all but necessary if you are considering studying anything within the scope of humanities in college."
Taylor Schott, WO Grad 2019, Attending University of Michigan, Majoring in Fine Arts and Writing
AP Biology 
   "I took AP Bio with Mr. Jaeger my sophomore year. More than anything, this class taught me how to study and manage my time. AP Bio was one of the first classes I took where we didn't receive a study guide for the tests, so I had to learn how to take good notes and differentiate which material was most important. In college, we rarely get a study guide for exams, so it's important to know how to prioritize your studying. In this class, we also had to complete a leaf project. This project was not easy, but it taught me a lot about time management, which is necessary for managing the workload in college." 
Maddy Eppard, WO Grad 2019, Attending Hope College, Majoring in Secondary English Education 
   "I took AP Biology with Mr. Jaeger in 10th grade. The class was taught in a format similar to the lectures I experienced during my freshman year of college. The short essays that we had to prepare for exams, memorization of information, and lecture presentations gave me a feel for what a college class would be like before I had actually attended one."
Sarah Olney, WO Grad 2019, Attending University of Minnesota, Majoring in Interior Design
AP Physics C
   "The flipped style of AP [Physics] helped prepare me for learning in a computer-dominant environment."
Takoda Denhof, WO Grad 2018, Attending Case Western Reserve University, Majoring in Data Science and Analytics 
AP Calculus 
    "AP Calc with Mrs. Meyer my senior year prepared me for studying in college. I had to put in a lot of time outside of class practicing for the AP exam. This was the first class that I needed to study a lot for, and it helped prepare me for the kind of studying that I then needed to do for all of my classes in college." 
Katie Frauenheim, WO Grad 2019, Attending Washington University in Saint Louis, Majoring in Environmental Biology
 Statistics & Probability
   "This class just really prepared me for my college classes. I am a business major; I had to take stats and this class made it so much easier for me." 
Chloe Karp, WO Grad 2019,  Attending Michigan State University, Majoring in Business 
IB Art 
   "IB Art was a class focused on the process behind creating art – and power to be just as beautiful, if not more than, the final piece itself. Part of our class duty was to keep a notebook, filled with drawings, ideas good and bad, and our reflections of ongoing or completed projects. I remember, quite distinctly, having a small mirror placed in front of me and being asked to draw a self portrait in 30 seconds, with bizarre German music playing loudly in the background. Though it didn't feel like background music, because I began to be consumed by it, drawing madly with a pencil as I tried to render my own face. I eventually ended up using that portrait in my college application portfolio – for not only was it a visually interesting piece, it was also a process of creation that was art in itself."
Taylor Schott, WO Grad 2019,  Attending University of Michigan, Majoring in Fine Arts and Writing 
Journalism   
   "Mr. Strobel's teaching methods helped prepare me for all writing assignments. Journalism gives you a different perspective towards writing; you aren't writing an essay, you're writing about something, which makes it more interesting."
Takoda Denhof, WO Grad 2018, Attending Case Western Reserve University, Majoring in Data Science and Analytics 
AP English Language and Composition
   "I took AP Lang with Mr. Strobel my sophomore year of high school. This class taught me how to properly organize and structure an essay, and how to go beyond the typical five-paragraph essay format. We also used to start each class by finding the grammatical error in a sentence that was displayed on the board. This simple exercise improved my grammar so much and continues to help me edit my papers. Overall, this class taught me how to write and edit a good paper, which is a skill that I use almost weekly in college. Since going to college, I am constantly surprised by the number of students in my classes who do not know how to write a strong essay, and it always makes me thankful that West Ottawa prepared me so well." 
Maddy Eppard, WO Grad 2019, Attending Hope College, Majoring in Secondary English Education
   "I took AP Lang and Comp my sophomore year of high school with Mr. Strobel. The skills I learned through writing papers, including nitpicking grammar, focusing on improving my writing, and switching from passive to active voice, etc. helped me tremendously in the long run. I've written many papers so far at the university level and still use the skills I learned in that class."
Sarah Olney, WO Grad 2019, Attending University of Minnesota, Majoring in Interior Design  
   "Taking AP Lang with Mr. Strobel really helped me improve my writing skills. The amount of writing and feedback that we had in this class made my papers a lot better. This was beneficial in my first year of college because I had to write a lot of papers, not only for my English class but also for my science classes." 
Katie Frauenheim, WO Grad 2019, Attending Washington University in Saint Louis, Majoring in Environmental Biology