Student Senate: Teaching lifelong lessons and creating lifelong memories
Black and white balloons, streamers, and lights decorate the North building's gymnasium. Spotlights illuminate the floor, revealing the crowd of seniors flooding the court. Behind the announcer's table, Student Senate members control the music and hurry to set up the upcoming games; after the assembly is over, they rush to Panther Stadium to direct the homecoming court, then hurry back to the high school to decorate for the dance. 
   Without the months of preparation from the individuals involved in Student Senate, none of these beloved West Ottawa events would be possible.
   Homecoming festivities, Senior Survivor, WO's annual toy drive, numerous blood drives, and West Ottawa's most beloved assemblies would cease to exist without the hard work and dedication of Student Senate.
   A variety of unique and exciting opportunities are offered to students at West Ottawa, Student Senate being one of them. 
   Elected representatives from each graduating class not only work together to create an exciting and memorable school year, but also to aid members of the community. West Ottawa, as well as the Holland area, reap the benefits of the diligent work of students and advisors involved in the program. 
   "Standing at the podium at graduation, looking out at thousands of Panthers, knowing that the Student Senate and I made an impact on at least one person in that room was so rewarding," said Emily Johnson, a 2021 WO graduate and former member of Student Senate.
   Instructor and Senate advisor Cathy Engel plays an important role in West Ottawa's Student Senate. She has many beloved memories of her time with the organization, including toy drives, Senior Survivor, and senior parades. 
   "When a student is elected into Senate, they have the opportunity to craft different events–like Senior Survivor and homecoming week–that they feel best represents our student body. They're able to add their personal touches, and they learn a lot of life skills–like communicating with other businesses–that really help them grow as individuals and will carry on later in life," Engel said. 
   "Over time, I've seen students who would be classified as quiet–or observers–take the lead and find their voice. I've seen a lot of that growth, both in the classroom and within our organization," she said.
   Lifelong lessons are taught and lifelong memories are formed within the walls of the North building's large group instruction room, all thanks to Student Senate. Many WO alumni who participated in Student Senate look back on their time as representatives with a great deal of gratitude.
   2021 WO graduate Andrew Ky was a member of Student Senate throughout his entire high school career, serving as his class president for three years and the executive vice president for one. "I absolutely loved my entire experience as a member of the West Ottawa Student Senate. It was such a huge part of my high school career and has helped shape me into the person and leader I am today," Andrew said. "It was a great extracurricular that helped me get involved with the school."
   Leah Hopkins, another 2021 graduate, shares similar feelings about the lessons she learned during her time as a member. "Being involved helped me become an overall better leader and taught me how to collaborate with peers and members of the community. I also feel it has helped me with organization, open-mindedness, and confidence," she said. "Everything I learned in Student Senate has and will help me in my future, whether in college, the workforce, or daily life."
   The lessons learned in Student Senate are incredibly valuable to students, but they are not the only benefit of serving as a class representative. 
   Seemingly every student who has been involved in Student Senate carries happy memories and strong friendships along with them, even after leaving West Ottawa.
   WO alum Alex Ky graduated in 2018. He too was a member of Student Senate throughout all of his high school years.
   "I really enjoyed my time on Senate. I learned so much about logistics, team building, and organization. I met some of my best friends through Senate," Alex said. "I also built great relationships with teachers who knew me very well and appreciated what I was doing. This, I felt, really helped the teachers see me outside of just the classroom, and I'm sure made writing letters of recommendation for college a bit easier for them," he said.
   Learning life skills is a crucial aspect of a high school education, but so is building friendships. In Student Senate, both of these key components of high school are covered. Former members can recall countless memories of their time in the organization – memories of fun, laughter, joy, and a little bit of chaos.
   "I'll never forget our summer bonding trips. Whether we stayed local at the beach, camped in the woods, or went to an amusement park, we all had such a good time getting to bond with our fellow members around the campfire or working on developing our leadership skills through creative exercises," Hopkins said.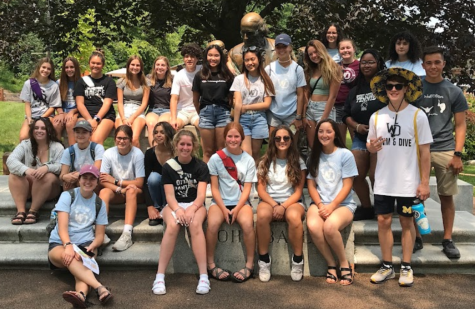 "I always loved blood drive days, and while being out of class for the entire day was definitely a perk, I also enjoyed the fun times I had helping set up, grabbing friends from classes, and just hanging out with other Senate members to try to boost our numbers," Alex said. "I remember vividly towards the end of the day everyone would be trying to grab friends to donate blood and also just eating all the snacks that were provided," he said.
   Johnson, too, has incredible memories of being a Student Senate representative. "Amidst the running around and stress, running Senior Survivor all four years–especially my senior year–was so much fun. I loved being behind the scenes and then watching the video the next morning to see how the show all came together," she said. "It was extremely rewarding raising all of the money knowing it is benefiting an amazing internal organization."
   Participating in any form of student government – including Student Senate – leaves a lasting impact that students are able to carry with them, even after their time at West Ottawa.
   "At the University of Michigan, my time on Senate has definitely helped me excel in group settings, take the lead on team homework assignments, maintain organization during my fraternity chapter meetings, and also on E-Boards of various clubs," said Alex.
   Student Senate provides all students involved with a chance to grow not only as leaders, but as people, creating a remarkable environment for those who choose to take a risk and put their name on the ballot.
   "I would one hundred percent recommend Student Senate to anyone that is interested," Johnson said. "It is a good way to go out of your comfort zone and do something that is bigger than yourself."