Ryan Lancaster: A lion on the hunt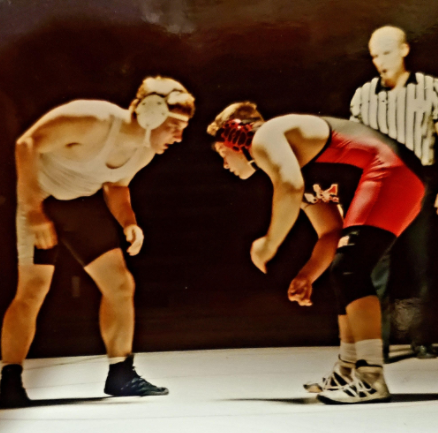 Before winning All American titles and national championships, coaching countless wrestling teams, and roaming the halls of West Ottawa, security guard Ryan Lancaster put his blood and sweat into becoming a great wrestler.
   Lancaster discovered his passion for wrestling at an early age. In elementary school, his friend's father spotted him on the playground and suggested he try wrestling. Although Lancaster attended West Ottawa, he started wrestling in the Allendale youth program, and from there, his career took off.
   Lancaster's grandfather drove him around the nation for competitions. In 7th grade, he placed third in the nation. "He would drive me around the country, and I kept winning, so I went all the way to the national finals. It sort of just seemed like this is what I needed to be doing because this is what I'm good at. I just wanted to see how far I could go," he said.
   Wrestling continued to be Lancaster's passion throughout his adolescence. He carried on with his athletic career in high school where he had even greater success. 
   Lancaster kept winning, so he kept competing. 
   "It was the state finals in high school, and we were in something called the blood round. I was wrestling my match and eventually ended up losing," Lancaster said. "When I went backstage, there were a ton of kids crying and hugging their parents, but I wasn't doing that. I knew that was not going to be the last wrestling match. I wanted to wrestle in college." 
   Driven by his love for wrestling, Lancaster left West Ottawa to attend Eastern Michigan University. While he was there, he joined Eastern Michigan's wrestling team.
   Although Lancaster was doing what he loved, his life was far from easy. Commuting from a house in Lansing to Ypsilanti to attend Eastern and wrestle was not an ideal lifestyle. "It was a real struggle at that point in my life, knowing I wanted to wrestle, but that was just not the right school for me," he said. 
   Lancaster was able to get an apartment nearer to Eastern Michigan University, but was then forced to choose to pay for rent or food. 
   "I bought a big one-pound-bag of pretzels, and that's what I ate for about a month. It's all I could afford. I drank water. It was good. I knew I needed to be there, I needed to compete," Lancaster said.
   Eventually, he made the tough decision to transfer to Grand Valley State University. At Grand Valley, he was able to afford his education while wrestling.
   Grand Valley was a better fit for Lancaster, but he still faced challenges. For some time, Lancaster was living in his car. 
   "It was very cold; I remember sleeping in my car after coming back from New York for a tournament in the middle of December and it was too cold. I did that for a little bit, and eventually people found out about it and told me 'Don't be stupid. Come live in my basement.' So, I found a little storage garage and lived there and worked my way up," Lancaster said.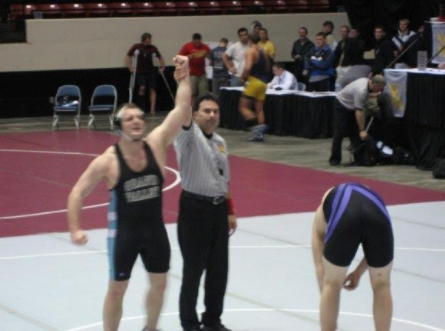 Lancaster wrestled for several years at Grand Valley until his final season in 2008. That year, Lancaster beat all of the odds that were stacked against him when he became an All American athlete and a national champion.
   "2008 was definitely a special year for everyone who was involved. I was fortunate enough to win my match, which would eventually help my team win the national championship," Lancaster said.
   Lancaster could smell blood in the water when he went on the mat. In his mind, there was no possibility that he would not walk out of that building as a champion.
   "My mindset going into that match was that I was unbeatable; I was like a shark in the water or a lion on a hunt in the jungle. I was not going to lose that match, and I just felt like this is what I have been working for all of these years," he said.
   Lancaster knew his time was now; he was going to seize the moment of his once-in-a-lifetime opportunity. In the end, Lancaster won with a score of 6-4. Finally, he was a champion.
   "The feeling that I had when it was finally over was indescribable. There were just so many emotions that came, and I just thought about how hard I worked to get to that point in my life," Lancaster said. His match concluded an impressive year that will be remembered in wrestling history. 
   Wrestling had become Lancaster's life, but he knew his time with the sport could not last forever.
   "While I was attending college I got a degree in history and social studies because that's what I enjoyed. I wanted to become a teacher," he said.
   Today, Lancaster serves as a security guard at West Ottawa High School, keeping his love for leading younger people down the right path strong. 
   Lancaster's involvement with wrestling has yet to end. He's coached numerous successful wrestling teams. Being able to apply his years of experience to other aspiring wrestlers has been a very important aspect of Lancaster's coaching career.
   "Going from wrestler to coach was a struggle at first, but knowing that I would be able to help all of these kids in the long run–to find their passion and make them not just better wrestlers, but better humans as well–was a big deal for me," Lancaster said. "I know all of the struggles that kids can go through because I went through those struggles myself, and having that mental advantage as a coach is something that I think makes me unique and is why I am able to connect with these kids so well."
   Now, Lancaster can be seen at West Ottawa High School where he is a security guard as well as the head wrestling coach. 
   "This sport makes you tougher. A lot of times, there's not a quick fix–there's not an easy answer–you have to just blast through, and that's sometimes what wrestling has done for me too," Lancaster said. "I was in a very dark place, and the sport sort of saved me."
   "The wins are going to come, the losses are going to come, and you can't control that. Even if you're the best wrestler in the world, eventually someone's going to catch you. Whatever cliche you want to use, just know there's winning days and there's losing days, and you have to appreciate both."