Black Hole Revival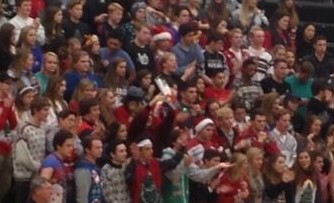 Sr. Sam Lehmann was in his parents bathroom putting on makeup on a Tuesday night. As odd as this sounds, Lehmann was preparing for his role in the Black Hole as an angry clown, to intimidate the other team. This is just one example of why the Black Hole is better this year than past years. The Black Hole is more creative, louder, and has more participation than in years past making the Black Hole a success.  
  "Getting the word out through social media, making people participate, and coming up with new and creative chants are just a few reasons why the Black Hole is so great this year," said Sr. Ryan Ramirez, this year's Black Hole leader. Because of the popularity and accessibility of Twitter, spreading the word of game dates and times has been very helpful for those looking to come help support the basketball team. "Last year and in years before that, I wasn't even sure when the games were or who we were playing. This year it's very clear who we are playing and what time games start," said Sr. Luke Bakker.
  The boys basketball team has been hot lately, starting out undefeated with a 6-0 record. So the question is how much does the Black Hole actually help the team and players? "The Black Hole provides a lot of support and gives a ton of confidence to our team. They also throw the other team off their game and frustrate opposing players," said Sr. Mitch Williams, a member of the boys basketball team. High scorer Zach Pangborn of Northview showed his frustration towards the Black Hole on Tuesday, January 5. Midway through the third  Pangborn was held just under 10 points as Soph. Tyler Bosma blocks his shot sending it out of bounds. The Black Hole erupts, chanting "You got swatted!"   Pangborn looks back at the Black Hole, rolling his eyes. 
  The Panthers have been on the road three times this year. The first game, they journeyed across town to Holland High. Next they competed in the Holiday Tournament hosted at Zeeland East. "Looking into the student sections at away games is just amazing. The Black Hole is easily just as big or bigger than that of the home team's student section," said Sr.Brooks Rodino, a varsity basketball team player. The Black Hole involvement at away games has been fantastic this basketball season, which has been lacking in previous years. Three senior Black Hole students took the initiative to coordinate a 55 student booster bus headed to Rockford for the first OK Red conference game.      
  "Our coaches love the Black Hole this year and tell us to always give praise to them for all they do," said Jr. Anthony Charmeda, a member of the team. Clearly, going to basketball games is something students look forward to. With support from coaches and staff, the Black Hole aspires to get even bigger and louder, as the Panthers look to keep improving their record.
Here is a Link to a great video of the Black hole in action at Rockford