"She had a sparkle in her eyes and an unmatched smile while she sang"
The passion in her voice filled the quiet room as Sr. Tessie Morales began to sing. The judges of the 2022 Thespian Festival typed quickly on their keyboards, noting the details of her talent. Wrapping up her performance, the audience roared as she took a bow. Little did Morales know, she would soon be offered the most amount of scholarship money in the history of West Ottawa Theater. 
   Morales' passion for theater began when she was very young. "I saw her knack for acting pretty early on but I guess I didn't see how it would manifest itself. She was always talking in different accents around the house either when she was playing with one of her brothers or asking us questions. She would make up elaborate games and always had such a big imagination," her father Mark Morales said
   In sixth grade, Morales decided to audition for the middle school play. "I also have to thank my friend Addison Corell for helping me find the confidence to actually audition for Into the Woods Jr. I didn't make it, but it lit a fire in me to keep trying," Morales said. 
   In seventh grade, Morales started performing. She began to take her vocal training very seriously. 
   Since then, she has been in ten theatrical performances including Grease where she played Frenchy, a sassy member of the Pink Ladies.
   Every moment not performing, she longed for the stage. 
    Juggling school, performances, and at one point two jobs, Morales used the Harbor Lights Performing Arts Center (PAC) as her outlet. "When I perform, I feel very grounded and in touch with my emotions and surroundings. I genuinely feel happy," Morales said. The PAC is where "she feels at home and where she shines," Morales' mother Elizabeth Morales said. 
   "For many years, Tessie had been someone who did not want to stand out. However, in those first moments when she danced to the front of the stage as Pink Lady, Frenchy, I forgot she was my child. I stared at her in awe, and I did not stop smiling for hours," Elizabeth said. 
   Morales was a hit. "Her blue eyes were so bright. Her sass was intense. Her dancing was perfect. She was Frenchie," Elizabeth said. People emailed and texted her mother, sharing their praises for Morales' performance. It was clear that Morales had a special gift.
   On the stage, Morales was a completely different person. She embodied any character she played perfectly. "I honestly think I didn't even recognize her the first time she walked out on stage. It was really surreal thinking that my daughter was on stage doing what she was doing on all these shows, " Mark said. 
   West Ottawa Theater Director Joe Huber has worked with Morales since middle school. "When she gets a role in a show, she really throws herself into it. I am always amazed with the interesting and well-developed people she creates," Huber said.
   Entering high school, Morales began competing in the Michigan Thespian Festival. "The Michigan Thespian Festival is an event hosted by the Michigan Educational Theater Association. Theater troupes from all over the state will gather for a weekend to participate in workshops, present their work to a panel of judges, showcase their talents, watch performances, and compete for college scholarships," Morales said. 
   The students at the festival compete to earn a score of good, excellent, or superior from the judges. "Freshman year I did a group dance with the cast of Grease. We earned an excellent," Morales said. "Sophomore year I sang in a trio with my friends Mekiah Simmons and Anna VanKampen. We earned an excellent. I also sang a duet with George Iles and we got a superior."
   Last year, because of Covid,  Morales competed in the live virtual rendition online, where she sang a solo and received another superior score. She had one main goal in sight: The senior scholarship opportunity. "Because I plan on pursuing a career in the arts, and college isn't cheap, I signed up," Morales said.
  This year, the festival was back to in-person. The 17 members of Troupe number 5081, represented by Huber, set off to East Lansing on December 10 for the two-day festival.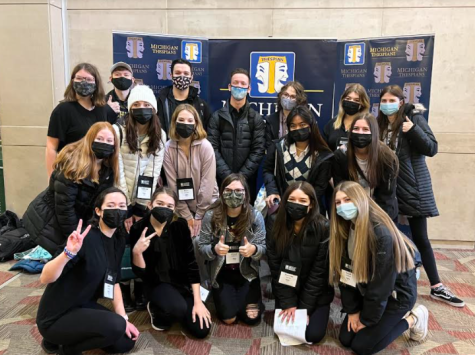 Since Morales was busy in the West Ottawa performance of Godspell, she had about two weeks prior to the festival for preparation. "All I needed to do was prepare a one minute monologue and a 32 bar cut song. I selected the song "I've Decided to Marry You" from the musical A Gentleman's Guide to Love and Murder because it's comedic and highlights my vocal range," Morales said.  "I picked a monologue from José Rivera's play Marisol because the main character is a young, Puerto Rican woman like myself, and I wanted to give representation to a Hispanic playwright."
   As a senior, Morales had the opportunity to audition for college scholarships. "The scholarship auditions are hosted on the second day of the Festival. Therefore, my nerves had a lot of time to intensify," Morales said. 
   As the second day rolled around, Morales was completely restless. She entered the audition area where she and Huber took a seat. The man at the sign-in desk began to announce orders. "While you're in the waiting room, you have to be very quiet. Also, please remove any flashy jewelry as it may distract the judges. Please have a seat.' And so I did," Morales said.
   She sat in the chair, checking the time and bouncing her leg when she had a sudden dreadful realization. "I remembered I didn't have a penny in my pocket, it's my good luck charm for confidence," Morales said. She was sent into a panic, scrambling to find one before she was called to the stage. However, Huber came to the rescue, "With not only a penny, but distracting stories and artistic affirmations. I eventually gathered myself and stretched out the remaining anxiety," Morales said. Then, just like that, it was time. 
   She pushed her anxiety aside and strolled into the audition room with confidence. Squeezing the penny in her pocket for reassurance. 
   Morales glanced around the room to see what she was working with. "There was a panel of about 40 adults in blazers and turtlenecks, heads down, typing away on their laptops, drinking tea. They were representing twenty-ish total colleges in the Midwest. Crazy," Morales said.
   Morales was used to performing for many people, but the thought of 40 judges watching her for potential scholarship offers made it different from any past performance. 
   She stood on the large "X" in the middle of the stage where she introduced herself. She looked at Huber for affirmation. He gave her a smile, and with that, she began to perform. 
   "The whole room laughed during my song and Mr. Huber was in the back smiling," Morales said.
   Huber watched nervously as the judges drew all attention to Morales. "Soon, heads were nodding, smiles appeared on faces,  fingers typed furiously on keyboards, and the occasional laughter as some silly, but calculated, line escaped Tessie's smiling face," Huber said.
"And just like that, it was over. I said thank you, bowed, and left with a very large smile on my face," Morales said. "It was a successful performance, and Mr. Huber was super proud of me, and everything felt great."
   The performance was a blur for Morales, but unforgettable for the judges. After her performance, fifteen colleges emailed Morales explaining that they would love to talk to her about her talents.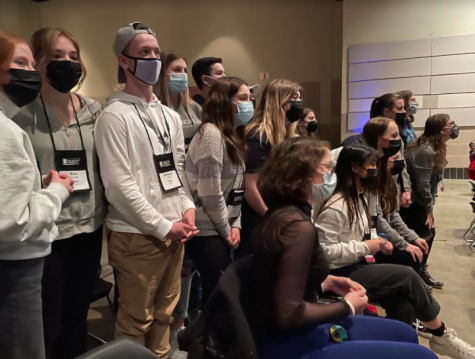 At the festival's closing ceremony, the director began to roll the slideshow of scholarships. Morales sat on the edge of her seat, excited to see the results. After several slides, one reading Tessie Morales popped onto the screen. Following her name were a gracious amount of scholarships from nine schools. She froze as her heart began to race out of joy. "I was swarmed with hugs by my friends. It was a great experience," Morales said.
   Elizabeth was a chaperone for the festival this year, allowing her to be with Morales during the scholarship announcements. "She was surrounded by her director, Mr. Huber, and sixteen of her theater friends, who were hugging her, jumping up and down, and screaming every time another scholarship was announced," Elizabeth said.
   Overall, Morales earned $325,000 for her outstanding talents and artistic ability. Morales was offered more scholarship money at this year's festival than any other West Ottawa student has been offered in the past. "She is well deserving of all of the offers she received," Huber said.
   "I am still grateful to have so many options available to me. I am currently still in the audition process at other schools across the country and am excited to see where I'll land," Morales said.
   "I'm happy that Tessie has found success in what she loves. When she leaves for college, wherever it will be, I will miss her singing and dancing around our house. I am proud of Tessie because she has a beautiful gift. It brings her joy, and it brings joy to others," Elizabeth said. 
   "Where she is now with theater is more than any parent could ask for. I'm proud ten times over just for who she has become as a person. And to say I am equally as proud of what she has accomplished is an understatement," Mark said.