The People Behind The Purple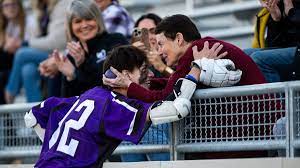 A few times a year the entire West Ottawa Community comes together to stand for something bigger than any one of us. The fight against cancer rages on every day, ravaging through families and breaking hearts. West Ottawa's Purple Power events assist in this fight by raising money and awareness for this battle. We all know about the games and the events and how important it is to everyone involved, but little is truly known about the wonderful people and corporations it takes to make it all happen.
   Diane Colvin is the woman behind every purple t-shirt and Jersey, every sporting event and fundraiser, she does it all. Purple Power is a massive commitment and is extremely well done every year; we all have her to thank. "When my mom was diagnosed with cancer, it made me feel helpless.  I turned to others for advice and the best advice I received was to pray and raise money for cancer research.  This started my passion for raising money for cancer research at Van Andel Institute," said Colvin. Her personal connection to the cause is a huge driving force that leads her to contribute so much.
   Recently, the boys' lacrosse team held their second Purple Power game against Zeeland, and for the first time in Purple Power history, The opponent joined in the event. Both teams contributed to raising over 12,000 dollars for the Van Andel Institute and wore purple as well as playing for a friend or family member that has battled cancer. The combination of the two teams just shows how far the battle against cancer extends; it is a worldwide battle that we will win. Purple Power brings communities together and extends its reach beyond just the West Ottawa community. 
   With more than six Purple Power games every year, Colvin contributes countless hours to make them all run smoothly. Luckily she has an entire community rallying behind her with endless support. "West Ottawa is an amazing and generous community.  I have so many wonderful stories of individuals and businesses that have given their time and financial support to Purple Power.  Over the last eleven years, Purple Power has raised over $400,000 for cancer research."  
   Corporations around the Holland area are also getting involved in the support, "About 10% of that amount has been larger donations.  We have several area businesses that partner with us year after year to be sponsors for the back of our t-shirts.  The rest of the $400,000 raised have been much smaller amounts.  It is a $15 purple t-shirt bought by people that really do not need another purple t-shirt, but want to support cancer research.  It is the $10 that the staff donated to wear jeans when they could just wait until Friday to wear jeans instead.  It is the elementary students who buy the $1 to $5 purple items that are donated by Van Andel Institute." Says Colvin
   All of this support doesn't just come from thin air, so many people work together and do specific jobs that help raise money and exposure for the multiple events. Colvin has polished the system of donations, gathering sponsors, and spreading publicity. "Each year, one person in each building is the contact person to collect t-shirt orders, and donations for jeans for a cure day, and to help raise money for cancer research.  There are the student-athletes and their parents that help organize the events.  There is a Purple Power committee that helps design the t-shirt each year and volunteers at the events.  Bill Kennedy, our athletic director, and the West Ottawa administration have been very supportive of Purple Power.  Laura Veldhof has done a wonderful job capturing all of our events with her amazing photographs. Finally, my husband and two sons volunteer at each event.  It takes a lot of people and time to have a successful event.  We are always looking for people with new ideas who are passionate about making a difference. In order for Purple Power to continue making a difference, we need volunteers. It is my hope that one day, the only stories I read about people with cancer are survivor stories."
   Lisa Foy is a fifth-grade teacher at Waukazoo Elementary and a huge supporter of the purple power events. "I lead all things "Purple Power" at Waukazoo. I have also volunteered numerous times at the basketball event and a few times at other events." Says Foy. She is also a WO parent and encourages her children and students to show compassion for those battling cancer. "I know it can seem hard to get younger kids involved and people worry about them understanding. But young students have such a natural kindness and love for others and they CAN make a difference." Foy continues to believe that even the smallest amount of kindness can make a huge difference in the life of a person who is struggling. "It was really amazing to have kids stop me in the hall and show me coins and dollars that they brought. They would proudly show me the crumpled money and say, 'Look what I am giving today.' or 'Look at my donation.' It was really amazing!"
   It is truly incredible how widespread the reach of a few people can go. Touching hearts and inspiring so many others to do the same. Not only does Purple Power bring us together, but it also teaches the younger students about the struggles with cancer and what they can do to help fight the battle. With people like Diane Colvin and Lisa Foy leading the charge, there is no doubt in anyone's mind that the reach of the events will continue to expand and the money raised each year will exponentially increase. 
   The fight against cancer is far from over, in 2023, an estimated 609,820 people will die of cancer in the United States alone. Although there is so much progress that still needs to be made, donations, spreading awareness, and coming together as a community are just a few of the many actions we can take to take steps closer to beating this disease. Please take this as an invitation to help support Purple Power and continue to inch closer to a cancer-free world.