Fellinlove Farm: The power of animals
Listening for the distant sighs of the horses, Becky Bruce secures the soft cotton lead ropes between her fingers. The gravel stirs as her cane glides from side to side over the path. The noise of the horses grows louder with every step. She is getting closer. The llamas follow her obediently, their soft padded feet tapping quietly against the dirt. Her cane collides with the metal fence, notifying her that she has made it to her destination. Unlocking the door, Bruce nudges at the llamas lightly, giving them approval to enter the paddock. She runs her finger through the thick, matted coat of the first llama and unhooks the lead rope. For Bruce, her world once cloaked in darkness is illuminated by her passion for animals. 
   It's not only Bruce that has been impacted by Fellinlove Farm, it's the thousands of others that visit every week as well. The farm, located in Holland, Michigan, ignites a type of joy that burns brightly within the souls of visitors and volunteers.
   Opening on June 29, 2011, the nonprofit organization started with one faith-based goal: to explore the value of hands-on interaction with animals. Home to over 131 animals, people of all ages and disabilities have the opportunity to pet, feed, and learn about the animals.
   Cheryl Kaletka, founder and owner of Fellinlove Farm, originally created the farm to build a future for her two daughters Alyssa and Ashleigh. 
   "Our youngest was born with down syndrome and severe heart defects and our second daughter developed a seizure disorder at age eight and has had twenty-six seizures since then," Kaletka said.
   In need of work opportunities, socialization, and recreation for her daughters, Kaletka incorporated all of these areas into the design. 
   "The farm helps us experience life in a more healthy way. If we were still in our subdivision, they would be sitting in their rooms and they wouldn't have social opportunities," Kaletka said.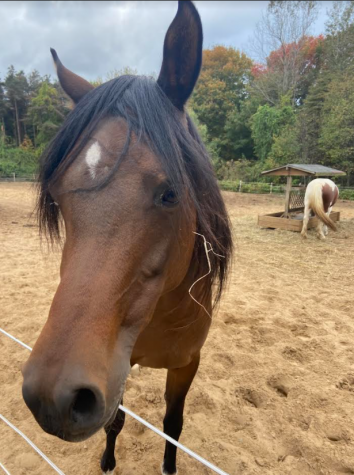 Fellinlove Farm has opened a gateway of change for Kaletka, including the gain of a more positive perspective on life. "My overall mental health has made me happier, and to see us making more connections with adults and children with disabilities is amazing."
   As for her daughters, Kaletka has seen great growth both socially and medically. 
   Ashleigh Kaletka, now thirty-three years old, developed the rare seizure disorder when she was eight. As an eight-year-old, these episodes were detrimental to the development of her cognitive abilities. Ashleigh felt like she needed a place to feel welcome. The farm was her answer. 
   Despite the disorder, Ashleigh has learned how to tend to the animals, take visitors on tours, and keep the farm organized. 
   "I started working here in my mid twenties," Ashleigh said. Starting at dawn, Ashleigh completes her daily routine of chores. "I clean the stalls every morning and take care of the animals," Ashleigh said.
   The farm has had positive impacts on Ashleigh's social skills, but surprisingly, has had an even greater impact on her medical growth. After the farm was created, Ashleigh's life completely changed. Her rare disorder was no longer holding her back. 
   "Once we designed this farm, she never had another seizure," Kaletka said. Ashleigh's life had revolved around the fear of another seizure until the creation of the farm.
"I don't have seizures anymore. The animals healed me," Ashleigh said. This is the power of hands-on interaction with animals. 
   Ellie Canaan, a volunteer at the farm, began volunteering after she started to attend public school. Overwhelmed with anxiety, Canaan needed an outlet to escape from school. 
   "My mom became concerned about my anxiety, so I started coming here to release it," Canaan said. She turned to the farm for help.
   Taking care of the llamas, cleaning stalls, and informing visitors about the unique animals, Fellinlove Farm is exactly what Canaan needed. "I don't have as much anxiety anymore," Canaan said. The farm relieved her from daily anxiety. 
   Canaan's volunteering led to the creation of a new component of the farm: Young Fellinlove Farmers. This volunteer program is for kids ages 7-14. 
   "Children meet weekly at the farm on Saturday mornings, 15-18-year-olds act as supervisors. They help with chores and interact with the animals, but it also promotes teamwork and collaboration," Kaletka said. 
   Bella Faith, a fourteen-year-old girl, takes part in the program. "I have Tourette's syndrome, ADHD, anxiety, depression, and OCD. I feel like I can be myself here, when I'm around the animals. I have fewer tics and I'm very calm," Faith said.
 Another volunteer joined the staff last April. Becky Bruce brings a different approach to completing the tasks on the farm. She is completely blind.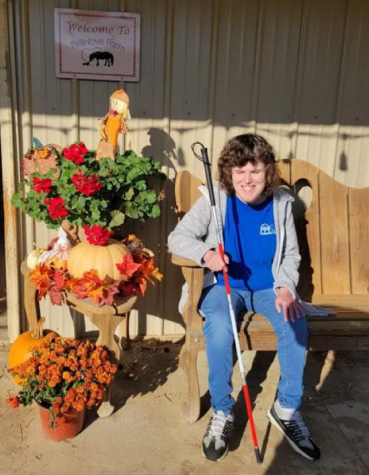 "Becky brings an energy and happiness to wherever she goes and she never complains," Kaletka said. 
   Despite Bruce's visual impairment, she wants to participate in everyday barn chores. "She wants to clean stalls, she wants to walk horses, and she wants to walk the llamas."
   When Bruce began volunteering, Kaletka immediately started to teach her how to walk the animals. Bruce quickly adapted to this new task.
    "I started teaching her  how to walk on the ADA path, which helps with her cane. Bruce will walk these animals with field trip guests, which is mind blowing," Kaletka said. 
   As for teaching proximity, Kaletka would lead Bruce through her chores. Placing her hand on Bruce's elbow, Kaletka guided her hands over the fur of the animal, informing her about the animal that she was touching.  
  Bruce's independence around the farm relies on backward chaining. This method begins with complete support and guidance. Kaletka thoroughly describes the experience, identifying the concrete, dirt, or gravel walking surfaces. She guides Bruce through the steps while describing.
   Safety and security is a big element to the farm. These aspects are taught through consistent routines in one specific location. With the repetitions of chores, Bruce now remembers the locations of pastures, stalls, tools, and the manure pile. 
   Bruce learned verbal cues as well to make volunteering more efficient for her. Kaletka described the environment in great detail, warning Bruce about her cane placement in the uneven terrain. Her navigational skills have developed through this process.
   From the development of social skills to the evident medical growth, one aspect of the farm remains true for every visitor or volunteer: Fellinlove Farm impacts lives.