Well-timed phone call results in COVID vaccines for high school teachers
A long, winding line of excited people filled the large office space, each person clutching a white paper like a ticket to a Broadway show. The room was buzzing with excitement as hushed whispers filled the large space. 

   These people weren't waiting for entry into an amusement park ride or a movie theater; they were waiting for something more important, the long awaited COVID-19 vaccine.   

   In December, Michigan began distributing the COVID-19 Pfizer vaccine to health centers around the state. With limited supply, essential workers and older citizens were given first access.

   However, this past Saturday, many West Ottawa teachers and staff were able to get their first doses of the vaccine due to one lucky phone call and a series of followup emails.   

   In hopes for protection from COVID-19, Kenows Hills Instructor Dave Bentley had called Spectrum Health daily to try to schedule a vaccine appointment. And every day he got the same message: "We don't have any appointments."

   However, on Thursday, his lucked turned. Bentley's wife, WO Instructor Kristen Bentley said, "On Thursday, during his planning time, he called and found out appointments were available. He emailed me and told me to schedule mine," Kristen said.

   After scheduling her appointment, she sent a large staff email to high school teachers encouraging them to sign up while slots were still available. "The rest is history." 

   This email encouraged many staff members including Instructor Cathy Engel to call to schedule an appointment. "I got an email from Mrs. Bentley- then another three teachers came into my room to tell me about it," Engel said. The energy swept through both buildings.

   To schedule their appointments, the teachers called a number that Kristen Bentley had provided. She initially got the phone number from her mom, who works at a doctor's office, and passed it along to Dave. This phone number connected the teachers with nurses from Spectrum Health who aided them in the scheduling process.

   Numerous West Ottawa teachers described over the phone scheduling as a smooth process, however they were frustrated with how challenging it was to find available appointments in the first place.

   Instructor Bob Myers was registered and waiting on an appointment on three different sites before he received the email and number from Bentley.  "Getting to the point where I could get an appointment was very frustrating.  I did not like that I basically had to persistently hunt for an opportunity," Myers said. 

    Other teachers such as Ann Kirkendall also shared in Myers' frustration. Kirkendall said, "I was disappointed that Ottawa County decided not to prioritize vaccinating teachers. Also, the whole thing seems very haphazard. I mean, I knew who to call because of my friend's mom's job?! That's no way to run a health care initiative."

   Despite the previous frustrations, on the day of the vaccine happiness and excitement  buzzed around the distribution site in East Kentwood.

   Once they arrived, patients received a vaccine card and a phone number to call to check in. They waited in their cars for the text telling them to enter, then waited in a line to get their temperature taken and to give the health center their insurance information. 

   Patients had to creep forward six feet at a time until they got the vaccine. After the shot, they were required to wait 15 minutes before leaving to ensure that the vaccine did not have immediate negative impacts such as dizziness and queasiness.

   Engel described the process as, "Very fast and very organized. Once in the building, it took maybe a half-hour from start to finish- including the 15 wait time after the shot."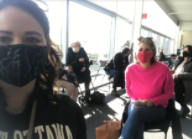 Instructor Brian Taylor also had a similar experience ,"The experience was very positive; I felt lucky."
   Myers said, "I saw tons of WO teachers there.  I lost count after 15. Pretty much the whole first floor of south was there the same time I was."
   Engel also saw many other staff members, "It was like a staff meeting to get vaccines. It was also nice to have people to talk to during the process."
   After receiving the vaccine, many teachers feel relieved and hopeful for the future. Instructor Paul McNitt said, "I am feeling good and excited about moving forward as a society."
   Despite the fact that many teachers were able to get the vaccine due to the Bentleys, the COVID-19 vaccine distribution process has a long way to go.
   "The vaccine distribution country-wide is a mess; it is a huge undertaking and could benefit from more national direction," Taylor said.
   Kirkendall agrees that the process is disorganized and hopes that there are improvements so that those in need, like her father-in-law, can benefit from the vaccine.
   "My father-in-law is medically frail, and he's apparently on a list somewhere, but he isn't tech-savvy, and that has been a barrier for him in registering at other places," Kirkendall said.
   Hopefully over the next few weeks and months, the vaccine process will become more accessible to the general public. But for now, West Ottawa teachers who were able to get the vaccine celebrate the first few steps in ending the pandemic and returning to normalcy.