When she could not fly any more

Every little girl dreams of flying. Gymnastics made that possible for Caitlin Ciokajlo (now Caitlin Seppo). She fell in love with flying at five years old and took her passion all the way to the University of Kentucky..
   The adrenaline rushes came to an abrupt end, however, during her ordinary conditioning list consisting of thirty front flips when Ciokajlo blacked out on the gym floor.
    A conditioning list is a list of exercises designed to make athletes stronger. For example, pull-up and sit-up sets. In the gymnastics world, conditioning is considered to be the answer for everything. Arched back in cast to handstands? Do a set of hollow holds. Loose punch on the springboard? Do thirty tuck jumps. This conditioning ¨fix¨ for gymnasts is what created the biggest issue for Ciokajlo. 
     Before the incident, Ciokajlo had an extremely successful Junior Olympic and early college career. During her senior year of high school, she was the 2009 beam national champion, and also qualified for nationals in Colorado, where she placed third overall. 
   Although Ciokajlo's accomplishments were far from ordinary, she was forced to make the decision that most high school seniors make at the end of their high school career: What's next? Ciokajlo knew one thing, she wasn't ready to give up on the sport that had given her so much. 
   Gymnastics taught her life skills such as ambition, discipline, and teamwork that she was ready to carry with her to the collegiate level, but the question was: where? "University Of Michigan was definitely my dream school for most of my life, but when I was a sophomore I went on an unofficial visit and I hated everything about it. But I really liked the coaches from Kentucky, and I felt like it was the perfect distance away from home.¨ Ciokajlo then knew it was the right fit as soon as she stepped foot on campus. 
   At the University of Kentucky, Ciokajlo was able to continue her gymnastics career and follow her longtime dream of studying to become a chiropractor. The extensive workload was an adjustment, but nothing she could not handle after the years of hard work and commitment in the gym.
   During Ciokajlo's freshman year at Kentucky, she competed uneven bars in all 13 meets, and beam in two. She was named to the SEC freshman Honor Roll, and received the award for hardest worker and highest grades at her freshman banquet. During sophomore year, she more than kept up with the reputation she created the year before. As if she hadn't acquired enough awards yet, Ciokajlo also went on to win 4 event titles during 2012. Junior year Ciokajlo competed in twelve of the thirteen meets on bars, and again won four event titles. 
   Next up was Ciokajlo´s final year of not only college gymnastics, but the sport as a whole. It would be her last year of seeing her teammates dance alongside her on floor, and the last times she heard a whole arena cheering her name. The last year she would be lucky enough to feel the rollercoaster of emotions that washes over when her team takes home a title. The memories that she would ultimately remember forever. 
   Unfortunately, her senior season was cut short due to an accident that nobody saw coming. And as Ciokajlo recalls the story, "We were doing punch fronts off the beam onto the floor, and my ankles broke and since I had no height I landed on my head, and fractured my neck." In the moments after, Ciokajlo was taken over by complete shock.
    "I had to be rushed to the hospital by ambulance. Once I got there, I was in traction for three days." 
   Traction uses devices such as weights and pulleys to put tension on certain bones or joints. Traction ultimately helps to prepare the spine for surgery.  In Ciokajlo´s case "They went in the front anterally and they put a cage around my two vertebrae.¨ She was in post surgery for the following four days before she was allowed home.
   Although suffering severe injuries and trauma, Ciokajlos stubbornness led her to attending her classes only a week after the injury so she could graduate on time. She had always dreamed of going to chiropractic school, so graduating was a huge event she was determined to keep on her radar. ¨I had to use a rolling backpack, because I couldn't lift any weight. I couldn't drive, and I had to sit in the back seat of the car in case we got into an accident. I had chauffeurs that were taxying me around." 
   Many people who break their neck are not that lucky. Some become paralyzed from the neck down, or suffer more serious consequences up to death. Broken necks often cause damage that cannot be medically treated or repaired, hence 332,000 people in the United States live with spinal cord injuries solely from breaking their neck. In fact Ciokajlo was a miracle; she was able to walk a week after the accident with no problems.
   Ciokajlo explained how her injury affected her outlook on life, "I definitely have a much greater appreciation for just literally being able to walk. I ran a half marathon about eight months after my injury. Just because I thought it would be cool, because I almost lost the ability to walk so why not take advantage, and do something crazy". 
   After Ciokajlo fully recovered she was accepted into chiropractic school at Life University in Marietta, GA. She spent three and a half years there studying to become a chiropractor. While there she met her current husband, Andrew Seppo. She and Andrew opened a chiropractic practice here in Holland called Seppo Chiropractic and said they love every moment of it. 
   "Experiencing an injury so severe gave me a powerful testimony within what I do. And I think I can care for people because of what I went through, and knowing what comes with a surgery like that." Seppo loves the vibe in her office and has been extremely successful in the chiropractic field.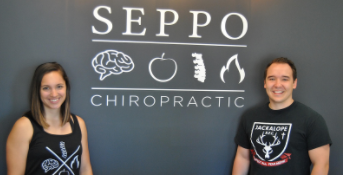 Seppo shared with us that "You can do a lot of what you want to do, and I was determined that I was gonna get through it."