Adapting to PVCD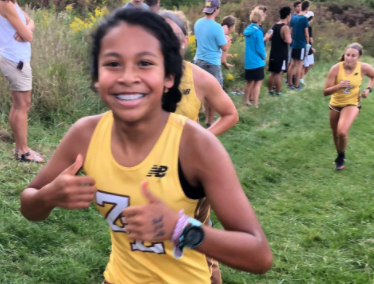 As Savianna Norinh crossed the finish line at Ridge Point Church gasping for air, she made eye contact with the on-hand athletic trainer, Jason Burgess, with pleading eyes screaming for help. Norinh's strength was not enough to keep her feet on the ground. 
   She collapsed on the wet cold grass in exhaustion. Norinh was hyperventilating, unable to move her body, desperately trying to avoid the probable loss of consciousness. This is not how Norinh wanted to end this race, but her body simply could not withstand the fight any longer. 
   Norinh used to play volleyball for Zeeland East, but she decided to pursue cross country in her freshman year. 
   She had previously known the cross country coach from her sister's experience on the team and reached out to speak to him. He convinced her to join the team as it was an opportunity to continue her athletic drive. 
"I never thought I would quit volleyball but it was the best decision of my life," Norinh said.
   Norinh had been an active athlete throughout middle school; she is unsure when she may have developed Paradoxical Vocal Cord Dysfunction (PVCD) as it restricts those involved from cardiovascular exercise. 
   She made a trip to the doctor near the end of her freshman season, as she was experiencing some discomfort while running. 
   With the cold stethoscope grazing against her skin, she took one big breath in and out. And that was it.
    The doctor took no further steps to investigate this dysfunction and diagnosed Norinh with exercise-induced asthma and prescribed her an inhaler. Following doctor's orders, she continued to use the inhaler for the next year but failed to see any progress. 
   During Norinh's sophomore season, she was having one of what she believed to be "asthma attacks," experiencing tightness in the chest, stiffness within the body, blurred vision, and mucous-filled throat. This was then followed by Norinh's fall to the ground. Norinh's mother explained to Burgess that she was diagnosed with exercise-induced asthma and had a prescribed inhaler. 
   Based on his examination of what was taking place firsthand, he expressed that he believes her prognosis sounds more like Paradoxical Vocal Cord Dysfunction (PVCD). 
   Due to her previous doctor's misdiagnosis, they were unable to identify that Norinh was having difficulty breathing in; whereas her original diagnosis, asthma, is having difficulty breathing out. 
   She had gone to visit Burgess again the next day to further chat about the symptoms that took place. He referred Norinh to a wonderful speech pathologist to receive proper breathing therapy.
   Every two weeks she went to Zeeland hospital to be taught exercises to help prevent her PVCD from flaring up, as there is no medication or cure for this dysfunction. 
   Even after months of therapy, and completing exercises, nothing seemed to help. 
   Norinh continued running on her own during the Covid-19 pandemic as she was unable to gather with her team. This allowed her the opportunity to run at her own pace without exceeding her limits. Allowing herself to slow down when needed allowed her to benefit both physically and mentally. She no longer felt the pressure of needing to keep a steady pace to please her teammates.
   As time progressed, Norinh noticed that the PVCD was starting to take a toll on her home life. Simple tasks such as walking up the stairs, or even talking for a longer period of time, were becoming straining on Norinh's vocal cords. 
   However, Norinh was still dedicated to finishing her senior season to the best of her abilities despite the obstacles to come. 
   In almost every race she would start out super strong, then her PVCD would flare up, slowing her down. 
"I would just keep telling myself to keep going and I would try to not think about what time I am going to get and just focus on finishing," Norinh said. 
   When struggling to fight against the physical symptoms of this laryngeal dysfunction, Norinh found herself constantly building herself up mentally. As her peers breeze past her bringing a gush of wind that bristles against the leaves on the bushes along the trail, they fail to withhold the pride she strode with. Slowing down is the only way she will be able to finish this race, and she is okay with that. 
"I didn't get the times I wanted this year but I grew a lot mentally. I learned that time doesn't matter and effort is what counts," Norinh said.
   Paradoxical Vocal Cord Dysfunction tends to pull those affected away from doing the things that bring them the most joy such as singing, running, and talking to loved ones. Although Norinh may not be able to run at the pace she used to, she's learned to adapt to fight to the finish.