From art prodigy to business owner
With spirits high, former West Ottawa student and artist Alex Knoll left for California. A move strengthened by his passion for art and his dream to work as a computer animator for Pixar. Ten years later, Alex ended up as a founder of a successful virtual reality gaming company. 
   At a young age, Alex showed no intention to follow the norm. Father and Instructor Chris Knoll said, "Alex's artwork was always very different. In 5th-grade art class, they had an assignment to draw castles." Alex drew a misshapen castle, with hundreds of strange characters strewn about. His work distinguished him from his peers. 
   Alex couldn't get enough. The elementary school art classes didn't satisfy him. He needed to learn more. 
  Alex blazed his own trail. "In 6th grade, he wanted to learn how to create movies of his own and forced himself to read a college-level textbook on computer animation. As the years went on, he just learned more and more," Chris said. 
   From his middle school years to the beginning of high school, Alex would take summer classes from Kendall College of Art and Design. Unsurprisingly, Alex excelled in art classes during his 9th and 10th-grade years at Byron Center High School. There was no stopping him now. 
   During his time at Byron Center, Alex could finally take computer animation classes. Alex embraced the new technology and combined them with his well-known expertise. As a ninth-grader, Alex entered a statewide film contest and created one of the first-place films. 
 "At the awards ceremony in Detroit at the Art Institute, we realized that his short film was the only one created by a single person. All the other short films in various categories were completed by teams of students," Chris said. Alex was beginning to show his ever-growing potential, a potential fueled by his love for computer animation.
   When Alex started his junior year at WOHS, he found himself without the familiar Mac computer and computer classes that Byron Center had, so he adapted. He asked his teacher at the time, Instructor Cornell, if he could bring in his Mac from home. Ultimately, Alex ended up teaching the class computer animation basics. 
   Alex's art and design classes at WOHS broadened his horizons, making him a better artist and designer. He learned more about drawing, painting, and sculpture. These interdisciplinary arts made him a stronger computer animator and expanded his knowledge of art. 
   These classes fostered his creativity, molding new experiences for Alex. "He once told me that he really needed his physics class with Mr. Mayfield because it's what makes his virtual games seem so real," Chris said. For Alex, WOHS helped him realize computer animation was a holistic approach, combining subjects from the sciences and arts. 
   Alex decided to pursue a career in the arts, particularly computer science. Alex said, "Ultimately I chose to go out of state to the Savannah College of Art and Design for Animation and 3d Design as CG (computer graphics) work seemed the most commercially viable for a career and always was most intriguing."
   Art school was rough and demanding, but Alex found enjoyment in all his work. Luckily, Alex was able to land a job as a computer animator for Fisher-Price in New York. He took a year off school, then returned to Savannah to finish his degree. After graduation, he went back to New York to continue work.
   However, the job wasn't what he wanted to do with his life. He needed to do more with his passion. Tired of the weather and monotonous routine, Alex left for Los Angeles. 
   A normal career path in the arts just wasn't for Alex. Since he was young, deviating from the norm was in his nature. 
   Alex found work in commercial animation, ranging from projects in television to musical arts. "My original dream was to work on feature film animation for somewhere like Disney, DreamWorks, or Pixar; however, the level of competitiveness required to land jobs there was beyond my nature," Alex said.
   Instead, Alex found his strong suit in generalized aspects of art, not specialized arts. Soon, Alex began work creating pre-rendered animation content for a new video game, Deadmau5. He was obsessed with the process. Finally, Alex found where he belonged.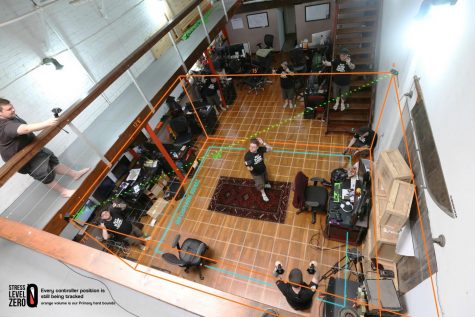 "At one point I had animated a YouTube video of a 'first-person Super Mario' sequence for a friend," Alex said. They decided together that making video games themselves was more entertaining than creating videos about them. 
   Alex blazed his own trail once again. Taking a big leap, Alex pursued his new dream of starting a virtual reality business, doing what he always wanted to do.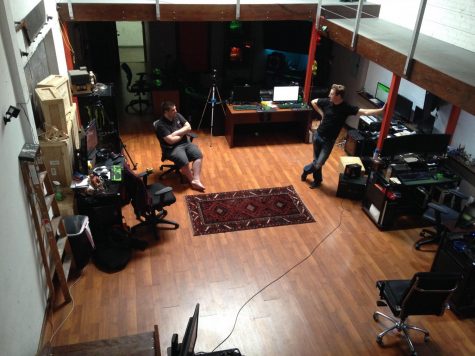 "We decided to form our company the day we got our hands on early experimental VR hardware. After gaining some attention for videos showcasing our various VR experiments, we were invited up to Valve software to talk with them and play around with their prototype VR hardware," Alex said. At those offices, Alex and his partner decided to fully commit themselves. There was no turning back. 
   For the next couple of years, Alex and his partner started to grow their business. Motivated by his love for VR, the long days and demanding projects seemed a little less demanding. Every completed game and project was a reaffirmation of his journey. 
   "Eight years on we're somehow at the forefront of pushing VR tech and content, and we are still only seeing the very beginning of this art medium take off," Alex said. 
   His most recent project is the game, Boneworks. Developed by Alex's business, Stress Level Zero, the game gives players the challenge of escaping a virtual reality city. The game relies on realistic physical interactions, an integral part of Alex's interdisciplinary perspective on art. In the first week of release, about one-hundred thousand people downloaded Boneworks.
   Alex hopes to grow upon his previous games and continue to create new and exciting content. Stress Level Zero and his love for virtual reality shows no signs of stopping. What once was a young 5th grader taking a novel approach to drawing a castle has turned into a successful business owner of a popular video game company. 
   Despite the growing popularity and praise for his work, Alex says he creates for himself. Creating and designing novel games provides Alex with a sense of accomplishment, and he hopes to bring Stress Level Zero to the next level of gaming entertainment.