2021 Poet Laureate: Zoebelle Bean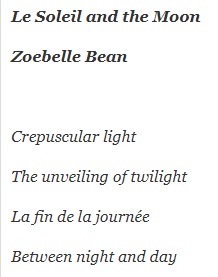 This past year and a half has been crowded with so many different circumstances; as a result, people have been battling with new experiences, and what better way to process everything that has happened recently than getting it all out through poetry?
Choosing a top four from the 56 poems entered in the competition proved to be quite difficult. Ultimately, Instructors Kristen Bentley, Ann Kirkendall, Chris Norton, and Ken Strobel narrowed the poems to a top four.
___
1st: Le Soleil and the Moon -Zoebelle Bean
2nd: Tainted Utopia -Zoebelle Bean
3rd: Poems and Pieces From the Heart -Gionna Bean
4th: "What I Live For" -Shylah Dozeman
_____
"What I Live For"
Shylah Dozeman
I live in a box
Surrounded by guarded walls
Stuck in the same place
School, Homework, Repeat
A never ending cycle
Five days of the week
The weekend is full
Full of the sleep I missed and
Meals I never ate 
I stay in this box,
This mundane, lifeless cycle,
This dismal rhythm
For my future self 
Where my life is more than school
And repeating tasks
For my family 
My husband, Children, and love 
Adventures for days
For my future job
To help my community
To heal the broken
"Think outside the box."
"Don't plan for the future."
"Live in the present"
I live for myself
And not for other people
With cliché advice
I "live" in my box
So I live in my future
Seven days a week
___
Poems and Pieces From the Heart
Gionna Bean
Poems and pieces from the heart,
They drive the soul to wonder
What the world would be
Were men colorless and bleak
Would this world be right
Where nowhere is bright
Would we find common ground
In this prison with no sound
Rhyme and rhythm drive the heart
They soothe the searching soul
Every artist plays a part
To make this painting whole
___
Tainted Utopia
Zoebelle Bean
A world of creativity 
As far as the eye can see
Imagination is my captivity
Without which, I wouldn't be
Time works in reverse here 
I wish I wasn't so high-strung
Instead of growing old, I fear
I'll die of becoming too young
Each new idea is a home 
Each new dream, a game
Yet my mind's becoming foam
It shall never be the same
Where do I go, now that I'm lost
Where do I go, when I'm so far
Shattered memories glaze over with frost
I don't know who you are
You came to me as a friend
Your promises were laced with gold
You betrayed me in the end
I don't know what I've been told
I sift through the wreckage 
Of my precious and broken mind
Imagination, you said, was a message
That would save humankind
Yet, I know now why you try 
To play this wicked game
You're despicable, declared I
Yet I shook your hand all the same
Forevermore will I repent
And in the lonely, dark night,
Recall the agony of that moment
Which will never leave my sight
   There were so many beautiful poems submitted with so many beautiful messages, but this next one spoke to the judges. Le Soleil and the Moon is a poem derived from the love Zoebelle shares for French, astronomy, and particularly moonrises/sunsets. "I decided that it would add a unique perspective to the poem if I added elements of French to it, allowing the poem to feel like a combination of something foreign but also familiar because I was describing something which most people have experienced or heard of before- a sunset and a moonrise." Zoebelle also described how she wanted to incorporate the feeling of the sun and moon being related like friends and family.
___
Le Soleil and the Moon
Zoebelle Bean
Crepuscular light
The unveiling of twilight 
La fin de la journée
Between night and day
The sky waned
Reflecting in my windowpanes
Curtains left undrawn
Distantly, a heavy flame,
Pestering but tame
Un ami pour personne
Went down, beyond the horizon
On the mountaintops it alighted
The surface illuminated
Look away, I could not
It set fire to the layman's soul
An eye peering through a keyhole
On m'a montré ma vie
The locket of my heart was set free
It splintered my mind, touched
My consciousness, the remains clutched
In the arms of a broken man
Across from this, a shiny slip of a dime
Beating against the shores of time
Dansante dans le rivière somme
The king of a faraway kingdom
It hung, barely visible in the dusky light
Above the pointed treetops with might
The sun giving character to his face
He smiled down fondly at the terrain below
A crack in his surface for every year he knows
Il est venu chaque nuit, mais il n'est pas resté
He left without goodbye at the dawn of each day
Quintessential and flawless, with grace to show it
He provided an escape from every sad moment
Sans guilt, sans judgment, sans pity
   The judges appreciate Zoebelle's work. "I loved her thoughtful word choice and how she sprinkled French into it," Bentley said. 
   Kirkendall appreciated how clearly crafted Zoebelle's piece was. "So often, students think that beautiful poetry just happens, that a poet is inspired, writes a draft, and the poem is then done. That's not how writing works. Le Soleil had an attention to detail that was missing in many of the other entries," Kirkendall said. 

  Well done to Zoebelle Bean, Gionna Bean, and Shylah Dozeman for their winning entries.