What I learned in 2020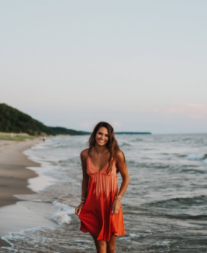 Nine months since the pandemic hit and I haven't seen my best friend, my grandma, or any others in my family. COVID-19, extreme wildfires, and racial injustice. 2020 has been a crazy year and has taught me many important lessons. 
   I have learned there is always a first for everything, happy or sad. The Class of 2021 has lost a lot and has learned to not take anything for granted. The Class of 2021 will be the first class to likely never have a prom. The first graduating class that does not need SAT scores for college entry. The first WO Graduating Class to miss out on Senior Survivor since it began seven years ago, along with all the other exciting activities a senior year would normally offer. 
   The pandemic and shut down has taught me to appreciate the little things that we have taken for granted over the years. 
   I have learned how important my family is to me and how much I value our time together.  I have always been close with my cousins that live in Canada. My parents and I were in Toronto on March 13 when everything was starting to shut down. We raced home immediately because there was talk about the borders being closed.
   Fortunately, we made it back before anything was enforced. The borders have been closed ever since March and will remain that way until at least January 21. I have not been able to travel to see my family ever since. We won't be having Christmas together or New Year's like we normally do. Usually we travel to Toronto at least every couple of months for some kind of family events or just for a visit. 
   One of my cousins had her first baby back in May. My other family that lives near her has met the baby, but I still have not seen him, except for pictures. My immediate family is missing out on these little opportunities to visit because of COVID-19.
   This pandemic has taught me to not take my family for granted because it could be a while before I am able to see them again. My cousins and I are very close in age and have a lot in common. We spend countless hours on the phone but nothing beats the giggles we have had in person.  It is hard not being able to see them whenever we want and with different school online schedules we don't always get to talk as much as we wish. 
   Another life lesson I learned this year is to love yourself. The phrase sounds cheesy because people have said it for years, but I didn't realize how true that statement really was until recently.
   I became very lonely during lockdown because there wasn't much to do. I spent a lot of time at my house with my dog while my parents worked. In that time alone, I learned that I couldn't rely on other people for happiness and I needed to find happiness and strength within myself, and needed to learn to love myself. I spent many days having a "self-care" day, and after a couple months I found the strength within me and I was able to find that love for myself.
   Taking care of my mental and physical health is something that I had never really focused on before. While I knew that mental health was important and I couldn't keep putting others' happiness first, I didn't listen because I didn't see the value as I was unaware of my own internal struggles. 
    The pandemic has also taught me who my true friends are as opposed to just mere acquaintances. Some friends stay because you see them day in and day out at school or sport practices. It becomes comfortable, sharing laughs and some simple meaningless chatter but the reality is you are only friends because they feel it is convenient, while other friends will go out of their way to make plans or try to keep the friendship alive even during the hard times.
   With school being canceled and a stay-at-home requirement in place, these friends would be the ones who were constantly checking in to see if I was okay.  The friends that go out of their way are true friends. Being in lockdown and only being able to see a select few people, made it very clear who the friends were that were going to stay by my side. 
   I have learned the significance swimming has in my life.  I was not able to get in the pool for almost six months. I have spent my life in the pool and it was hard not being able to go and just swim. Before the pandemic, I would just go swim because I had to, but now I have realized that swimming is my outlet. Swimming kept me happy, gave me something to do when I was bored, and ultimately kept me grounded and helped me sort through everything going on in my life.
   Not being able to swim, I have come to appreciate the time I get in the pool more. I realize that some people aren't as lucky to find an outlet like I have. Thus, I have a new appreciation for what I have accomplished. I used to swim for times, to make state or get a certain place in my event, but now I swim for fun and friendships.
   Throughout the years I have created bonds with teammates that have helped me get through the tough times. I don't care as much about my placing in an event or how fast I am swimming, but for the time I have to myself, with teammates and just being able to sort life out. 
   2020 has taught me disappointment, constant change, the importance of mental health, family, and self-care.  2020 has also taught me that school isn't really at all that bad. After a long enough break, you find yourself actually missing school and all the extra little things that come along with it.
   Although I may be the first to say it, thank you quarantine.