A depletion of creativity
I gave Instructor Kelly Strait's Third Graders and Instructor Ken Strobel's Journalism class students the same blank page with a black line. The assignment was to make a drawing that incorporates the line in any way. 
   Strait has been giving out the "Be Creative" assignments for over 20 years as a way to "promote creativity and problem solving," Strait found out about the project in graduate school. "I was given one of these assignments by a professor and thought it was powerful and fun," Strait said. She has been giving out the assignments since. 
   Strait found that the assignment encourages helpful behaviors. "Not only does this assignment strengthen creative thinking and problem solving but it also encourages students to take risks and to be different. I always emphasize that it's best to create something original… not to copy those around you but to try to think 'out of the box'," Strait said.
   With her experience, she has learned to predict what her students will do. "It's the most obvious, usually like a mountain or a sun.  However, more often I am amazed by the unique ideas I see," Strait said.
   Over the years, Strait has connected the style of the drawings to different types of students. "The students who tend to have more unique ideas are typically risk-takers, better problem solvers, or more artistic. Students who are less confident or struggle with taking risks, tend to struggle," Strait said.
   Strait regularly gives out the assignment, finding that students learn the true meaning of how to "Be Creative." "Over time, everyone usually becomes more creative and less concerned with the opinions of others. They realize that it's not solely about the quality of the art, but instead more focused on the ability to look at a situation, or scribble, from different angles," Strait said.
   West Ottawa's Journalism students' drawings were simple. Most drawings lacked color and complexity. The students only colored what they had to, if they chose to add any color at all. It appeared as the students decided only to add what was necessary for the drawing to be finished.
   There were several drawings of similar things: swans, ducks, and geese. Each consisted of a pencil outline, a few extra feathers, and a white background. Although, two of the swans had more effort, with one including a well-detailed background.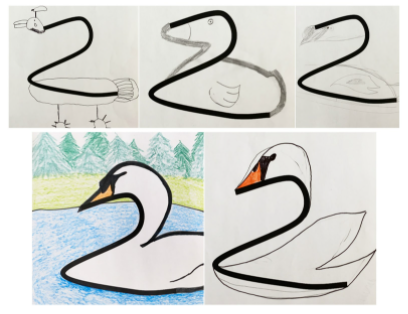 Along with the birds, several Journalism students drew snakes. Each snake was unique, featuring different colors and patterns.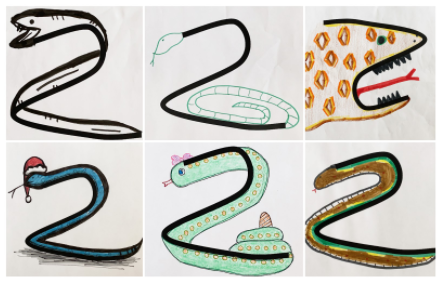 Other high schoolers chose to draw different animated characters: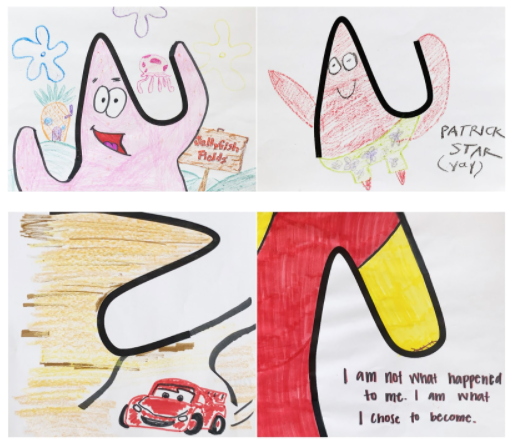 The third graders at Lakewood Elementary school went all out on their drawings, filling their entire page with color. There were only three drawings of the same thing: roads.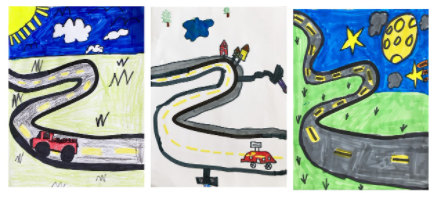 While some drawings feature intricate details, such as the dragon, others fill the whole page with different features, such as the roller coaster park and the narwhal.

Some of the third grader's drawings are hard to identify. There are a couple of things one may guess, but they will be left up to interpretation.

   Overall, the third graders were far more creative. They used much more color and details compared to the simple black and white drawings by the high schoolers. The third graders were the risk-takers, drawing unique drawings. The high schoolers were less confident, looking to their peers for inspiration. 
   The third graders are often encouraged to be more creative and think outside the box. Thinking differently is awarded and encouraged. In high school, students are given rubrics and told specifically what to do. If students choose to think outside the box, they lose points for not doing what they are told. 
   As students travel through their years of education, they learn to get the job done, putting creativity aside.