Scrapyard Climbing Collective: Local business spotlight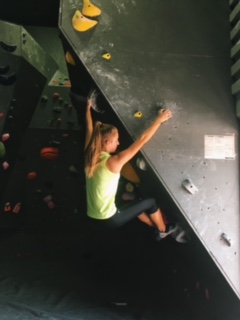 You're hanging off the side of a cliff, about to slip, with nothing to catch your fall. This is the reality of small businesses, who are struggling to survive during the pandemic.
   Scrapyard Climbing Collective is one of the many small businesses in Holland, Michigan who are trying to stay afloat during an economically turbulent time. 
   As a gym, they were forced to close back in March, and weren't able to reopen until September. 
   Naturally, the reality of the pandemic forced life at Scrapyard to grind to a halt, as the government urged Americans to remain at home. These measures were  necessary for the mitigation of the pandemic. However, the closures jeopardized businesses like Scrapyard, who relied on climbers coming in with their friends and family to enjoy all that Scrapyard has to offer.
   Former West Ottawa graduate and climbing aficionado Thomas Dummer said, "Since I really enjoy the social aspect of climbing, even though I had the tools at home to maintain fitness and strength, without being able to be around other people, I lost motivation for climbing for a little while."
   When the gym closed down, many frequent climbers chose to freeze their membership at the gym for the duration of the closure, causing further financial strain on the gym. 
   Fortunately, some members chose to continue the monthly renewal of their memberships, alleviating some of that strain which undoubtedly came with being closed for almost six months.
   Currently, Scrapyard is open to members and the public with COVID-19 restrictions in place. 
   Founded in 2018, Scrapyard best describes themselves as "a collection of individuals committed to the idea that we are better together and that rock climbing has a uniquely engaging power to draw people together and bring out the best in them." 
   Their state-of-the-art facility is home to 3200 square feet of walls for climbing, including bouldering, rope climbing, and auto-belaying. 
   Scrapyard also offers programs for kids and adults alike who are interested in climbing, including after-school opportunities and private lessons. The local gym continues to provide a safe, welcoming environment for anyone, regardless of skill level or background. 
   Dummer said, "The members at Scrapyard are no strangers to newcomers and always enjoy helping out and giving tips to others. The staff is also friendly and helpful. The routes are well labeled and easy to find, making it ideal for first time climbers."
   As the weather gets colder, business would normally be booming at Scrapyard as Hollanders look for fun indoor activities. Sadly, the doors are only open for 24 climbers at a time due to COVID restrictions. 
   Leah Wielenga, manager of Scrapyard, said, "We don't love the formality of having to do time slots… It's not as fun to have to have those conversations with people when you just want it to be like it was before…" 
   Wielenga went on to say how enforcing COVID-19 restrictions can be tough on a naturally friendly and welcoming community like Scrapyard.
   "…it's been hard to keep enforcing social distancing because people do love each other… in between climbs it's fun to see people jokingly tackle each other on the mats or doing gymnastics… [it's hard to know] how to support community… and really try and get that to thrive while saying 'stay apart so we can stay together.'"
   Wielenga has been instrumental in cultivating the welcoming atmosphere that makes Scrapyard the unique place that it is. She describes her job as "…part people-time, part climbing the routes myself in off-time to know what they're like, part maintenance, and part business…" Wielenga represents so many others in Holland who contribute to the vibrant business community that is alive and well here on the West Coast. 
   Thanks to the donations of generous members at Scrapyard, the gym will continue to keep its doors open, despite all the difficulties it may face. However, it's up to the Holland community to continue to support its businesses. 
   Britt Delo, a representative from the Holland Chamber of Commerce, said, "Some of the best ways to support our local businesses is to shop local, advocate for business support through your local legislative representatives and consider helping a local non-profit." 
   Another easy way to support the community is to use West Coast Cash, "…gift certificates redeemable at over 90 local businesses," according to the HCC. 
   2020 has been a year rife with financial struggle, but with the support of the Holland community, 2021 can turn struggle into success.
   To learn more about how to support the Holland business community, click on the links below.
https://www.westcoastchamber.org/west-coast-cash/
https://www.westcoastchamber.org/community-impact-championing-our-nonprofits/