Totally binge-worthy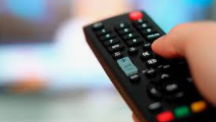 After a stressful day at school followed by her extracurriculars, Sr. Isabella Kephart wanted to unwind by watching her favorite TV series, Friends. When an episode played, she started developing a strong interest in the characters, and by the time an episode ended, she couldn't bear to stop at one episode– that was too short for her.  "The characters were all so relatable, so it didn't take long for me to become emotionally invested in their lives," Kephart said. 
   Most people choose to watch television series every day, but their intriguing nature causes people to binge watch the entire series. In other words, they choose to watch the whole series without stopping. According to many West Ottawa students and a graduates, a binge-worthy series can be determined by the quality of its characters and storyline.
   Criminal Minds attracted Sr. Caleb Louks' attention as soon as he watched the first episode. Criminal Minds revolves around the cases of the F.B.I. Behavioral Analysis Unit, an elite group of profilers who analyze the nation's most dangerous serial killers and individual heinous crimes in an effort to anticipate their next moves before they strike again. Despite the repetitive ideas that the show presents, Louks finds the suspense of each episode pulling him to watch the series more than any other usual series he's watched. Since each episode of Criminal Minds has its own problem, Louks can jump into any episode that he wants. "Criminal Minds captivates people with its likeable characters and interesting plot." Louks said. This series intrigues Louks so much that he found himself repeatedly binge watching its episodes.
   White Collar caught the attention of Jr. Katherine Roudebush. White Collar is about a white-collar criminal who agrees to help the F.B.I. catch other white-collar criminals using his expertise as an art and securities thief, counterfeiter, and conman. The backstories of each character drew Roudebush to keep watching the series and feel immersed within it. Roudebush loved the show because  "there was really great character development which allowed me to feel connected with all the actors." The continually developing narrative also kept her watching the show.  "I also really enjoyed the whole plot and storyline of the series." Roudebush said.
   Sr. Alex Toth deemed Breaking Bad his favorite show. Breaking Bad follows a high school chemistry teacher, Walter White, who is diagnosed with inoperable lung cancer. White turns to manufacturing and selling methamphetamine in order to secure his family's future. Toth was astonished by Breaking Bad as he watched it; what he found from the critics online agreed with his positive view of the show. Toth continuously watched the series because it had what he never seen before. "I introduced a new kind of thrill within a tv series through its simple yet genius storyline." 
   With a unique plot, How to get Away with Murder kept West Ottawa Graduate Jonathan Mao completely entranced. How to get Away with Murder follows a group of ambitious law students and their brilliant criminal defense professor become involved in a twisted murder plot that promises to change the course of their lives. How to Get Away with Murder often ends with cliff hangers with each episode, giving Mao more reason to continue watching the next episode in the series. Another reason Mao continued to watch the series were the many plot twists; he didn't expect the events to unfold in the way they did, but every time, the unexpected outcomes leave Mao completely satisfied. "A unique aspect of the show is that they'd give you a peek early on in the season at momentous events that happen towards the end of season and slowly connect the dots," Mao said.
   Though there are other elements that keep the attention of the audience, the development of characters and plot is what draws viewers to stay and watch a series without a stop.