"With all my love I remain forever yours"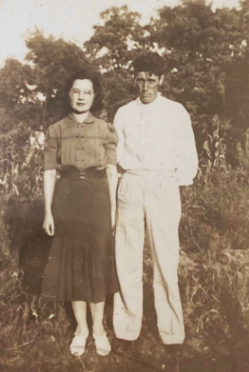 "Wherever I go and whatever I encounter, you will always be my inspiration and I hope life will always be a bowl of cherries for you. You are a great kid and one that can survive all the hardships and blue days that are ahead," Infantryman Roy Hamm wrote in a letter to his wife Myrtle (Bootsie) Hamm. When war tears the world apart, love brings it back together. 
   My great grandfather, Roy Hamm, was born on February 2, 1910, in Mason County, Kentucky.
   On July 15, 1939, Roy Hamm married my great grandmother Myrtle Kirk. Not long after saying "I do," their lives changed drastically.
   As World War II consumed the world's attention, Roy was drafted into the army.
He was part of the 79th Infantry Division in the 314th unit. The 79th Infantry Division was also known as the 'Cross of Lorraine.' Roy was in the Rainbow Division. 
   Roy trained in Oklahoma before going to England for additional training. On D-Day plus six, he landed on Utah Beach in Normandy. Roy fought his first battle in France in June of 1944.
   While he was away in boot camp and combat, he kept in touch with Myrtle through handwritten letters. He writes to Myrtle (Bootsie) with fondness and adoration. The letters Myrtle saved from Roy were kept in my family. This collection of hundreds of letters spanning the three years Roy was serving in the army are now piled high as typed copies in a large green book.
   The letters served as a way to keep Bootsie up to date as much as possible. Roy would tell her where he was, what he'd been doing, and what he was expecting to do in the near future. As time passed and his daily routine changed, so did the details of his letters. 
   Roy's first letter was written in September 1943 when he arrived at his first training destination. "Here I am at last, somewhere in Oklahoma, and boy the dust is severe – haven't got stationed yet but will be soon, I hope," he said.
   One thing remained the same in every letter to Bootsie regardless of what was going on around the world: Roy's love. In nearly all of his letters from his first September away, Roy managed to write something about his love for Myrtle. "If I could just see you five minutes then life wouldn't be so bad. I guess a person never realizes how much one can care for another until he's gone," Roy said. "Myrtle, believe it or not, with all the truth in the world I am saying this, you know I used to kid you about the movie stars, well that's all bunk. I would not exchange 12 years with all of them for one minute with you. I hope you get this straight, you are mine, all I ever look forward to seeing and having you again."
   In his letter written on September 18, 1943, Roy said, "Sure wish I was with you, but fate has chosen another way so until that time when we are together again,
we'll have to make the best of it."
   Roy's letters continue on for over two years in the same manner; loving and longing to be with his wife once again.
   On September 4, 1944, Roy wrote from somewhere in France, "You ask me if I ever forget about you. Well, you just might as well hit me as ask me that, it wouldn't hurt much worse. Bootsie, there couldn't be any person on earth who loves another as I do you, maybe as much but no more. You are all I ever dream of, of wanting to come home to," he said.
   Amongst all of his experiences throughout the war – the training, the foxholes, the casualties – Roy never once forgot what he was fighting so hard to return to, "Hello darling and that's what I mean, you ask me if I ever missed you. I guess I can't express the answer in words Bootsie. I will just only say yes, a million times. What I would give to be with you," he said. "I wish I could tell you something of conditions over here but of course that's impossible now but if I am one of the lucky ones to survive it all, I can tell you lots then. So until I see you again, I remain forever yours and all the love in the world."
   Roy signed many of his letters this way, often writing, "With all my love I remain forever yours – Roy." Yet another reminder of just how deeply he loved her.
   Roy eventually returned home to Indiana and was happily reunited with Bootsie. Together they had a son, Joe Hamm, who is my mother's father. 
   My great grandparents are remembered lovingly by the family members who were fortunate enough to know them. 
   "Uncle Roy loved to play baseball, so during recess on nice days, he would go out and play ball with the kids. Aunt Bootsie would come to the door and ring her school bell for them to come back in and Roy would raise his hand and signal just a minute to her. But they usually stayed out longer than another minute," Nancy Huse, niece to Roy and Bootsie said.
   Janet Williams, Roy and Bootsie's niece said, "Uncle Roy used to play Kick The Can with all of us kids in their big side yard. He was a big kid himself." "He (Roy) would always take us for a ride in the cart behind the lawnmower, then take us all for a ride on the bus! That was fun," Jackie Kraemer, another one of their nieces said.
   "I remember they always had a huge strawberry patch and we'd go pick berries and eat tons of them. They were very special and some of my favorite memories are of times with them and Joe," Huse said. "I miss all of them a lot!!"
   It is clear that Roy and Bootsie loved their family dearly, and everyone seems to remember very well just how much they loved each other.
   "I do remember my mom talking about when Uncle Roy was away in the war that she lived with Aunt Bootsie. She said your grandpa worried about her and my mom while he couldn't be there. It's funny about correspondence to loved ones during wartime. They always mask what is really happening, making it sound like everything is ok," Williams said. "They were wonderful people and they loved each other so much. I had the best childhood because they were a part of my life. I miss them all so much."
   Roy was honorably discharged from his service on December 21, 1945. His last letter is dated December 23, 1944, "Dear Bootsie, And how you be? I am alright and hope you are the same. I guess as I am writing this you may be finishing your Christmas tree of its decorations. Wish I could see it and be there to see the enjoyment that will arise thru the feeling of good will and sentiment toward all. Anyway Bootsie, I may not be there in person but my thoughts will be there so in that way my enjoyment will come thru knowing you are free to enjoy it. How are all the folks? Give them all my best regards and good wishes. News is scarce so will close saying I send you all my love. So be good and good luck. As ever I remain – Roy," he said.
   Throughout each of his letters, Roy reminded Myrtle of how much he loved her and couldn't wait to return to their life together. Rarely did he mention the horrid experiences of war, but he kept his writings focused on the one thing that was motivating him to do his best and return home: Bootsie.
      Roy passed away on December 19, 1972. Nearly twenty-one years later, Myrtle passed away on October 10, 1993. 
   While I may not have been lucky enough to meet Roy and Bootsie, I have been lucky enough to grow up hearing many stories about them. I could not be more proud to be related to two such loving people and to be raised by a family who exhibits the same love for others that they did.