Jr. Sierra Rodriguez assesses online school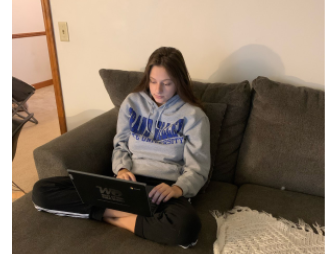 How is online school going overall?
  "It's a little hard to keep up with all of my classes because I don't have in person reminders and it's more difficult to have self motivation, but I prefer it over in person."
   Why do you prefer online school over in person?
   "Because I can go at my own pace without being rushed. Because in person classes just move at a general pace and it's not really specific to anyone's own pace. And it's better for my mental health. "
   How do you think online school has affected your grades and learning overall? 
   "I think its improved because all of the material is online so I don't have to ask for a repeated lesson, I can just go back and look at it on my own. "
   How have the teachers helped you in online school?
   "Twice a week teachers reach out asking if anyone has any questions or concerns and then they host Google meet to try to communicate with students on a more personal level." 
   Who would you recommend online school for?
   "I recommend it for anyone that wants more personal experience. In regular school they are talking to a group and not talking to people individually whereas online teachers are forced to communicate individually with the students. It's more focused on actual learning and not commentary like it is for in person, everything I need to know is just right in front of me." 
   Do you see online school being more popular with people after COVID?
   "Yeah it could be, it's pretty efficient, I don't feel the need to go back to school unless to see people. I don't need the in person experience because everything that teachers read is just in front of them anyways. I can do everything on my own and do it faster. And now I have more time for sports and work."