Fear the braid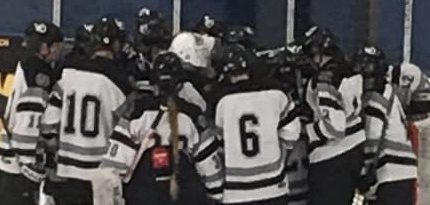 "Rapunzel Rapunzel let down your hair," my friend jokingly says to me. I sit in AP Spanish class watching the morning announcements as I braid the long tail of hair that flows behind me. The Rapunzel commentary is something I have received my whole life. I have always been the girl with long hair. I like having long hair because it sets me apart from other people, and it has become a huge part of my identity. 
My hair also sets me apart on the ice. As one of only a few females playing boys hockey in Michigan, I make sure my long braid is proudly displayed outside my jersey. Opponents notice, their parents and coaches notice too. This occasionally opens me up to being targeted by sexist comments, but I don't tuck my braid away. I am here to play.
Braiding my hair is part of my pregame ritual. My parents have coined the term "fear the braid." I appreciate the positive recognition I receive from most, but my proudest moments are when I step off the ice and a little girl getting ready for Learn-to-Skate says, "Mommy, look! She's a girl and she plays hockey! I want to do that!"
While I use my hair to show my strength, sometimes it hides my vulnerability. The tough parts of life begin to twist a knot at the nape of my neck. My school workload, sports schedules, and mental health challenges have caused me to neglect myself at times. These dark moments manifest in thick, dense snarls. Much like the daunting tasks I face, the time and effort needed to tackle these tangles is exhausting. I hide my knotted hair much like I hide my struggles: wrapped in a messy bun. Whether it's my hair or my mental health, I keep the messy parts of my life hidden until I am strong enough to work through them myself or ask for help. 
For many women, hair is an integral part of who we are and how we express ourselves. From color to style to texture, our hair is a window into our stories.
Sr. Tegan McDonald has customized her hair to show her true inner personality. McDonald was born with blonde hair and spent her childhood with natural hair color. McDonald hated her hair as she felt it did not represent who she was. McDonald said, "I spent a good chunk of my life with the same haircut and color. It wasn't anything I wanted, it was what I was told I had to have." 
McDonald decided to dye her hair to express herself. "I've dyed my hair purple, I did a full head of auburn, a gingerish red, light brown, dark brown and I still change my hair color." By changing color, McDonald believes it has changed people's perspective of her. "I am my own person. Not just another blonde Swedish kid. I might not be as crazy as some of my friends but I still dye my hair to express myself. When I was a blonde, people assumed I was dumb and innocent. They assumed that I was constantly a damsel in distress. Now that I'm a brunette, people have stopped assuming those things." 
McDonald also cut her hair to express her sexuality. As the LGBTQ+ community becomes more prominent in our society, hair styles like the "lesbian undercut" or "bisexual bob" have been used to express their identities. McDonald cut her hair into a bob style to represent her bisexuality. "For the longest time, I was hiding who I was. I gave up caring who knew I wasn't straight and cut my hair to be what is considered 'the bisexual bob'… as a person who is not straight it is amazing. If I pull it back, I use it to show that I am a geek. It is too short to do a ponytail and get all my hair, but I can do buns like Rey from Star Wars." 
Sr. Lieza Klemm's hair is full of beautiful curls. When she was young her hair was "Pin-straight" but after a haircut she grew luscious curls. Klemm says her hair typically represents her lifestyle as "Low maintenance." "I really enjoy being comfortable, so my hair is either down or in a simple ponytail…Now that I think about it, my habits reflect my low maintenance life; I don't like to be stressed out so if my hair isn't working for me, I'll just put it up." For this reason she also keeps her hair short. 
On days when she's feeling fancy, Klemm uses barrettes and clips to spice up her style. These clips also represent the "Hippie"  parts of her personality. Klemm says, "They are usually 'hippie' barretts – a lot of sun and stars stuff but also crystals and things." 
Klemm is extremely confident with her curly hair. "I don't know if anyone else feels this way, but I think curly hair is just much more fun than straight hair. I wouldn't trade it for anything else. I'm so glad it grew out curly. If I didn't like my curly hair, my relationship with my hair would be much different. "
Similarly, Jr. Haley Menghini's blonde curly hair couldn't represent her personality any better. No two curls on her head are identical. The quirky curls add volume and variety.  "Each curl is unique and doesn't form to what other pieces do. That explains a lot for me- I would say I am very independent and do not like to conform to society."
 Menghini also believes the color of her hair speaks to who she is. The stereotypical blonde jokes have created a funny, wild view of blondes. Menghini believes her personality is a great representation of that. Menghini says, "It's blonde… I think that's enough said." 
Menghini has experienced the importance of her hair to her identity while participating in swimming. Swimming requires her to pull her hair up into a swim cap, taking away that piece of her from the public eye. Menghini says, "I've always swum and unfortunately it's always covered up with a swim cap. It's funny to have people say they'd never recognize me without a swim cap on!"  
Byron Center Sr. Julia Becker hasn't always been proud of her hair. Being biracial gave her thick dark curls, and she would have done anything to hide them. "My hair is something I long ignored and downplayed because I didn't like myself." Being adopted by white parents made her insecure about her hair as it showed her biological race. 
As she grew more confident in herself and her identity as an African American teen, she began to love her natural hair. Becker says, "As I gained more confidence and began to see myself as beautiful, I stopped trying to change it." Becker now takes pride in showing off her hair as a representation of who she is. "My hair is unique and crazy and unpredictable just like I am and I am very proud to call it my own."
Whether a woman chooses to alter her hair color to a shocking hue, rock her natural curls, or braid her locks in preparation for competition,  a woman's choices around her hair speaks volumes to her focus, her purpose, and what she wants to say to the world. Whatever her choice, show her respect and always fear the braid.