WO food pantry: It makes a difference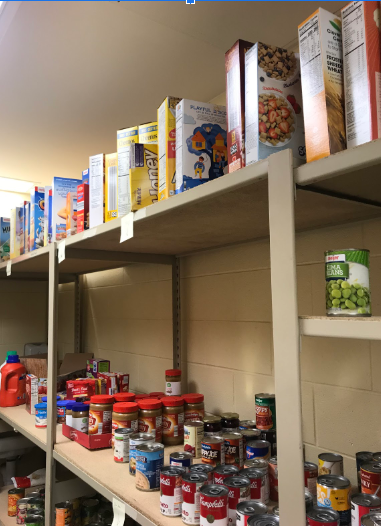 On a Friday in the beginning of October, I admitted to one of my teachers that I didn't have much food at home.
She said that she would email Sally Groenheide and send me down to pick up some food at the end of the day. I was a little confused.
When I showed up to the front desk she handed me a big bag of food. I thought that was it, but then she gave me a few empty bags and told me to follow her. We walked down the hall and stopped at a door.
The door seemed bigger than the rest at the school. When she opened the door there were shelves that were so high they could almost touch the ceiling. At the top of the selves were over twenty boxes of cereal, in the middle shelves they held many types of canned foods and at the bottom were things like shampoo and conditioner, laundry detergent, dish soap and many other helpful things. Groenheide said I could pick what I needed to bring home for me and my family.

I have received food from the food pantry here at West Ottawa during my junior and senior years. With my mom working hard as a bus driver, she could not always pay rent. With that, soon we got kicked out, leading my mom to move all the way to Kalamazoo with my sisters and me staying in Holland with my grandparents to finish up my senior year at West Ottawa. My grandma was not working and my grandpa was gone most times, so my grandma doesn't make much food with being alone a lot of the time. When I got to bring home some food to make, it was helpful; I could give some to my cousins when they were over.

When talking with my teacher, she told me that I could go pick up the food after class or I could also do it without other people knowing. Of course I picked being anonymous, but it's good to tell my story so more students know of this and receive the food they may need.

If any student would like to get food from the pantry all he or she needs to do it go to a teacher or contact Sally Groenheide, a receptionist at the North building, and talk about getting food a student may need for themselves and their families. If students would like to stay anonymous with picking the food up before or after class, teachers will keep them anonymous and find ways to get food to a student without others knowing.

The food pantry started up around three years ago by Beth Bloomers. Meetings took place after school with many different teachers planning out the whole food pantry. Coming up with some ways to get food, Instructor Josie Cheney and her students had a fundraiser bringing in all the cereal boxes they could. Many of her students brought in different kinds of cereal boxes, and that was a big help to the pantry. Donations are a big part of the pantry, everything from can goods to laundry detergent and feminine products. It's a big help from other students at West Ottawa who are willing to donate. To donate goods, contact Groenheide or any other teacher at school.

The pantry that the school provides is more than just food. Students who use the pantry are encouraged to take things they may need the most before any long breaks the school goes into to. For example, one student uses the food pantry to help out her mom. With her mom losing her job, her child being able to get supplies from school is a big help. Not just food but things that all families need to get certain things done around the house.

Using the food pantry is nothing to be ashamed of. One student weekly comes by to pick up things anonymously. The pantry has helped many students and their families and are willing to help many more. For the students at West Ottawa who are interested in the food pantry you can email and talk to Sally Groenheide or any teacher you feel comfortable with.