A guide to Lollapalooza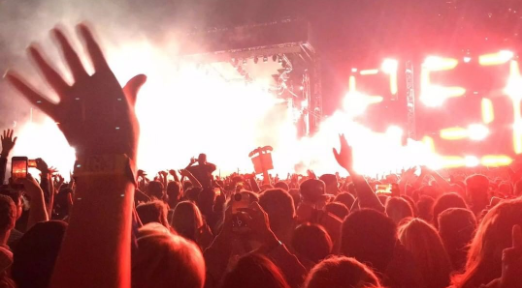 Sr. Chris Guerrero pushed his way through the mosh pit of people and out of the crowd with his friends, stumbling upon littered cans and half-eaten hot dogs. "That was insane," Guerrero said.
  He and his friends had met up to jam to their favorite artist, Chance The Rapper. It was around 11 P.M., and they were exhausted. They agreed it was time to head back to their home for the weekend–their Airbnb rental. They were too tired to walk, and their feet ached, so they decided to call an Uber. What they thought would be a short 5-10 minutes turned into an hour wait. It was summer, but the air became cold as the night grew old. They were annoyed from waiting and just wanted to sleep.
  It was their first night at Lolla, and they already knew what to do better next time: book early enough to get a walking distance place to stay in.
  Before arriving at Lollapalooza, Guerrero and his friends were pumped. They were excited to hang out and watch their favorite artists perform. Four o' clock rolled around and they were ready to head out. They walked halfway there and realized the walk from their Airbnb to the festival was pretty far, but they were too excited to think much of it. They finally arrived and were having so much fun that they didn't think about what they would do for their ride back. That was the first mistake they made. They called an Uber and waited a little over an hour to get picked up. They finally reached their Airbnb around 1:15 A.M.–exhausted and a little moody. A walking distance place to stay is vital if you don't want to wait long hours for an uber or walk long distances.
  The first day had come to an end, and the following days came around. Many experiences and realizations came from that weekend at Lollapalooza for Guerrero and his friends. Below includes an in-depth list of important DOs and DON'Ts for the Lollapalooza music festival along with some of his encounters.
Do: BRING A PONCHO
Guerrero attended Lolla in 2017, which was the year one of the worst thunderstorms occurred. The downpour made grass turn into mud causing everyone to slip and slide. Everyone was soaked and sinking into the ground. The thunderstorm was so bad that an evacuation was issued, making everyone trample over each other with dirty shoes to get out. By the time Guerrero made it out, his entire outfit was soaking wet, his shoes and socks were completely ruined, and his shorts were a shade darker than they were before. His phone–wet and barely functioning. To avoid what Guerrero went through in times of a thunderstorm at a music festival, he recommends ponchos. "I specifically suggest the pocket ponchos at Walgreens because they are cheap, great quality, and will make life easier." Skip the part where you ruin your clothes, phone, and experience when it rains by buying a poncho!
Do: SET UP A MEETING POINT
"I cannot stress this enough. Set a meeting point with whoever you go with," Guerrero said. Let's be real. The signal inside any music festival isn't very promising–especially when so many people are uploading and texting at the same time. It's hard to reach each other through devices, so setting up meeting points at specific times are important to ensure your group stays together in a crowd of 90,000+. Another good idea to keep in mind while trying to keep your party safe and close is to have a pool noodle with a balloon tied to your bags so you know where everyone is.
Do: BUY A HYDRATION PACK
"This is probably one of the most important do's out of anything I suggest," Guerrero said. In August, the weather is scorching hot and even hotter with the number of bodies at the festival. It is important that you drink a lot of water to stay energized, cooled, and hydrated–especially when you're dancing and screaming for six plus hours. Hydration packs are a great way to keep you hydrated while having small pockets to put personal belongings in. Buy a hydration pack beforehand so that you won't have to purchase overpriced water bottles or carry them around at the festival. "Hydration packs run for about $20 on Amazon and have cute designs on them as a bag too," Guerrero said.
Do: BRING A PORTABLE CHARGER
"Music festivals tend to drain cell phone batteries, even if you're not on your phone," Guerrero said. Remember to bring a fully charged portable charger for your device in case it dies to contact friends and family, order an uber, upload on social media, or to use in case of an emergency.
Do: BE SMART
"As much as it is promoted or become a stereotype, doing drugs at a festival like Lolla is scary, and a lot of things can go wrong very quickly," Guerrero said. Think thoroughly before making decisions and don't feel pressured to do anything you don't want to do. Not only be smart with your decisions on drugs, but with things as little as money, food, and sunscreen. Bring money for food (or for whatever you desire), or bring many snacks to keep you going while walking and dancing. Remember sunscreen as well.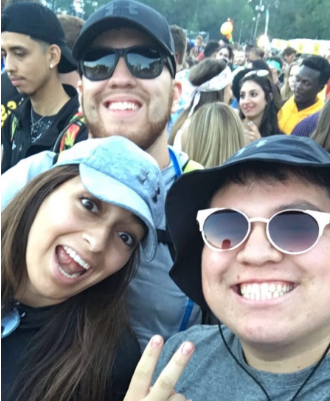 Don't: GET THERE LATE
"If the person you want to see plays at 3:45, be at the front gate at 1:00," Guerrero said. There are long lines to get in through the gates and the amount of time you wait is extended if you bring a bag. Make sure you arrive early enough to see who you want to perform with the best spots to stand.
Don't: ORDER YOUR UBER/LYFT AT THE FRONT OF THE FESTIVAL
Save money and time by ordering your transportation far outside of the festival. "If you don't want to wait long for all of the traffic to end, walk about a mile out of the festival and order your transportation there," Guerrero said. Doing that will prevent the driver from charging you extra for a longer distance and will make the wait shorter.
Don't: FORGET A SAFETY PLAN
Anything can go wrong anywhere, anytime. With recent festival shootings and a large number of other shootings, it is important to always be prepared for the worst. "Plan a safe meeting spot and escape plan with your group to ensure everyone is safely together. Stick together at all times and don't leave minors alone," Guerrero said. When you arrive at the festival, look around for the nearest exits and know where your friends are and keep them close. There are plenty of police officers inside and outside the festival, but still, be safe and prepared.
Don't: WEAR SHOES YOU DON'T WANT TO GET RUINED
"I made that mistake and my shoes were forever ruined. I spent $80 on them the weekend before and they never recovered." Bring an old pair of tennis shoes that you don't mind getting dirty or stepped on. You will be in a crowd with people who aren't looking where they step, and you'll be stepping on a lot of trash as well, so don't forget to wear your old comfy shoes!
Don't: BUY ACCESSORIES INSIDE OF THE FESTIVAL–THEY ARE MOST LIKELY CHEAPER OUTSIDE OF THE EVENT
Guerrero's biggest regret from Lolla was paying $40 for a shirt inside the festival and then leaving and seeing the same exact shirt sold by street vendors for $10. "Always wait until the second day to buy clothing and accessories at Lolla so that you can compare prices. If the accessory or clothing is artist specific, you'll have to buy that at full price."
Guerrero concluded that Lollapalooza is a life-changing experience that is amazing to spend with loved ones as long as you plan ahead. "My best experience was spending time with the people I love the most and having fun. Lolla is a life-changing experience and I would do anything to relive that again. It is a super nice first-timer festival and perfect to relax at," Guerrero said.
  This year's Lollapalooza festival includes a four-day concert with multiple artists on Thursday, August 1-Sunday, August 4. The festival takes place in Chicago at Grant Park from 12 P.M.-10 P.M. Get tickets early because they sell out quickly and are limited. Remember to try your best to apply the advice given. Be safe, have a memorable time, and rock on! Tickets and other information are available at this website: https://www.lollapalooza.com