Teen mom preparing her daughter for a bright future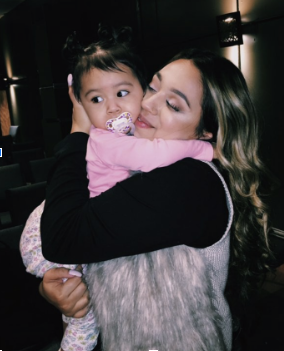 Mariah Ballman picks up a baby  book off her shelf and brings her 18 month old daughter, Esmia, onto her lap and begins to read to her. As Esmia's eyes wander across the colorful pages, Ballman reads out loud and points to pictures.  
A local teen mom, Ballman is determined on making sure her daughter does not become another statistic.
According to Health Communities, girls born to teenage mothers are 22 percent more likely to become teenage mothers themselves.
"I want to her be able to tell me anything and not be scared to tell me it," Ballman says as she spoke of the hard moments of her pregnancy. Ballman explains how hard adjusting to her new life was and how she doesn't want her daughter to go through the same. Ballman plans to raise her daughter with morals so that she can reach her full potential. She says she wishes it had been easier to talk about certain topics with her parents, and hopes that when her daughter is her age she won't have the same difficulties. Ballman wants to be involved with her daughter and build a strong, trusting relationship by being open with her about her friends, school, and problems without judgments.
Already in her mind, Ballman has planned on how she wants to communicate with her daughter to stop the cycle of teenage pregnancy. She wants to have talks with her about school, her friends, and support her every step of the way.
According to The Office of Adolescent Health, children born to adolescents face particular challenges—they are more likely to have poorer educational and behavioral outcomes throughout their lives.
"I am not worried about Esmia and how she will do in school, she's so smart already." Ballman spoke of how much Esmia talks, and how she has looked up ways to keep her child on the right track. Ballman explains how she has done all she can to provide for her daughter's education, even before she was born. "Esmia listens to Mozart all the time, she loves it. I saw online how classical music helps a baby's brain develop better." By doing small things like playing classical music, Ballman tries to keep her daughter away from being part of all the  statistics that state her child will have a poorer education.
Another way Ballman is keeping Esmia on the right educational path is by reading to her daily. "We have so many books, I read to her every single day." Even though Ballman works often, she still makes time to read to her daughter.
According to The Office of Adolescent Health, children born to adolescents are 14.7% more likely to have poorer health outcomes throughout their lives, compared with children born to older parents.
"Esmia just had a check-up and the doctor says she's in perfect health. She eats all her fruits and vegetables, she even speaks more than most 18 month olds," Ballman said. "She loves fruit and I make sure she gets them. I take her to parks and she's very active and loves to run around." Esmia is in great health and shows no signs in falling behind with her health because of Ballman's determination in keeping her daughter healthy and happy.
Ballman's determination keeps Esmia far from those negative statistics, and that won't change: Ballman is going to make sure of it.