Teeghan Sauer: there's more than meets the eye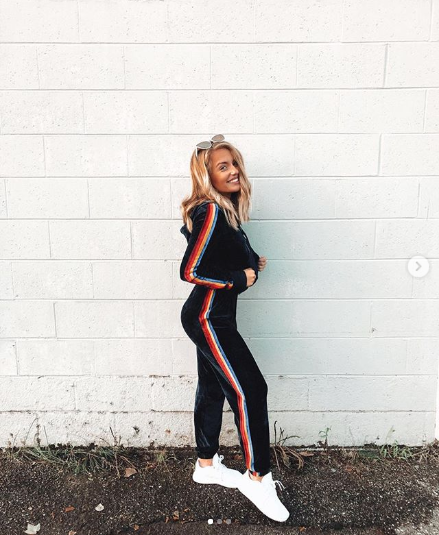 Junior Teeghan Sauer is the face of the biggest Instagram following of any girl at West Ottawa. With a whopping 4,596 followers, she draws a massive amount of attention from peers at her own school and many other schools in West Michigan.
 There are three words Sauer used to describe herself: smart, kind, and funny, and her closest friends would use similar words to describe Sauer's empathetic, outgoing personality.
 "Teeghan has been my best friend for a long time and she is one of the most kind-hearted people you will ever meet. She loves to help others and she's not afraid to put others in front of herself," Jr. Maggie Wehrmeyer said. Wehrmeyer recalls a time when Teeghan spent hours on a cold October night helping her look for her dog that ran away. "She had so much homework to do that night but instead she spent her whole night helping me look for my dog. She does stuff like that all of the time. She would do anything for her friends."
 Unfortunately, many of Sauer's peers have not gotten to know this side of her. "Most people do not get to know me and think they know everything about me because I post some aspects of my life on social media," Sauer said.
 It is easy to understand why Sauer's peers have a negative preconceived idea about Sauer. Her fashion choices are extravagant and bold. Her makeup is unique and dramatic. Her lifestyle is intriguing and peculiar.
 Sauer's wardrobe includes a variety of fuzzy coats, metallic shoes, and patterned pants, which many find unusual and distasteful. Her Instagram portrays her outgoingness, and with her near 5,000 followers, Sauer draws much attention from teens in West Michigan.
 It is improbable that someone can personally know almost 5,000 people, so Sauer faces judgmental opinions from others that have never even met her. Sauer recalls these statements she has heard said about her from her peers: "She buys followers," "She wears so much makeup," "She uses FaceTune," "She's so stuck up," and "She cares so much what people think of her."
In reality, Sauer breaks the typical high school stereotypes. Her fashion sense differs from most other seventeen-year-old girls. Sauer's reasoning for her adventurous style choices is solely based of the fact that she finds joy in piecing together outfits, finding unique clothing, and experimenting with makeup. She demonstrates her creative side through her appearance.
  One post in particular features Sauer posing with a smile in front of a white wall. She is sporting a navy jumpsuit with a rainbow stripe down the legs and arms, paired with oversized sunglasses and white sneakers. Her outfit is original and spunky; it's not a combination that a typical teen would be seen wearing.
 "People think I'm stuck up and conceited, just because I have a following on Instagram," Sauer said. "Sometimes it does bothers me that people I've never met have a bad opinion of me."
 Like every other popular individual in today's world, she is the victim of stereotypes that lead people to believe she is nothing more than a self-centered teenager, but Sauer knows her life does not match one of a self-centered teen.
 "Something that most people don't know about me is that I actually play a sport. I've been on the varsity soccer team since I was a freshman," Sauer stated. Her impressive accomplishments in her soccer career displays her committedness to her athletics and her love for being part of a team. This does not fit the common stereotype of shallow and conceited unrightfully given to her.
  Recently, Sauer dealt with a social media slam from a well-known graduated West Ottawa student. The post read, "T***** S****'s FaceTune is so obvious. At least use photoshop to make it look real."
 "At first I was very annoyed and shocked. I don't even have FaceTune. But then I realized that she doesn't even know me and her opinion of me doesn't matter," Sauer said.
 One of Sauer's many passions is Special Education. She has been part of the LINKS program in Mrs. DeWaard's class for three years now. Sauer has made relationships with every student in the class.
 "Teeghan was involved in LINKS before she was even enrolled in the class. She's always been in my classroom and extremely helpful and a good role model and friend for my students," DeWaard said. Sauer has taken time out of her school day to go on swimming trips to Hope College with the LINKS and also frequently goes out for McDonald's with graduated LINKS member Lily Sanchez. A person that is stuck up and conceited would not show the selflessness character that Sauer does.
  Although the constant judgement occasionally affects Sauer, she is able to move past it. "I don't care what people think of me anymore. I'm just like anyone else," Sauer said.
  Sauer plans to continue sporting her bold style and makeup choices, despite the backlash she may receive.
  Sauer is on to something that the rest of today's teen population should catch up on: "People are always going to be judgmental, and if everyone can accept that, then I think that there would be more people who feel comfortable expressing themselves in whatever way they want."
Follow Teeghan Sauer on Instagram @teeghansauer