Mike and Mae proving 80 is awesome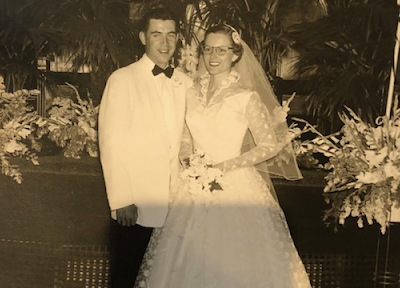 Mike and Mae VanArk were on a mission trip in South Africa. They decided to arrive a week early to do some exploring of their own. They stayed in a pension hotel in Cape Town for 20 dollars a night that was once a hospital run by the Anglicans. For a week, they walked around Cape Town visiting vineyards, seeing the Cape of Good Hope, and touring the coast of the Indian Ocean.
  While on the mission trip they put up a security fence in the township, and Mae had the opportunity to make a painting for a local daycare. Most importantly, they spent a lot of time talking to locals and seeing their living conditions.
  What made this trip so unique, was their opportunity to attend a funeral. They stood in a church that looked more like a warehouse and heard the service in three different languages.  They were caught off guard when there was a pause in the talking, and everyone sang to fill the silence.
  From the church, they walked to the cemetery where many of the grave sites were left without a proper gravestone; some had medicine bottles or small objects as a marking, and some had nothing. The men buried the cascate, then everyone began to sing and march around the gravesite. The two shared a moment of understanding. They saw how every lack of material possession was replaced by moments shared by the community.
  Once the service was over they went to a visitation held in a big army tent. Watching the sheep they were about to eat be slaughtered was slightly unappetizing, but they sat down for a dinner of mutton and gave it a try. When the meal was over they were offered a towel that they passed around for everyone to wipe their hands on, and realized they had become a part of this community.
   Mike and Mae are not 22 year old recent college graduates. In fact, they are actually in their late 80s, and all of their travels have taken place after retirement.
   To many, the thought of being 80 sounds bleak: trouble hearing, physical pain, memory loss, and grieving the death of loved ones.
  After only a short conversation with Mike and Mae, we learned there was nothing to dread. In fact, the future will sound exciting.
   They've seen the Nazca Lines in Southern Peru and hiked the Inca Trail and Machu Picchu. They traveled through China, Uzbekistan, and Pakistan to see parts of the world that are no longer accessible to tourists. They even took a five month motor home trip to Alaska. And it all happened after retirement.
  On a chilly Saturday morning in November, we sat in the VanArks' apartment overlooking Eighth St. The morning was spent laughing and learning about everything from their childhoods to their adventures around the globe.
 Their days start off with refreshing walks through the crisp morning air. In the afternoons, Mae goes to Evergreen Commons to attend water aerobics class. Mike on the other hand, volunteers his time introducing students to the clarinet at Holland Public Schools and giving tours at the Holland Museum. During retirement, they have open schedules to fill with what truly makes them happy, but it wasn't always like this.
  Mike grew up in Holland during the depression; opportunities were limited. He wanted to support his family, so he worked at the Heinz factory driving the forklift, but he never lost sight of his passion.
  In high school, Mike wasn't an athlete, instead he focused on music. He played the clarinet in the Holland band for five years, then went on to play in the Hope College Orchestra. Now Mike has been playing the clarinet for 78 years and continues to play for the orchestra at Christ Memorial Church.
  Mae grew up in Allegan with a passion for painting, but her school didn't offer any form of art in the curriculum. She was determined, teaching herself the basics of watercolor. She fell in love with transforming a blank canvas through vibrant colors.
  College was not an option for Mae right after high school, but when she had the opportunity to go, her skills flourished. She was inspired by her classes on etching, printmaking, and watercolor that she took at Hope College. She decided to spend her life spreading creativity through teaching an Art for All class at the Art Center for 20 years, giving adults with disabilities the same opportunity to express themselves. She has also given back to her community by creating chemo caps for cancer patients through her church.
  Mike teaching students how to play music and Mae using art to give back to the community were all activities they wanted to do while working but didn't have the opportunity to. Now they are living their dream, but it wasn't always like that.   
  Before Mae had the chance to go to college, she worked at the Chamber of Commerce. One day two men walked in: an editor of the Holland Sentinel and his friend Mike VanArk. Mae, a beautiful, smart young woman with a soft smile, met the love of her life through what seemed like fate. It was fate that Mike walked in on that day and fate that Mae had seen that handsome man from across the room. After a whirlwind romance, they got married two years later. From then on, every adventure they embarked on was together.
  Through the next 30 years they had kids, bought a house, and settled into daily life together. Mike continued his teaching career at Holland Public; Mae continued working at the Chamber of Commerce, taught art, and volunteered. They were happy, and their lives only improved from there.
  Once retirement hit, the VanArks starting going through their bucket list, crossing things off one by one.
  With more time on her hands, Mae has the opportunity to get to know all of the Warm Friend residents. As social person, The Warm Friend is perfect place for her to meet new people and experience new hobbies through the offered classes.
  But, by far the best part of retirement is traveling. Through participating in 16 ElderHostel trips, now called Road Scholar, Mike and Mae have traveled the world.  
  After all of their adventures they came home with a new understanding of life and left us with one parting piece of advice. "You really have to be grounded in something. You need to believe in faith," Mike said.
  The hour passed quickly, and it was time to go home. The elevator ride down was much different than the ride up. Going up we felt nervous and unsure of what the next hour might hold. Going down we felt energized and ready for retirement.