WO Students Experience Amazing Summer Trips
The bright summer light seeps through the shades of my room. I slowly roll out of bed and peek at the time. It's noon, but my day is just starting. It's a typical summer day for me, waking up in the afternoon, taking my time eating breakfast, and eventually getting ready for daily soccer workouts. This was my reality, but not all WO students were bored this summer. Here are some of the best trips WO students took during summer.
Sr. Sophie Engels – Japan
Engels made the trip across the Pacific Ocean to Japan during the summer. Her first stop was the Sanjusangendo Temple in Kyoto, which is famous for containing 1000 gold-leaf statues of the deity Kannon. She then visited  other temples including Kiyomizu-dera, Fushimi Inari, and Kinkakuji. After Sophie's temple adventures, she took the three-hour trip on the Shinkansen (bullet train) to Tokyo and then to Fukushima. When there, she got to experience a tea ceremony in a traditional Japanese robe, known as a kimono. "Every movement and section of the ceremony is symbolic, and a cultural staple in Japan," Engels said. "It's an incredible experience that I would most certainly recommend."
  Honestly, the most interesting part about her trip was how difficult it was for her to communicate. "Because the language is not Latin-based, I could not decipher any of the written language. I was completely illiterate," Engels remarked. Her lack of Japanese fluency caused her some difficulty one day while trying to figure out how to get her tickets through a machine at a train station. "It was all in Japanese, and you have to feed them through a machine to enter the train station. I was so confused, and ended up holding up the line and accidentally put all of the tickets through." Although there were some troubles with communication along the way, Engles' trip turned out incredible.
 Jr. Ray Mackey – China
Mackey was one of three WO students to travel to China alongside Instructor Teresa McCrumb. Mackey visited the cities of Beijing, Xian, and Shanghai, spending almost three days in each city. The trip was mostly focused on learning about Chinese culture, and a majority of the time was spent visiting historical sites and temples, one of which was the Great Wall of China. "The coolest place was definitely the Great Wall because you got to see all of Beijing from a bird's eye view," Mackey said.
  After climbing the Great Wall, Mackey visited other sites such as the Olympic Center in Beijing, which was used in the 1990 Asian games and the 2008 Summer Olympics. Mackey also visited the Terracotta Army located in Xian.
  The Terracotta Army is a collection of about 8,000 sculptures of ancient Chinese soldiers that were created in 200 BCE. The sculptures were made to protect the first Emperor of China, Qin Shi Huang, during the afterlife.
  Mackey also visited the Beijing Zoo where he saw monkeys, wolves and the most popular animal at the zoo, giant pandas. Following Mackey's week in China, and after tasting numerous Chinese dishes throughout the trip, he decided that vegetable dumplings were his favorite of all the dishes he tried.
Soph. Genna Lebster – Israel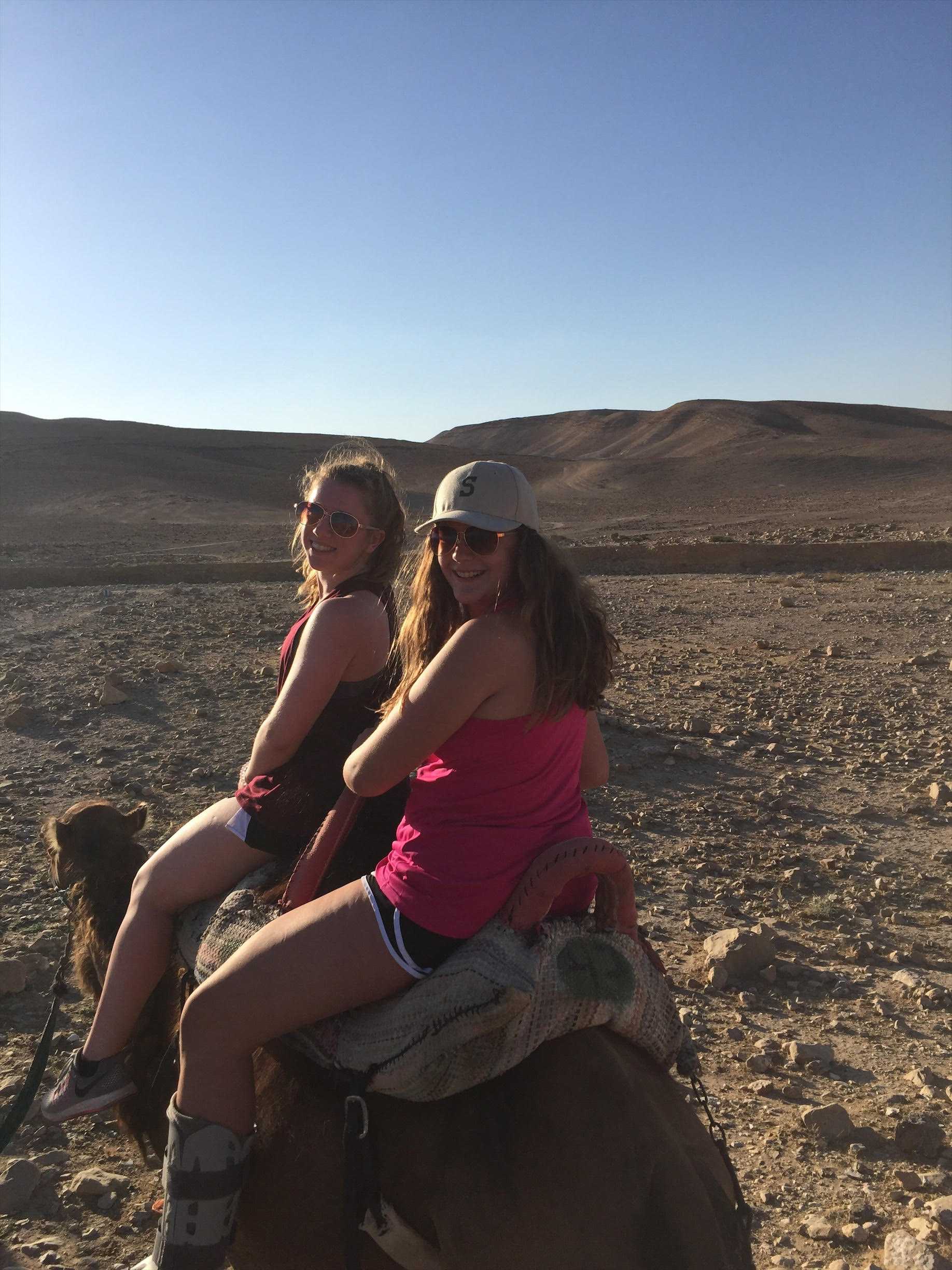 Lebster traveled around Israel for ten days with 30 members of her family, all of whom were eager to explore their Jewish roots. Her trip started in Jerusalem, where she toured the Old City, a completely walled section of Jerusalem that is considered one of the holiest places on Earth, containing holy sites for Christianity, Islam, and Judaism. She toured all four of the quarters of the Old City, each of them having its own cultural, religious, and historical roots.
  Lebster then had the chance to ride camels through the Israeli desert. She had the unique opportunity to experience how many Middle Eastern people used to live thousands of years ago. They were living nomadically, moving place to place periodically by using camels.
   Most people wouldn't think that one could top riding camels through the desert, but Lebster certainly thinks so. The part of the trip that she would choose do again was swimming in the Dead Sea. "I would go to the Dead Sea because it was really cool to just float," Lebster said. The Dead Sea is unusual in its composition compared to most bodies of water. It has a high concentration of salt, which allows people to float effortlessly. Lebster experienced what many people will not be able to experience during their life: exploring Jerusalem, riding camels through the desert, and floating in the Dead Sea. Overall, Lebster's trip was quite impressive, and one that is most certainly memorable.
Jr. Blake Pedersen – Australia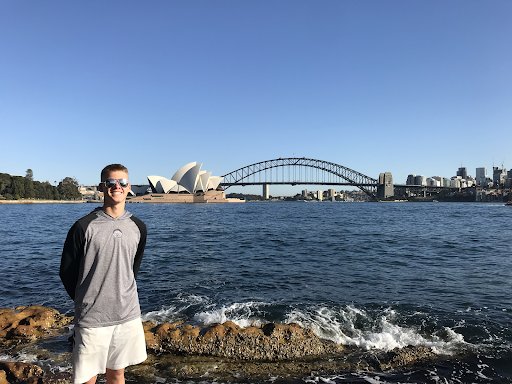 Pedersen journeyed over 9,000 miles to the land down under for a unique summer vacation. His summer trip started in Sydney, Australia. For the first three days, Pedersen and his family explored the city, each day walking almost 10 miles. He visited Olympic Park, a sports and entertainment complex. At almost 3 square miles, it's big enough to be its own official suburb of Sydney. He then rode the ferry across the harbor to Manly, Australia, to watch the sunset and enjoy an evening in a less dense part of town.
  The rest of Pedersen's Aussie adventure was spent experiencing the Outback. He flew to Alice Springs and then to Port Douglas, where he had the opportunity to scuba dive in the Great Barrier Reef. Pedersen also spent a day in the rainforest and saw animals that ranged from platypi to pythons. Later in the trip, he visited a golf course, "There were over 500 kangaroos chilling in the middle of the fairway, and some kangaroos even had Joey's in their pouches," Pedersen said. On one of the nights, Pedersen even slept outside on a "swag" (a mattress, a sleeping bag, and a pillow). "It was my first time sleeping outside and it was probably the coolest experience I have ever had," Pedersen mentioned.
  What's a trip to Australia without a meal of kangaroo? Well, it's not a trip at all. Good thing Pedersen enjoyed some kangaroo while in Australia, which he claimed was the best food he ate there.
Sr. Sarah Olney – Romania
  Olney had the unique experience of spending five weeks in Romania while living with a host family. She traveled with an organization called Youth For Understanding that promotes intercultural experiences for high schoolers.
   One of these experiences was going to a Jazz festival in the small town of Valiug, Romania. Olney emphasized how the town was in the mountains of Romania, and that the town was filled with many local places serving authentic food, such as Sarmale (cabbage rolls) and Ciorba de Burta (beef stew). Though the best, according to Olney was Cozonac, a sweet bread usually prepared as a dessert for every major holiday.
   After the Jazz festival, Olney's trip continued by visiting a medieval castle built in the 12th century. "I really enjoyed visiting 'Dracula's Castle', which is actually not as spooky as it is said to be," Olney said. The 700-year-old castle has had many owners and many purposes over the centuries, but today, it's a museum dedicated to displaying the art and furniture of the historic castle. Olney was completely entrenched in Romanian culture for 5 weeks of the summer and is better now because of her trip.
These five WO students definitely had summers to remember. Their trips allowed them to escape a lazy and boring summer like mine, but also allowed them to become more connected to other countries, customs, traditions, and cultures from around the world.