Life in the fast lane
One more turn, then one more lap.  My tires squealed as they reached their limit of grip, but I kept the gas pedal planted to the ground. I clipped the apex with my front right tire, and my engine roared as I was thrust out of the corner, a perfect turn. The RPM's climbed higher and higher as I reeled in the third place driver in front of me.  I keep the draft until the last minute and sharply pull out to the inside. The next corner, a sharp 180 degree turn, is approaching fast. I have to perfectly time this pass. I pull up alongside the other kart, my engine hits the redline at 54 miles per hour and as the rev limiter screams into my ear, I slam on the brakes. My rear axle almost locks up, and my rear tires start to slide out. I struggle with the steering wheel, fighting to keep the kart pointing in the right direction as it squirms under me, exceeding the limit of grip.  Mid-slide, my tires catch and I power forward, a perfect pass.  I keep the position for the remainder of the lap, and cross the line with double chequered flags waving, my first podium finish.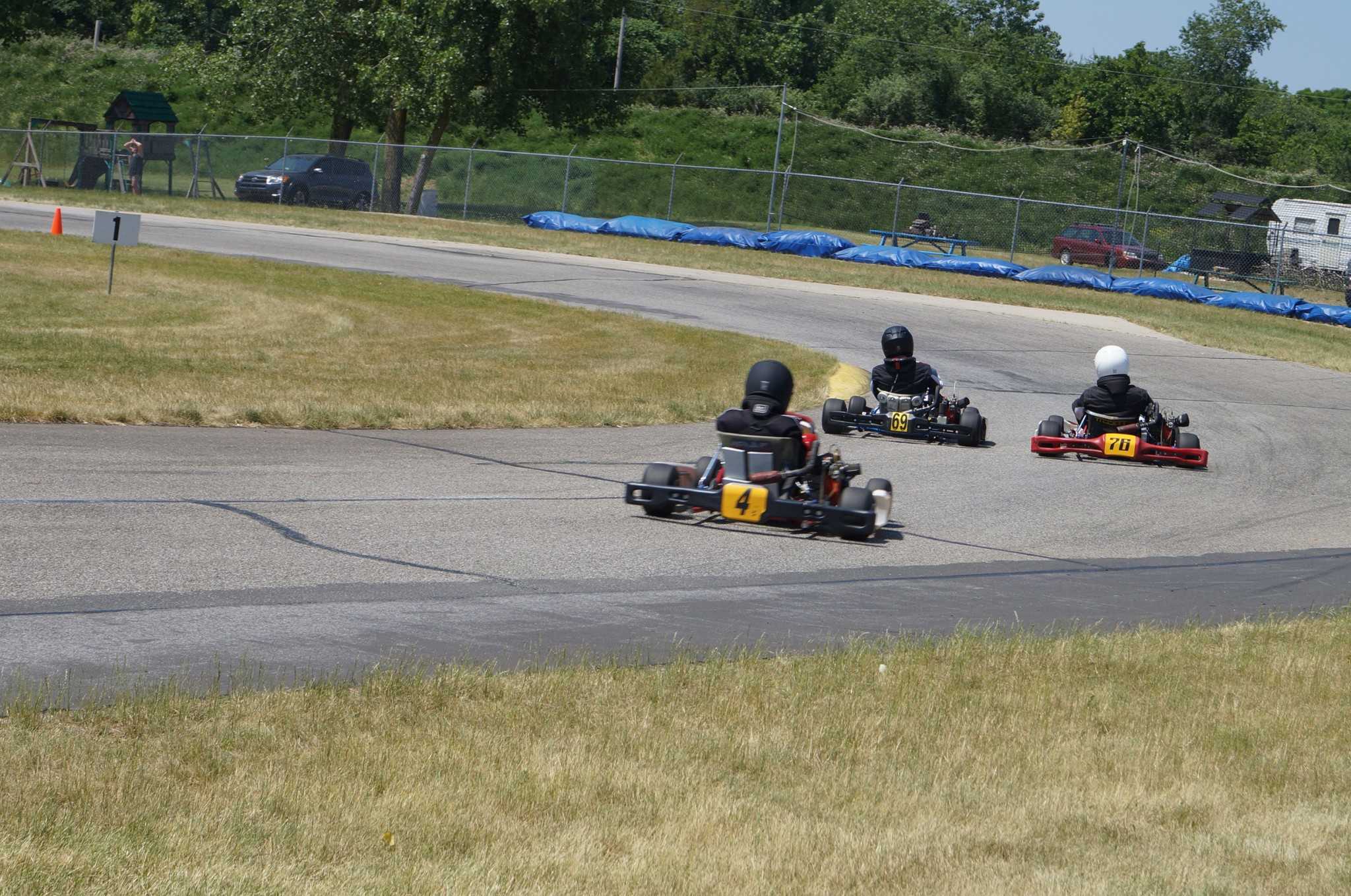 Go kart racing is the first stepping stone into higher and more professional levels of automotive racing. When people hear that I race go karts, they usually think of your everyday local go kart fun center or their 15 mph backyard go kart that their kids drive around for fun.  It is nothing like that.  
  My go kart can go over 65 mph, it sits less than two inches off the ground, it has no seat belt or roll cage, it has open wheels and special tires for the rain, and it costs over $3,000 new.  I wear a Fédération Internationale de l'Automobile certified racing suit, complete with a helmet, gloves, full body suit, shoes, and neck and rib protectors, all fire retardant.  It is a physically demanding, time consuming, competitive, and expensive sport.  It has taken me years of commitment and determination to master racing, and I have found that there is no time to rest if I want to stay on top.
  Up until I was six years old, I lived in France.  In Europe, racing, especially Formula 1 racing, is more popular than it is in the States.   When I was three years old, I received a small, Renault Type R 202 F1 model pullback car from someone my dad knew at a Renault dealership near Paris.  I destroyed it.  I would play with it all the time, and because I was so young, I wasn't very careful.  Thankfully though, I got another one, and then another one, and I still have one that is in perfect condition.  
  The summer before I went into first grade, my family moved to Holland, Michigan to live closer to family.  Three years ago, I really started getting involved with cars.  I started watching Formula 1 racing on tv and actually following it closely.  That alone taught me more than anything else except actual racing experience.  That same year at the Detroit auto show, I saw an F1 car in person for the first time, and it was amazing.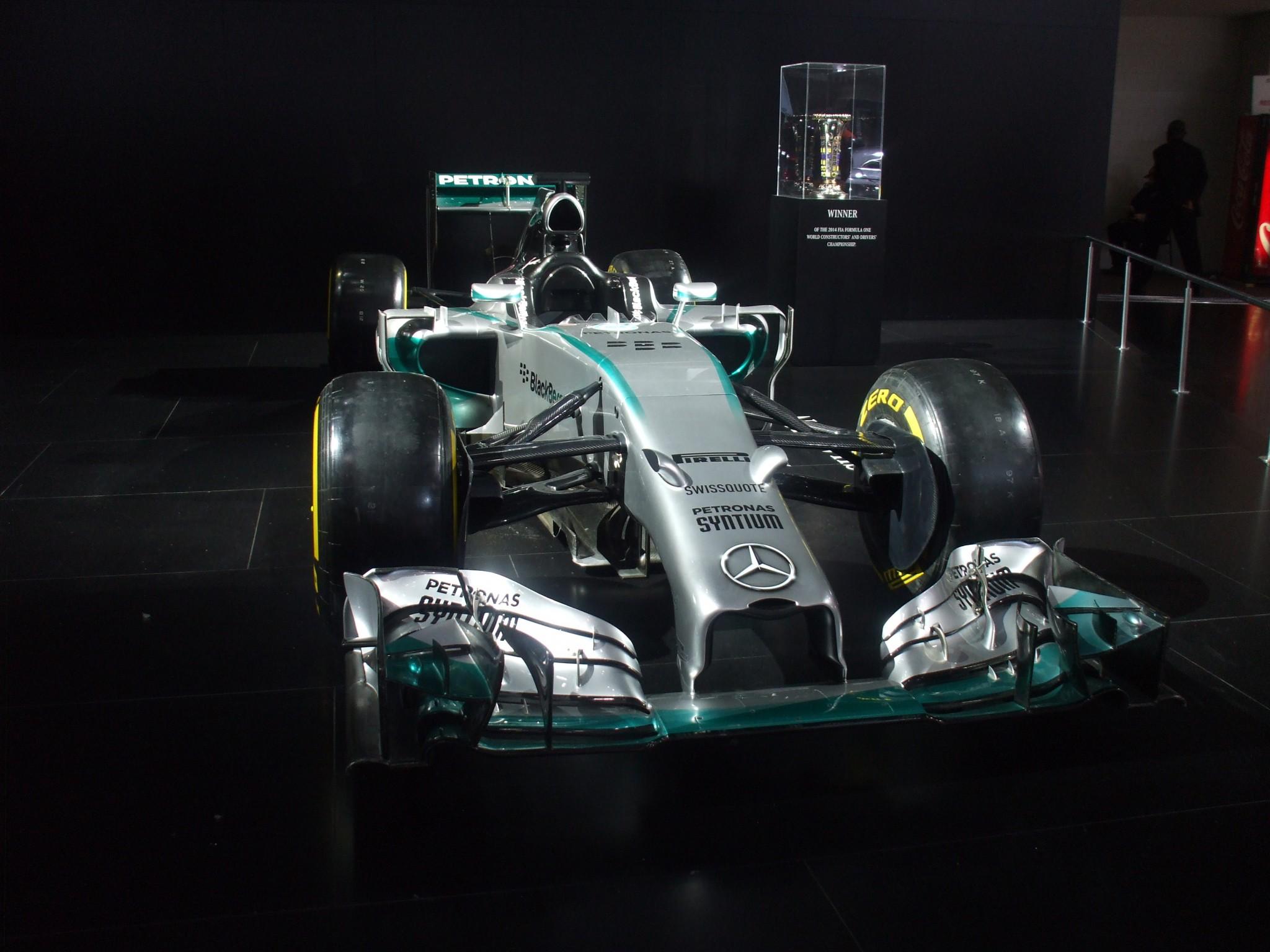 One year later, I wanted to start racing.  I knew that my best chance to start racing competitively was go karting because it is relatively cheap.  I searched for go kart tracks nearby but I couldn't find any.  So, I spread out my search, and I found one in South Bend, Indiana called Michiana Raceway Park (MRP).  I nagged my dad to drive me an hour and forty minutes to the track to go check it out.  Finally, three quarters of a year later, at the end of June, we went to watch a race.  I don't know why my dad agreed to this, but now, every week on Thursday for half of the year, we drive to Indiana so I can race in the MRP Rock Kart League (RKL).
  The first year I started racing, I only did the Rock Kart League.  I was racing against adults; the only other person close to my age was one year younger than me, and the majority of the others were above the age of 30.  I did not start out on top, but unless my kart broke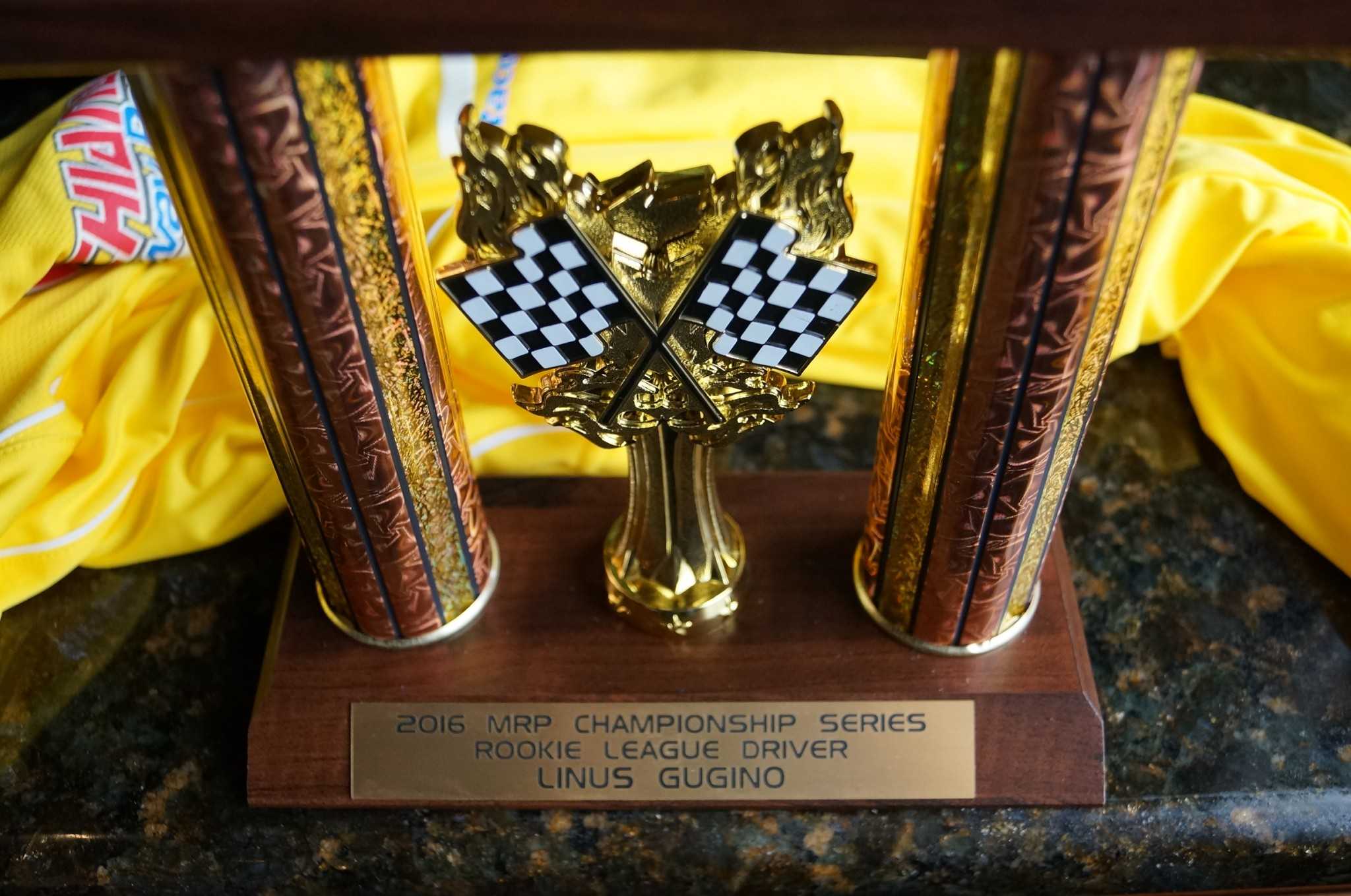 down, which I could do nothing about, I never ended in last place.  After a few weeks though, I started to get the hang of it.  In the twelve weeks left of racing, I never won a race, but I did win the Fall season.  The RKL is divided into four different seasons, the Spring, Summer 1, Summer 2, and Fall.  Having only participated in the Summer 2 and Fall seasons, I was nowhere close to being competitive for overall championship points, but because I won the fall season, I was voted Rookie Of The Year.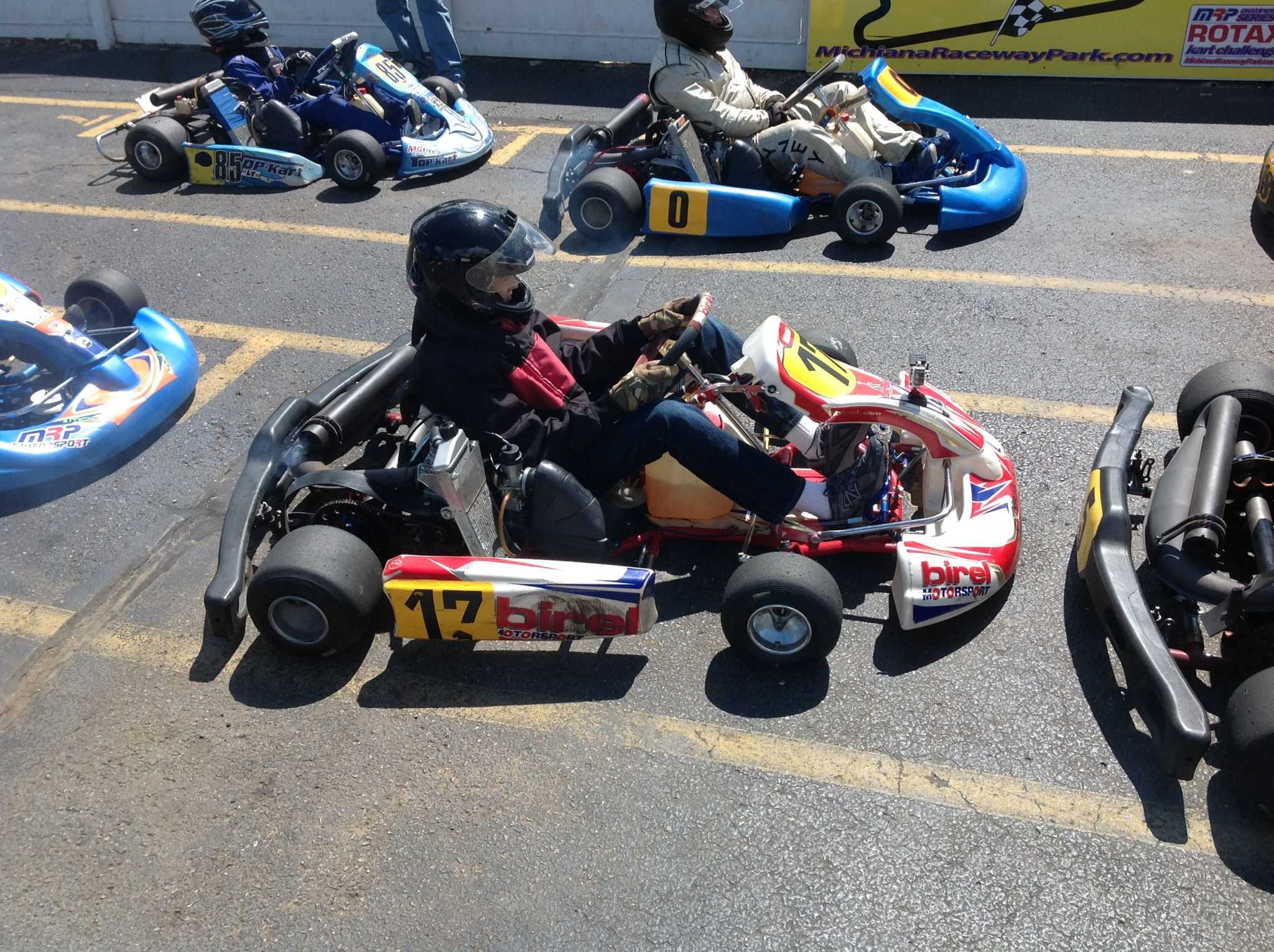 There was one weekend during my first year that I rented a rotax kart for a club race.  Rotax karts can reach up to 80 mph, nearly two times faster than a rock kart, and turn with about two G's of cornering force, about four times more than the rock karts.  It was a completely new experience.  I was suddenly thrown into a machine with three times more horsepower than I was used to, and getting to drive that machine was the highlight of my summer.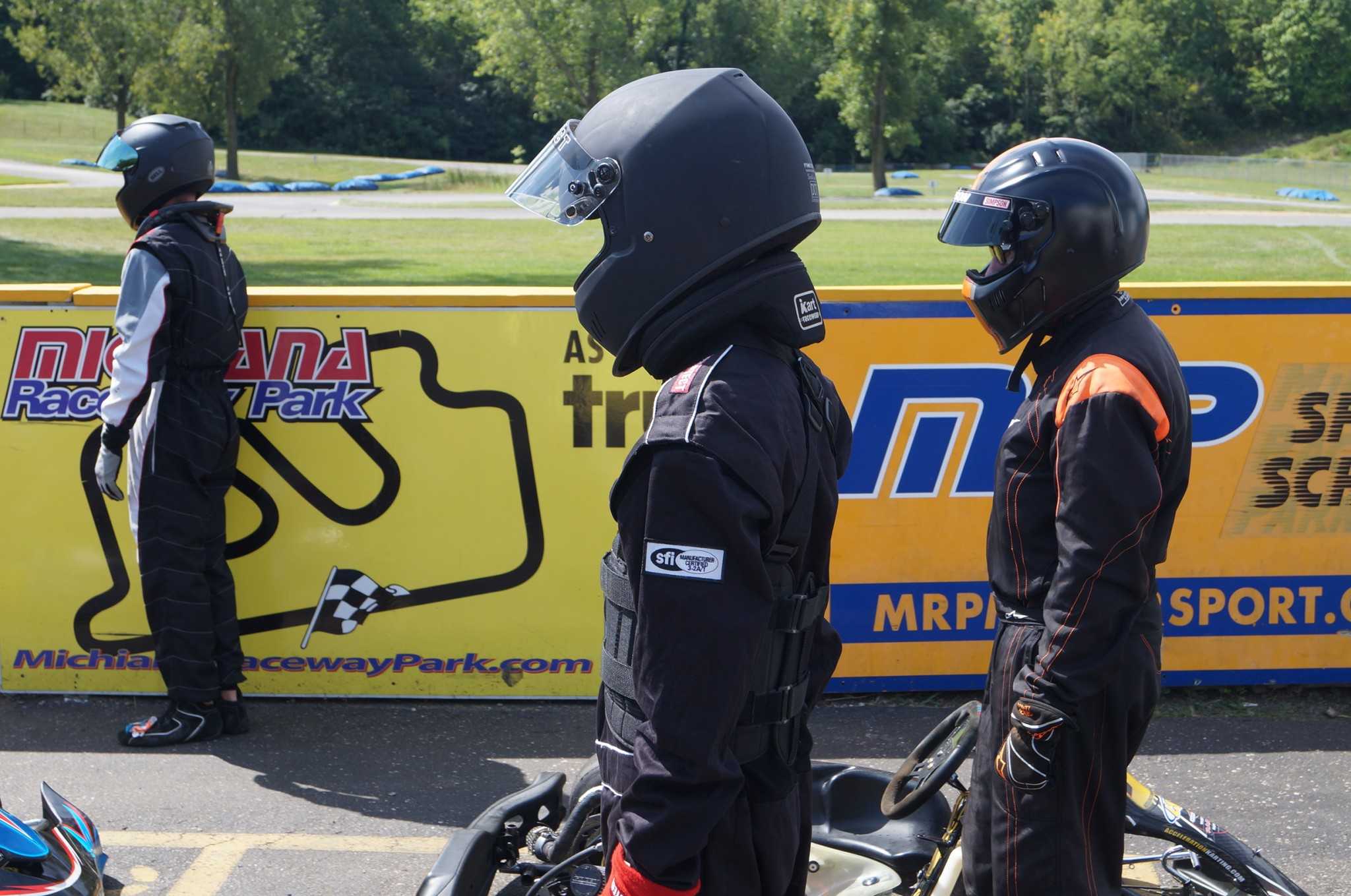 At the end of October, the last race I participated in was the Halloween Endurance race at MRP.  It is a four hour race, so it is possible to do it alone, although it is not recommended, or you can do it with a team of people.  Myself and four other racers I had come to know well decided we would sign up and try it out, but because our average weight was so low, we were forced to make up extra laps over the course of the four hours.  Unfortunately, the system that was used to equalize the field was a little convoluted, so we were stuck trying to make up twelve laps on the group, which was close to impossible.  At the end of the day, we ended in the middle of the group, but I had set the fastest lap time of the whole race, so I was happy.
  At the awards banquet in the winter, I talked with some other racers about what I should do next.  I wanted to move up in the racing world, and they recommended that I race a Briggs and Stratton LO206 kart.  The LO206 karts can reach speeds around 65 mph and corner just as hard as a rotax kart can.  Luckily for me, the champion of the LO206 league that year was retiring from racing and selling his main and backup go kart, and I was offered the latter.  In March, my dad and I went down to his house, and he gave a long seminar to the new LO206 racers about kart and engine upkeep, and I went home with a mostly new kart that was almost ready to race.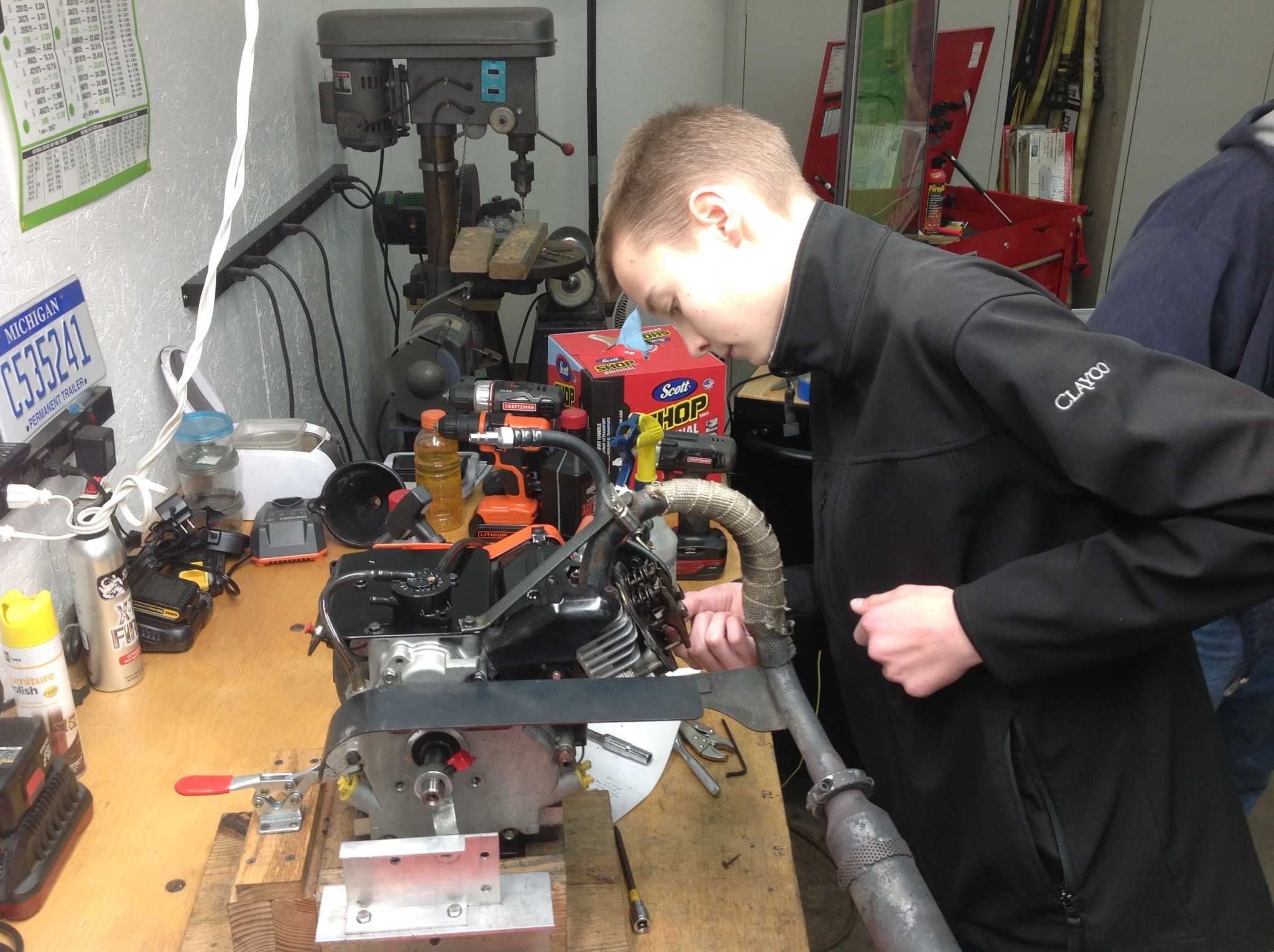 It takes a ton of work and preparation to get the kart set for the first race, but because of all of the time that the former owner had put toward the kart and his racing, the process was greatly simplified for me.  
  As expected, I did about average on my first race.  I was nowhere near the front runners, but I was definitely faster than a lot of the people out there.  I owe a lot of that to my fellow racers who have had many years more experience in racing than I have.  If something would go wrong with the kart, I would be completely lost, and they would help me fix it and let me use their supplies.  I really could not have done it without them.   
  As the season went on, I slowly improved to the point of finishing on the podium twice, both in third place.  I am driving as fast as the frontrunners now, but many races I have been hit and sent off track or spun out, which sends me to the back of the field.  One race, I was spun off in the first heat and sent to last, but by the end of the feature, I had moved all of the way back into third place.  That was one of my best races of the season.  
  At the same time as competing in the LO206 league, I have continued racing in the RKL.  With a half years worth of experience, I was able to do considerably better, getting my first feature win fairly early in the year.  As it turns out, I ended up winning so much, that by midsummer, the track invented some Linus Rules.  The Linus Rules state that no matter where I qualify, even if it is in pole (first) position, I have to start in the back, behind both the light and heavy group.  At first, it was hard for me to work my way up to the front, but I went along with it anyway because if I did win at the end of the night, I would not have to pay for entry into the race, which was the good part of the Linus Rules.  Eventually, I was consistently ending the night in second place, which got annoying because if I could only go one spot further up in the field, I would be racing for free.  In the second to last race of the RKL, I finally won the feature.  In the last race of the RKL, I went from last, 14th place, to first in one heat, which was eight laps long.  I was beyond happy.  I ended the RKL with a clean sweep, qualifying on pole position, winning the first and second heats, and the feature race.  It was the best night of Rock Kart racing I have ever had.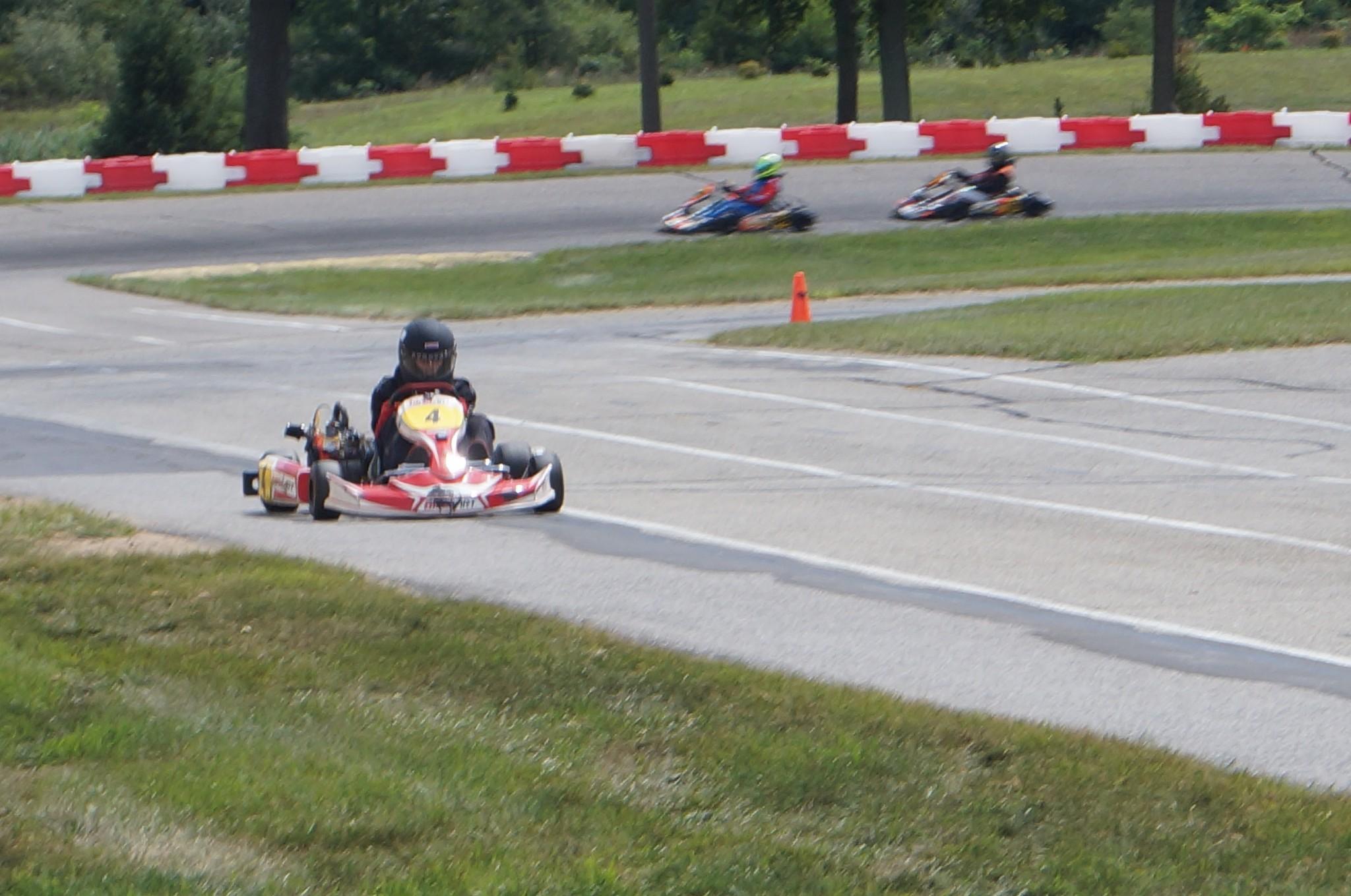 As my second year of racing draws to a close, I am and trying to figure out what I will do next with racing.  My current plan is to start racing at a variety of tracks in Michigan, Indiana, Ohio, and some other states, and possibly head South during the winter to keep my skills fresh.  In coming years, I hope to move into faster and better competition, and race against a larger variety of racers and teams.  No matter where it takes me though, I will continue to race and push to be faster than everyone else on the track.