Boys basketball: When I'm old I'll remember…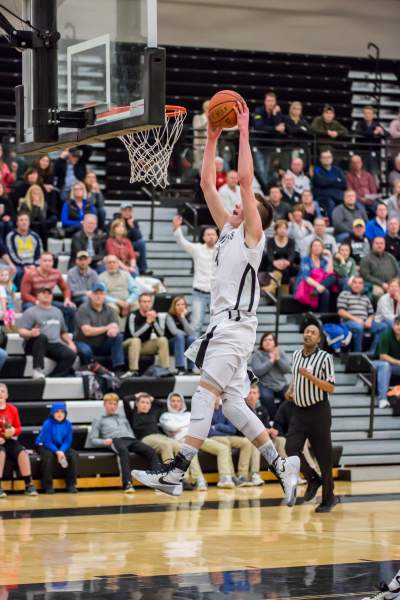 This year, our varsity basketball team went on a tremendous 15-0 run before losing a few games in a row. Although the streak was ended, our boys ended up as OK Red conference champions; however, since the final buzzer sounded on their season, they were left with a choice. What exactly are they going to remember when they look back at their season when they're old? Most of the Varsity team agrees; going 15-0 outweighs their first round playoff loss.
  These players will look back and be happy with the accomplishments of going 15-0 this season rather than looking back at the upsetting loss to Wyoming. Soph. Nick Wehrmeyer said, "When I'm old, I'm going to remember playing with my brother because not many people get to do that and it was a really cool experience. [However], going 15-0 was sweet because it's the first time in awhile that we have been good, and it was fun to see all the support we got."
  Some of the seniors will look back at the season and remember the positive of going 15-0 for their last season as a high school basketball player, and taking home the conference championship trophy. "It was a sad day, but we still we're proud of what we accomplished. I will take the OK Red championship with me forever, but the district's game will haunt me forever," Sr. Jared Miller said.
   Sr. John Wehrmeyer agrees, but focuses more on the positive, saying, "When I'm old I'm going to remember going 15-0. It was really fun but unexpected. I knew we would be good, but you never know how it will workout as the season goes on. Also you never want to lose, but I don't think we ever thought we would be 20-0. I'll always remember beating East Kentwood at East Kentwood. We had 150 students travel and the atmosphere was electric. To win a game like that was unbelievable."
  Unfortunately, the basketball season came to an end when they lost to Wyoming 60-58. Sr. Ben Horner will look back at the accomplishments, but will remember the final loss above all: "When I'm old I will probably remember the loss to Wyoming the most. Just how it went down and how fast the season came to an end was just devastating," Horner said.
  For the 5 senior players, seeing their season come to an end was tough; however, they will remember their historic season more than their devastating defeat. Because of the team's youth, 8 of the 13 athletes will be returning next year, hopefully to make another great run with experience under their belt and redemption in their heads.