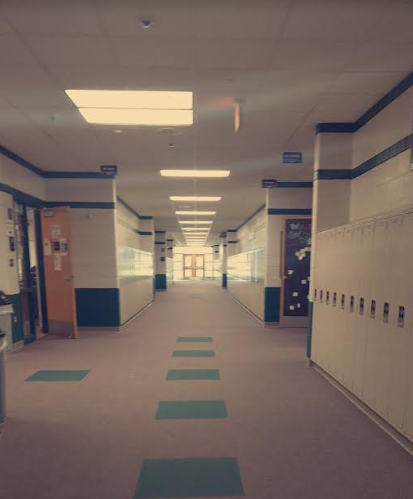 Mark Devries walked through the hallways. He stops dead in his tracks. Laughter. A sound he is familiar with every time he passes room A204.
Campus Security Mark Devries 
   "Ruby. Here's why because she has her students trained anytime someone were to go to her room she says " We have a guest!" and everyone starts clapping. I like that and it's fun. Sometimes I go in there with no purpose whatsoever just so they clap."
   Advice: "I greet students at the door with a handshake or simple eye contact if they choose to abstain from the standard greeting. I also have a couple bulletin boards full of my family, friends and our shared experiences.  I hope this helps my ROCKSTARS feel welcomed. If you have walked by our classroom it can be like Charlotte's Web with the valuable messages we share to all SCHOLARS passing by.  The FLIP FLOP message is replaced with Scholar's work, so that can help them feel welcome and proud," said instructor Robin Ruby.
Assistant Principal Jake Manning
   "I will say it's not whether I think it or not, no one has more fun than the wolf pack at Mrs. Plewes room but there are a lot of classrooms that have a great time. I would say that teachers at West Ottawa High School try to make learning fun. It's up to our students to be like You know what, I am gonna give this a shot and have a blast today. You just have to jump in and be apart of the fun"
   Advice: "I personally love when a space doesn't have super bright fluorescent lights. I try to provide a lot of lower lighting with lamps. I like to play instrumental music to keep a calm environment that still allows for mathematical thinking to happen. I also appreciate when there isn't too much clutter around the room. I try to put the most important things up around the room so it isn't an overwhelming space. There are also designated places in the room for things. For example, I have a designated space to turn in papers, a specific place to get whiteboards and chargers, etc. It helps students feel comfortable when they know what to expect and where to go when they need access to certain things," said instructor Jenna Plewes.
Assistant Principal Michelle Woods
   "When I'm walking through the hallways, I always like to stop by ceramics. I want to create and be able to use my imagination to create a new object. And you can do that in ceramics. Or Dance and Aerobics because every time I go by I just want to join in and start dancing. Or another class is American Experience Because of the fun projects they get to do and a lot of self reflection."
   Advice: "It is important to me that my students feel like they belong and that I care about them. I think that also contributes to a good atmosphere. I try to greet students at the door when I can and call them by name. Overall, I do believe it is important to create a good atmosphere. Many teachers have their own way to do that; my way isn't necessarily the best. I think students learn best when they feel at home," said instructor Brad Vredevoogd.
Campus Safety Jake Munson 
   "If I had to choose a class here at West Ottawa that looks like they are having the most fun, it is the art classes because in high school I never took an art class and with the way his room is set up I personally would really enjoy being in a room with cool lighting and all sorts of awesome artistic opportunities."
   Advice: "To intentionally make my classroom welcome, I try to get to know students as a person. I get to know them as more than just one of my students, learning their likes, dislikes, talents, motivations, and I learn about their family and past experiences. I also work hard to foster positive relationships between my students, encouraging them to connect with their peers and build positive relationships with one another," said instructor Brian Kelly.
Instructor Brian Van Zanten
   "Mrs Howard's family and consumer sciences class because it looks like they do all kinds of projects. Cooking, sewing, although I'm not so sure about the carrying around babies kind of thing. But the rest looks like a lot of fun."
   Advice: "I absolutely do believe this intentional strategy can help create a good atmosphere, but even more importantly it adds spontaneity to the class and this random action can bring smiles to the faces of my future graduates as well as to the guests entering our classroom. I believe it is crucial that teachers create a positive and welcoming atmosphere in the classroom. The tone that the teacher sets will be the tone of the classroom for the entire year. Students need to feel a sense of belonging and they want to be seen and heard. The most important thing that we can do as teachers and school staff is to ensure that we have a positive climate and culture in our classrooms and create a safe space where our students want to be," said instructor Traci Howard.
Campus Safety Ashley Kliphuis 
   "I think of Mrs. Le's room because they're always having a good time. I always hear them laughing and it seems like they are making memories to last a lifetime. That classroom has a nice welcome for anyone who walks in."
   Advice: "I greet my students in Vietnamese.  I say, "Chao cac em" meaning hello all as students respond, "Chao co" [hello female teacher].  It starts my class hour reminding them that class has started and to place phones hidden and out of sight.  I share random stories about myself or my children.  Several students get comfortable enough to share bits and pieces of their lives.  Others listen along with interest rather than falling asleep," said instructor Lan Le.
School Counselor Danielle Barnes 
   "I would say Mrs Howard's class probably because it smells so good. It just makes me think how much I wanna be in there. Learning how to cook and try new and delicious foods. I'd love to try some new recipes as well. Sign me up for a semester!"
Advice: " I try to always have a smile on my face and ask students about what's going on in their life.  I put up work they have done.  I ask students what their favorite song is and put a playlist together that has their songs on it.  Those get played when they have work time.  I try to be "chill" and not let the little things bother me.  I also try to let everyone know I can be their "go-to" for pretty much anything (glue sticks, washing machine, stain stick, snack, ice).  I would much rather see my room filled with people.  With staff, I host breakfast potlucks and lunch, and try to keep my room as open and available too.  I also share treats with people . . . a lot.  Let's be honest, treats make everything better," said Howard.
Instructor Kayla Ziegler 
   "Definitely Senora Holmes. Because she's the most fun and has the most energy and she brings the party to you. She makes teaching Spanish fun for kids and wants everyone to succeed. Being in her class would definitely be a good time!"
Advice: "All students need a safe and welcoming place to learn.  We intentionally do this by focusing on the value of the class community. We are learning together, being challenged together, making mistakes together and we value engagement from everyone. We create a good atmosphere by making learning relevant. We connect what we are learning to what is happening in our lives outside the classroom. Both students and teachers are inspired by authentic connections as we seek to challenge one another," said instructor Melody Holmes.