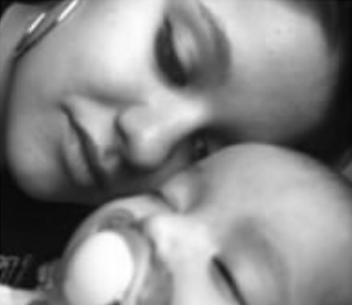 "How the heck am I supposed to do this?" I said staring at a new math assignment my 5th grade teacher had assigned. I had a long day at school, was extremely bored, and didn't want to do my homework; when out of nowhere my mom, Victoria Zuniga, walked in with a big grin on her face. Immediately suspicious, I asked her, "What's with the big smile?" She pulls out a giant book. I was extremely curious as to what it could contain.  
   She walks over to me and plops it down on the small wooden coffee table. It was a scrapbook that she had from when she was younger. With eagerness I immediately flip through the pages. Whilst I was flipping through the pages, I saw baby pictures of me. There were so  many pictures in which I was doing silly faces, making me let out a slight chuckle. As I continued to flip through the book, I saw a picture of both me and my mom. At first, it seemed like a normal picture until my eyes fully processed it. I turned to my mom with confusion as I asked, "Why do you look so young?". That's when she dropped the bomb saying she was a teenage mom. I was shocked to say the least. I started asking question after question.
   "How old were you when you had me? When did you get pregnant?" etc. So many questions that I needed answers to.
   I always thought it was strange how my mom would tell me all the stories about teenage pregnancies, and how bad they were. Now knowing that she had me at 17, it all made sense. All the stories, and how she was worried for me whenever I told her about a crush I had, or that I was hanging out with a group of boys. It was all just a reflection of her and how young she was when she had me.
   She started to speak. "I was 17 when I got pregnant with you. It was my senior year of high school. It wasn't too bad because while I was pregnant with you, it was winter so I was able to get away with the baby belly. I ended up having you just 3 months before my 18th birthday". 
   17?!!? I'm 16 and getting pregnant is the last thing on my mind! Although this blew my mind, I have no shame in admitting that I had a teenage mom. I love it to be completely honest with you. I get to grow old with her, I tell her everything, so not only is she my mom, but she's also my built-in best friend. Once I heard how old she was, me being me, of course I had to ask MORE questions. 
   What was the most difficult thing you've dealt with while being pregnant?
   "I think the thing I struggled with most would be finding a good balance. Immediately after I graduated, I started to work full-time and I went to college. As time went on, I learned the hard way that it was too much pressure to go to college and have a full-time job with a newborn. I ended up having to drop  my college classes and wait until you grew older to return. I was lucky enough to have good support systems from friends and family who've helped me through it the whole time while adjusting to being a new mom."
   Wow. Not only did she have a newborn on her hands, but she also had to work full-time and go to college? It's insane to hear how much pressure she was under but continued to stay strong and persevere through it. It's inspiring. I know a lot of high-schoolers who talk about how hard school is alone, not consisting of a job and such, but imagine going to college, dealing with a newborn, AND working full-time. 
   Did anyone give you nasty looks or make assumptions about you?
   "I was always looked at differently by certain people and during the first few months, I felt like a disappointment, and that I wasn't good enough or responsible. For a while I always thought I made a mistake, but no matter what I did, there would always be someone who would make a rude comment, or give me a nasty look. Now that I'm older, I truly do think getting pregnant was the best thing that could've ever happened to me. It opened my eyes, and helped me mature much faster than a lot of other people. I don't know where I'd be today if I didn't have you." 
   Growing up in a super religious household, I always thought that people were automatically irresponsible if they had gotten pregnant under the age of 30, but this is far from the truth. Now knowing that my mom had to sacrifice so much, just to be able to provide for me, is eye-opening and I've learned that in the end, teen-moms are far from irresponsible, and are some of the strongest women out there.