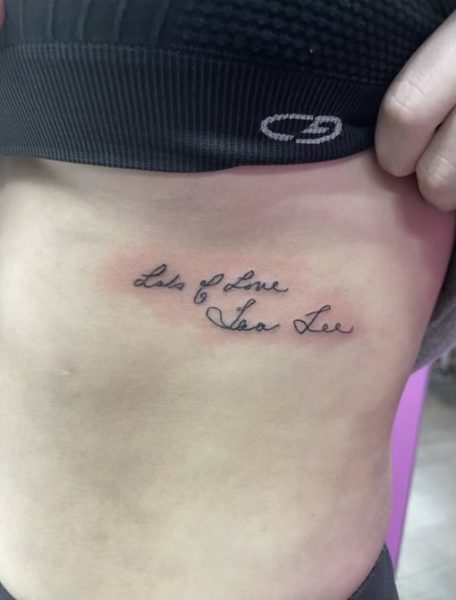 Sr. Jillian Garcia got her tattoo when she was 16. Her parents did not want her to get a tattoo, especially as a minor. But when Garcia explained why she wanted a tattoo, her parents just couldn't say no. "Taa-Tee is my great grandma, and she was my best friend. When she passed away, I knew I wanted to get a tattoo in honor of her," Garcia said.
Only one idea for a tattoo came to Garcia's mind.. "I kept every single birthday and Christmas card she gave me and in every single one she wrote 'Lots of love- Taa-Tee,' so I decided that was what I wanted for my tattoo."
Once her parents were on board, Garcia went to Don't Tell Mom (DTM) Tattoos and Piercings with her mother and sister. "There was barely any pain except when they were going directly on top of my rib, but it wasn't pain. It was just more discomfort," Garcia said. But any discomfort was a minor obstacle for her when the tattoo she dreamed about finally became a reality.
Whenever she looks at her tattoo, she can be reminded of her best friend. And she remembers that a piece of her best friend will always be with her.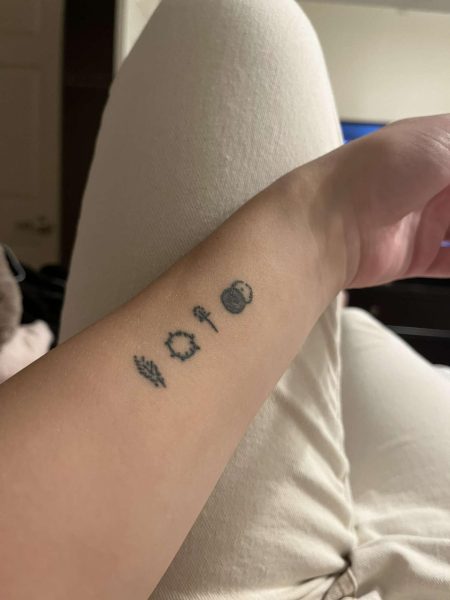 ¨It really shows a part of me that I want people to know," Sr. Ella McNeely said. McNeely believes her tattoo expresses so much about her.
Although she loves her tattoo, McNeely didn't get it in the most conventional way. "It was like a random place in the middle of the night. He was certified and clean, but it was up some stairs in a random house," McNeely said as she paints the picture of where she got her tattoo.
That random room in a house was in Spain on her 2023 Spring Break trip where she and a group of West Ottawa students traveled to stay with the exchange students they hosted in Michigan in the fall. "There were a few of the United States girls, 'The Americans' that's what we were called in Spain," McNeely said as she recalls who had been with her when she got the tattoo she had envisioned on herself since she was 12.
That tattoo is a palm branch, crown of thorns, cross, and an empty tomb in a row running down her forearm. "It's representative of holy week and it's just something to remind me to keep going and that I have a place as a daughter in heaven," McNeely said. McNeely is a strong Christian and got her tattoo as a representation of her faith. "This was something I was passionate about, and my Christianity is never gonna change."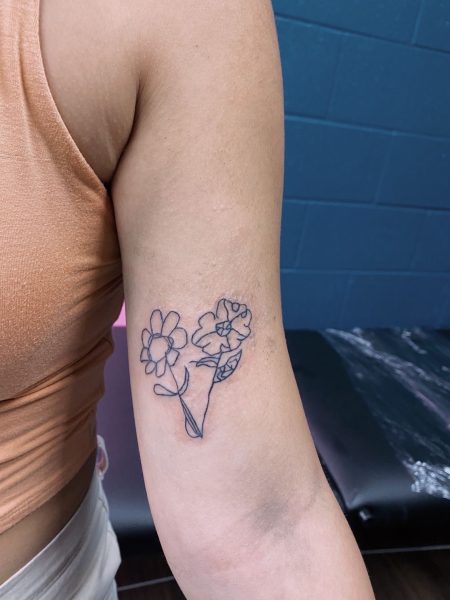 "Four and a half out of ten," Sr. Emma Defries said when explaining how much her tattoo hurt. Defries was 16 when she got her tattoo. She went to Don't Tell Mom (DTM) Tattoos and Piercings.
Her mother and her mother's best friend went with her to get it. Although her mother went with her, she wasn't the biggest fan of Defries' tattoo at first. "It took convincing for my mom to let me get it, she was just nervous that it would hurt too much and that I would regret it," But after some convincing, Defries got her mother on board. And now her whole family likes her tattoo.
That tattoo is two flowers intertwined on her upper arm. "My grandma drew one and my grandpa drew the other, they were both sick at the time," Defries said. Having her beautiful tattoo provides a way for Defries to carry a reminder of her grandparents with her.
Defries has often been asked about how she feels about her tattoo. "Sometimes I forget I have it, but I really love it and I'm glad I have it. It feels like a part of me now, you know because it permanently is." Defries plans on getting more tattoos in the future and can't wait to get a matching one with her sister.