SHORE: Changing the future for athletes
BANG! The starter gun goes off and Jr. Bryce Buckner starts off SHORE's 4×200 meter relay. Buckner is fighting out the turn as he sees Sr. Allen Payne ready for a hand off.  With Payne taking the baton from Buckner, he picks the speed up and gradually leaves the competition behind. SHORES win was secured by the second leg of the relay, and it was only smooth sailing from there.
   The 2022 Michigan Indoor Track season is off to a start this December, and that means that SHORE Track Club is back in action. SHORE TC is a club team run by West Ottawa Coaches Kyle Barnes and Dan Blake, but it is not an affiliate of WO. 
   SHORE was started in November of 2021 but recently got deemed an official club by the USA Track & Field association. SHORE has gotten many athletes from the West Michigan area to compete for and train together. SHORE isn't just for athletes that want to do track and field in the spring, it can help athletes in many different sports. 
   Sr. Ben Monger is an athlete who has found great success with SHORE. Monger believes that indoor track brings a sense of togetherness that otherwise can be lost in the outdoor season. "We have a lot of people from different schools join us. During that time we don't have to worry about competing against each other but instead competing together, which is why I love it so much. When the poster says anyone can join literally everyone can," Monger said. The sense of togetherness and being able to compete and train with athletes from other schools has pushed Monger to new heights.
   Following the first indoor competition on December 2, Monger found himself running times he otherwise wouldn't have seen himself running. Opening the indoor season with 7.21 seconds in the 60 meter dash and 23.41 in the 200 meter dash, both were lifetime PR's and major improvements from the prior season.
   The training regiment that Monger took week to week with SHORE is what helped him achieve these feats. On Monday, he would work on his running technique staying nice and tall, really driving his knee and pushing. Wednesday was acceleration work. Making sure his block starts were a cut above the rest so he got out fast and efficiently. Finally on Friday Monger did something known as lactate work. Essentially it is sprint endurance, building up lactic acid in your legs and learning how to keep pushing through it even when he feels like collapsing. Simple in theory but this took a lot of mental toughness and pushed Monger to the next level.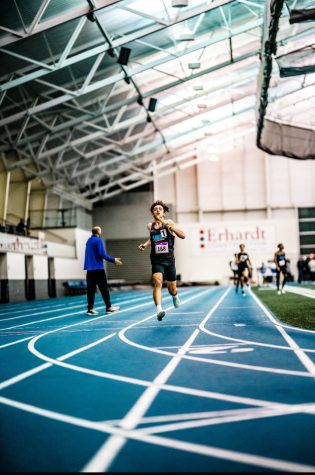 Monger knows what it means to be fast, and also knows that speed helps in every sport, "The speed and explosive training that's provided can help athletes with their particular sport from football to wrestling everyone needs to get fast," Monger said. SHORE helped Monger get faster, and it can help any athlete no matter their sport.
   Another one of the athletes that is a part of SHORE track club is Jr. Khialy Thach. She participates in pole vault and hurdles for the club. Thach competed with SHORE last season and has found that indoor has a way different feel than outdoor. "Indoor is more individual than outdoor track where it's more team based and there's not as much pressure but you still get experience." For Thach, joining SHORE helped her improve in both her field events and her hurdle events. 
   From her 2021 outdoor track season, she finished with a 18.67 seconds PR at the Squire JV invite, and an average time of 20 seconds in the 100 meter hurdles. A year later, she would cross that same finish line in her 2022 outdoor season, this time posting a pr of 18.17 seconds, placing her in 1st for that meet. This improvement in time didn't just appear out of nowhere; it came from constant hard work and dedication. The normal week for an athlete likeThach would be doing a basic sprint workout right after school for a little more than an hour every Monday, Wednesday and Friday. Then having hurdle practice those same days right after the sprint workouts. For Tuesday and Thursday, Thach has pole vault practice where she will do drills and full jumps to further grow her vaulting ability. 
   On the distance side, Jr. Max VanGrouw finds that the workouts themselves during SHORE are different that outdoor track. "The training for the distance guys is different for us too, it's more mileage based intensity than workout based intensity." VanGrouw said. Getting back into distance shape and running heavy miles, makes sure to keep the body honed for the spring season. 
   But they don't just specify endurance, because as with everything speed is king. VanGrouw said, "Speed development helps with every sport, as Coach Blake says, if you get fast with indoor track, it will help you with any sport you're in." VanGrouw has seen what speed can do for him on the track and on the cross country courses. 
   This past season he posted a lifetime best of 17:37 in the 5k. The previous year he averaged 20 minutes and his best run was barely in the 19 minute range. His drastic drop in time came from hard work in the off season and constant training with SHORE after his cross country season. VanGrouw also saw significant improvement in his track season too, beating his one mile best by 33 whole seconds and his two mile best by a minute and 18 seconds.
   There have been multiple accounts of athletes seeing success by being a part of SHORE. Making them faster, stronger, and more athletically able, giving them more advantages in their sport. SHORE isn't just for track athletes, it's for everyone.