Lacrosse goalies are not…normal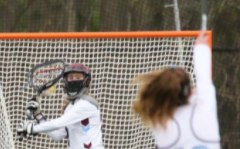 Hunter Shank is struck with the ball, pain erupting from his thigh. Hundreds of spectators and college coaches watch as Shank continues to play, ignoring the welt forming. As it is one of the biggest showcases in Maryland, Shank was hit by someone committed to the University of North Carolina. During halftime, Shank sits on the side of the field and lifts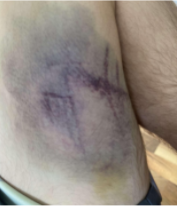 up the end of his shorts. A black and blue bruise covers the entire upper half of his leg. As a goalie, this is just another day of taking routine brutal hits.
   Constantly getting bruised and attacked every game, it's surprising that goalies still love their position. Goalies are not only the heart of the defense, but they are also the most interesting person on the field. 
   "I'm okay" is the most common response from a goalie after they get hit. They will show up to the next practice with bruises from the ball and still deny the pain.
   Every goalie has a different approach for defending the cage.
Parker Hayward aka "Mr. Anger Issues"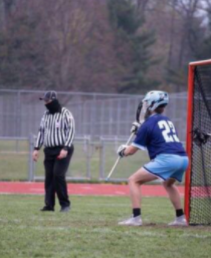 With nine years of experience, Parker Hayward has lots of background. On top of playing varsity lacrosse at Mona Shores High School, he also plays summer lacrosse at Westside.
   In total, he spends about five months out of the year playing lacrosse. Throughout the remainder of the year, he trains every week in order to be prepared for March.
   There's much more to goaltending than just standing in the net. Outside of lacrosse, goalies must train multiple times a week just to stop a ball. 
   Every day, Hayward works on his juggling. Being a key component of hand-eye coordination skills, he must spend hours a week doing this. In addition, he also does other hand-eye coordination drills.
   He also lifts weights throughout the week. Goalies need to have strong legs, arms, and a strong core.
   Although Hayward claims to only get heated during the moment, the main defenders on his club team, Sawyer Richards, Caden Adkins, and Ryan Stam claim he has anger issues while in the net. "There was one time when Parker unnecessarily laid out two kids. It was funny at the moment, and he got some penalties for it. It was most definitely worth the laugh," Stam said
   Throughout the defenders and Hayward, it is most important to have good communication. "My defense and I have a set of calls and phrases we use that mean certain directions or plays."  
   One of Hayward's calls between his defenders and him is called "bully." When they run this call during a game, the largest defender will pressure the smallest attacker which allows the defense to gain control over the ball.
   He tends to shape his playstyle around professional goalies like Brett Queener and Blaze Riorden. "I see myself as a fast and aggressive goalie that isn't afraid to run towards the ball." 
   His defenders agree. "One time Parker made the last stop of the game with his head … this save is the reason we won the game," Richards said. 
   Although his approach is quite uncommon, Hayward wouldn't change his style. "It works for me and I've been working on it for a few years.
   Overall, Hayward is known to put himself in front of the ball in order to make a stop. His aggressive playstyle sets him apart from most goalies. 
Hunter Shank aka "The Cheerleader"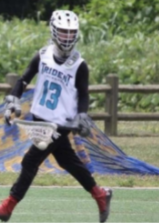 Hunter Shank is nowhere near new to lacrosse. With 13 years of experience and countless tournaments, Shank has truly seen it all. 
   Shank plays varsity lacrosse at Swansboro High School in North Carolina. Additionally, he also plays for Trident Lacrosse.
   There is no break from lacrosse when it comes to Shank. There is always some sort of showcase, tournament, or lacrosse-related event.
   To keep up, Shank spends about two hours every day practicing. To him, working on weightlifting and his footwork are most important.
   Uncommonly, Shank also does plyometric workouts regularly. These workouts are very fast-paced throughout short intervals of time. These workouts increase speed, vertical reach, and faster footwork skills which are all essential to goaltending. 
   These workouts help develop his creative play style. "Sometimes during games, Hunter will go into the splits to make a save," his defender, Blake Williams, said. On top of this, his commanding voice creates a cheerleader-like style.
   Although most athletes are able to reduce the amount of training they have to do after their senior year, Shank will not be able to. He recently committed to Washington College, a D3 lacrosse program, in Chestertown, MD as an incoming member of the class of 2026.
   He will have to continue to work hard since everyone else on the team already has college experience, especially the other goalies. 
   Contrary to Hayward, Shank tends to have a calmer play style. In his opinion, less movement is better. "There is not a lot of movement as 99% of the time my stick is in the right position. So while goalies are making these acrobatic saves, they are out of position," Shank said.
   Sometimes this works with goalies that have good stick skills. This isn't the case for everyone. Some goalies prefer to be quicker and have more movement. It's just what works for them.
   Despite the fact, he wouldn't change his playstyle because it's what works best. Shank recalls one time when his team beat a high-ranked team. The score was at 8-7, and Shank needed to make a few saves in order to continue their undefeated season.
Annelise Rommecka aka "Do-it-Yourself"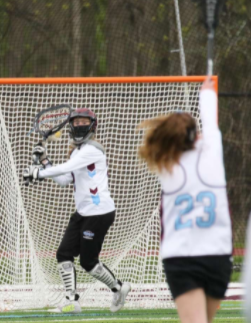 Annelise Rommecka has been playing lacrosse for six years. As a goalie at Okemos High School, Rommecka has also played for Michigan Lacrosse Academy and Cyclones Lacrosse.
   Contrary to most, Rommecka engages in other sports. She also plays basketball and runs during her offseason which helps her prepare for March.
   Also, Rommecka participates in the 6×6 goalie academy, which is a very well-known camp throughout West Michigan. 
   She sees herself as more of an aggressive goalie. While on the field, it is very obvious that Rommecka wants that ball. 
   "During our last game of the summer season, Annelise took her equipment off, put her goggles on, and began playing midfield," Amaiya Kyles said. She truly is the most useful person.
   While clearing the ball up the field, it is common to see Rommecka exit the crease and run up this field. It is already difficult enough to find an open defender, so running up while leaving the crease open makes goaltending so much more difficult. 
   Not only does this prove that Rommecka has lots of lacrosse knowledge, but it also proves that she is a leader. 
   As she continues to develop her style of playing, she looks to her coach, Bradley Gigliotti, for guidance. "He helps me gain my own style," Rommecka said. 
   Rommecka's favorite memory with her defense is celebrating after a win. It creates a good feeling throughout her and her teammates which overall helps build their harmony. Rommecka and her defenders are constantly working on communication. It's essential to call out who has the ball and who can slide if someone needs help.
   Since communication is essential, Rommecka strives to work on her calls. "I would say I've always thought of changing what I do on the field to talk because I don't always talk the best on the field."
West Ottawa Goalies 
   With six years of experience, Ian Geiersbach is very familiar with the game. On top of being a varsity goalie at West Ottawa High School, Geiersbach also plays summer lacrosse at Westside.
   Geiersbach can relate to Shank's playstyle and so can his defenders. "My goalie is a strong leader … his calls help us on defense," Owen Armstrong said. Armstrong plays both school and club lacrosse with Geiersbach.
   Although Geiersbach is a very strong and vocal leader, he will never fail to make his team laugh. At any good chance, he will find a way to crack a joke. He is known as the joker of his team. "One game Ian played with Oreos in his pocket for good luck," Armstrong said. It was strange but worked as they went on to win that game. 
   Another goalie at West Ottawa, Amaiya Kyles, relates more to Rommecka. Kyles plays varsity lacrosse at West Ottawa, and she also plays lacrosse at Michigan Lacrosse Academy. Just as Rommecka said, Kyles also struggles with being more vocal.
   She is known as "small but mighty" to her teammates after saving 6/7 shots during her first varsity game. As she continues to prepare for the next varsity season, she is experimenting with new styles to see what works best. 
   Overall, all goalies have different approaches as to how they play, but they all share the same goal. Next time, pay attention to the goalie and see how he or she plays!