Thriving through art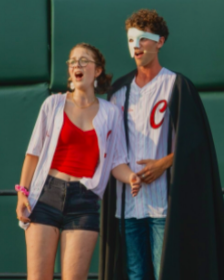 Tessie Morales steps onto the stage at Lake Michigan Credit Union Ballpark with butterflies in her stomach but only joy on her face. Opening the show with a duet from Phantom of the Opera her expressions only continue to grow wider. The act of creating art to express artistic capability and imagination brings joy. 
   These WO artists have created opportunities for their pieces to be shown to thousands of people online and in person, allowing these moments of recognization to have inspired them to continue pursuing their passions. 
Sr. Trinity Wise
   Wise had begun getting recognized for her artistic abilities early on by getting her work hung in her elementary school art gallery. With an unconfident mindset, "I obviously wasn't the best artist," being able to see her work hung along with her peers helped change her perspective and fuel a stronger passion for art. 
   Though the COVID-19 pandemic did put a pause on Wise´s efforts.
¨I wish I could say that I used my extra free time during the quarantine to enhance my artistic abilities through hours of drawing and painting but I struggled to actually sit down and just practice. I tend to be very critical of myself and my work and get really frustrated when it doesn't turn out how I envisioned it. When I am overly critical of myself, I tend to doubt my own abilities and put off practicing because I don't want to fail,¨ Wise said.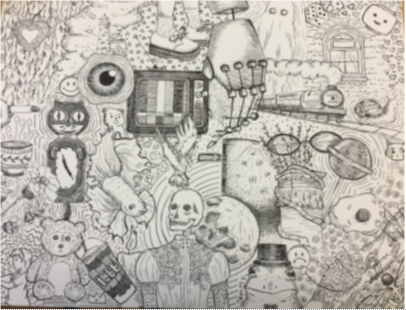 Failing is all part of the process. For an artist to be able to appreciate what they do and do not like allows them to keep pushing growth out of oneself to make their piece the best that they imagine it to be. Critiques are also useful in understanding how a piece is interpreted by others and what they believe could be improved. Wise spent about a month working on her piece "About 47" (pictured). She was proud of her product, but after getting feedback from her IB art class she now views her work as unfinished while knowing she has an opportunity to enhance her abilities.
   ¨I obviously appreciate it when others compliment my work, but the only opinion that really matters is my own, and I was really proud of myself after I finished the piece,¨ Wise said.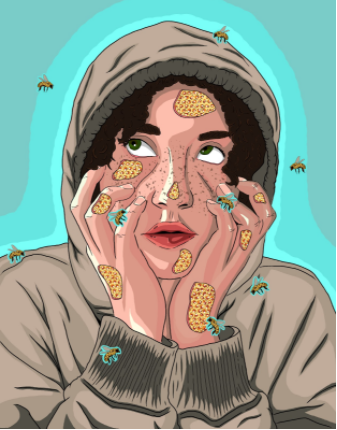 Earlier this year, Wise submitted a digital drawing to be shown at the 2021 Grand Rapids Festival of the Arts (pictured). This show was virtual due to COVID but it was still an achievement to get the opportunity under the world's current circumstances.  
   Wise said, ¨It's always nice to be recognized for the hard work and dedication you put into the process as an artist. But I wasn't doing the project because I wanted it to be shown, I did it to make something to be proud of.¨
   While art is the form of self-expression, the positive feedback of a community can help shape an appreciation for talent within oneself.
   ¨It can sometimes be difficult to get artwork viewed by people who are not teachers or family members but there are always opportunities through competitions like the Scholastic Awards where you can submit art virtually,¨ Wise said. 
   Wise has made sure to make up for lost time and ensure opportunities for herself in the future as an artist by dedicating her time in and outside of the classroom as well as using her resources from teachers and online as well. 
Sr. Tessie Morales 
   People tend to put themselves into social groups knowing what they do and don't like and will stick with their familiar ways for as long as possible. Whether it's staying quiet and observing those around them, being outspoken and loud, or anything in between. 
"My go-to adjectives on those lame introductory papers were always "creative" and "shy," Morales said. 
   Morales always viewed herself as the quiet kid who didn't have anything to say but actively kept her eyes open. She would spend her days viewing the social cues and expressions of others rather than being the outspoken one herself. 
   Morales said, "Honestly, I think that's why I wound up in the theater; I spent years 'studying' how humans work and needed to somehow express that knowledge." 
   In the Summer of 2021, Morales was cast in Broadway at the Ballpark with the Grand Rapids Civic Theater. This event was an outdoor cabaret of show-tune favorites and baseball game classics that took place at the Lake Michigan Credit Union Ballpark. This was the first time ever Morales had the opportunity to perform solely with adults. The other 12 cast members ranged from 22 – 55 years, allowing Morales a range of guidance to follow. 
   "They all encouraged me to continue pursuing this passion of mine – it was so validating to hear that. And after the performances, complete strangers in the audience would come up and say things like, 'Oh my god, you're only 17?' or 'I couldn't take my eyes off of you the whole time, you have such a wonderful stage presence' or 'I know you're going to do great things,' Morales said. 
   Success comes with confidence. Once Morales began to learn to cherish her talent and accept the overwhelming compliments she was allowed much more room for growth.
   "Artistic validation from strangers is underratedly uplifting," said Morales. 
    The COVID-19 outbreak really silenced the music industry as broadway shows and concerts were no longer able to continue. Pop stars were unable to shoot music videos and collaborate with other artists in the studio. Internationally, people had to learn how to adapt to viewing the world from inside their homes. 
   "The pandemic actually opened up unique performance and training opportunities. In the comfort of my own home I auditioned for three shows, participated in the Exit Left Theatre Company Online Academy, was a finalist in both the MSVMA Musical Theatre Intensive and in the Kalamazoo Bach Festival, competed in the virtual Michigan Thespian Festival, and then went to the virtual International Thespian Festival where I auditioned for 70+ colleges and received 30+ callbacks, scholarship offers, and admission into many collegiate theatre programs," said Morales. 
  Morales has put forth the dedication and hard work needed to pursue these amazing opportunities she has made for herself as an artist. By dedicating her time in continuing to push her instrument as well as using social media to widen her repertoire she was able to grow the confidence from being the "shy girl" to the girl who took center stage.