WO Affirmations site brings smiles and positivity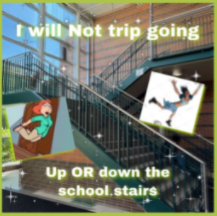 "I will not trip going up OR down the school stairs," stated the Instagram post. The background includes a photo of the south building stairs with corresponding stock images.  West Ottawa students swiftly shared the quirky natured Instagram posts.
   The new Instagram page, West Ottawa Affirmations (@woaffirmations), brings lighthearted positivity to West Ottawa. They post affirmations for specific situations relating to West Ottawa students. 
   The well-known Instagram account caught the attention of more than 320 followers since the beginning of the school year. The student who runs @woaffirmations requested to remain anonymous.
   "Affirmation pages hold positive statements to overcome self [negativity] and sabotaging thoughts," said West Ottawa Affirmations. The Instagram posts can be used as manifestations or self-motivation to improve someone's day at school.
   "In most cases when people repeat affirmations to themselves and make an effort to believe them, they can start making positive changes in their life," West Ottawa Affirmations said. The account is treated as an inside joke within West Ottawa's student body. Students can relate to the posts as they bring a vivacious tone to awkward or arduous situations at school. "Only people from WO would understand the affirmations and the edits themselves are funny," West Ottawa Affirmations said.
   Growing interactions and positive feedback from students have helped West Ottawa Affirmations grow remarkably. To obtain more interactions they write "YES to #affirm" in the captions of the posts. West Ottawa Affirmations was surprised by the recognition it has been getting, "I just post whenever I have the time. People started sharing posts, and then followers and likes slowly came in which surprised me." The affirmation page gained 100 followers in the last two weeks.
   The creative Instagram pages are a nationwide phenomenon among colleges and high schools. Other high schools and colleges, such as MSU (Michigan State University), have their twist on an affirmation page.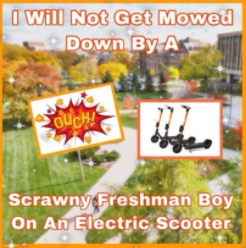 MSU's affirmation page is also allegedly run by students. Their first post affirms, "I will not get mowed down by a scrawny freshman boy on an electric scooter," on September 9. Since then, MSU's affirmation page has accumulated over 4,600 followers.
   Affirmation pages for the University of Michigan, Grand Valley State University, DePaul University, and Ohio State are easily found on Instagram. The uncomplicated process of running an affirmation account is a reason so many exist, "I put photos through an app called PicsArt and just mash up a bunch of stickers and texts," said West Ottawa Affirmations. They get their content ideas from requests made by other students. 
   One Instagram account started the affirmation trend, "On my main account I follow an affirmation page that's actually pretty funny… [my] inspiration to make the account (West Ottawa Affirmations) and make posts was @afffirmations," West Ottawa Affirmations said.
   The Instagram account, @afffrimations, has been deemed as the inspiration for most affirmation pages. Their encouraging affirmations are vague compared to student-run accounts to accommodate their 800 thousand followers. "[I thought] maybe it would be funny if there was an affirmation page for school," said West Ottawa Affirmations.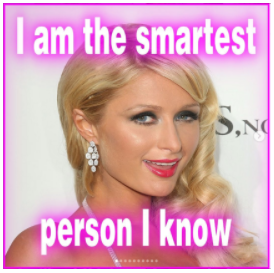 "I am the smartest person I know," one post reads. The affirmation has a photo of Paris Hilton in the background. In most of the @afffirmations' posts, the affirmation typically doesn't correlate with the background image. The random nature of affirmation accounts creates a humorous tone Gen Z seems to love.
   West Ottawa Affirmations can't predict the lifespan of their account, "I don't know where this account will go in the future but I can say I'm having fun running it and making [posts] right now," said West Ottawa Affirmations. Many students, including myself, would love for the account to continue beyond the end of the school year. For now, we should continue contributing to the positive community on West Ottawa Affirmations.