Social media: More than entertainment?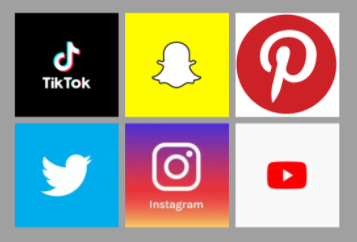 Ding!… on one side of the classroom.
Ding!… from the opposite side of the room.
Ding!… as the sound comes from the middle.
App notifications can consume the day. 
   Social media is something that most people have and use. Sometimes people follow others to see the fun or interesting pictures others post. Sometimes people have it to see how to create new things. Also to organize better or to get ideas of how to decorate an area. Others see it in a way to help them with what's going on in life. Especially for colleges or for jobs that are available to people. So let's see if there are benefits or if it is all just fun.
   Liam Kent, a sophomore, said social media allows him to communicate. It allows him to go on Instagram and find anyone he needs by simply typing in their username. He then communicates to them about school and extracurricular activities.
   Paige Bomhof, a senior, said that social media has benefited her with getting to learn more about all the new astronomy activities that are happening in the world. She gets new updates on Twitter and knows when the new rocket launch will be. She also said that social media had helped her to prepare for college as she receives new posts on Instagram showing students who are living the college life and explaining their tips and tricks of survival. 
   Coral Adrion, a senior, said she benefits from social media with being able to talk to her boyfriend as she is in a long distance relationship. This allows her to text him and call him whenever she needs on Instagram.
   Twinity Saeteurn, a freshman, said that he benefits from social media with the entertainment, enjoyment and education that it provides. He also said that he benefits from it with social interactions. He even learned how to tie a tie for homecoming by watching a youtube video.
  Alli Cicholski, a junior, said that she benefits from social media mentally. She follows those who give her the best advice and help her mentally. She said Victoria Garrick has helped her a lot with talking about body positivity and posting about the real issues. She believes following those who post the real them helps her to benefit from how they live their lives. She also said that social media helps her to know school events and what's happening at school.
   Yuki Saeteurn, a sophomore, said that social media helps him to pass the time. Typically when he has nothing to do this definitely helps to distract his mind.
  McKenzie Kouw, a senior, said that social media has taught her new things. She looks on Pinterest and finds new activities to do. She said she finds inspiration for art, fashion, fitness, design, and etc. She said that social media is a good time filler. She likes to distract herself from her surroundings when going on social media.
  Overall, many have shown that they use social media in various ways. For some, this was difficult to recall the last time they really benefited from social media. Others knew exactly when they benefited. Everyone uses something different to communicate with the world. Some use more common apps while many use apps that are not so commonly used. Either way, it shows that people have social media to see the world in many other ways. It gives everyone the chance to explore and see new things.