Two homes separated by over 7,000 miles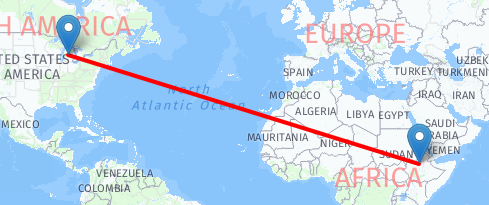 I gazed over the enormous pool as I readied myself for the water slide. I was on a luxurious cruise, a vacation I would've never even thought to exist just five years previous. Compared to my hut of dirt, grass, and wood in Ethiopia, this vacation that would be normal to most seemed like a dream. The shock of moving from Ethiopia to one of the most developed countries in the world was an awakening to my new life full of many new opportunities.
   "Wake up now, we need to leave," my grandpa said as he rushed inside my house. I woke up in a hurry and got dressed quietly. It was a dark, early morning in my small village in Ethiopia. Even the roosters hadn't made their wake-up call yet.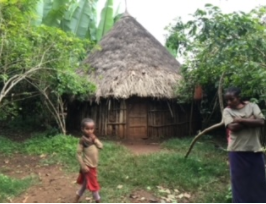 Everyone lived in small huts made out of dirt, cow poop, wood, grass, and dried leaves. I was living with my mom, my two sisters – Mafati and Beutiou – and my three older brothers, Findega, Tadesse, and Tarik. My dad had died when I was four years old from a bad sickness; now it was up to my mom to take care of us all. Our main source for survival was our three gardens. In the gardens, we had corn, coffee trees, avocado trees, bananas, wasay, and other vegetables.
    My days consisted of walking my cows, taking care of my little sister, and finding some time to kick soccer balls around with friends. 
   One day I was living my normal life. The next,  my grandpa told me I was going to move. I was about seven years old. The last thing I remember before arriving in a strange place was everyone sleeping and my mom hugging me tightly and crying. My grandpa didn't tell me where I was going, he just told me to follow him for miles until we got in a car.
   I was very scared.
   After driving for over four hours, I arrived in a place that I never knew existed; the only place I'd known had dirt paths, gardens, and huts. There were cars everywhere, the air smelled like gas and tasty foods that I had never seen before. Cows, dogs, and other animals walked across the road while cars cautiously avoided them. I didn't know where I was, but now I know it was the capital, Addis Ababa. An old man opened a big metal gate to let the car in.  When I got out of the car, there were kids grabbing and hugging me. The kids said, "Salam" to greet me. I was at Sele Enat orphanage with lots of other kids my age. I was very amazed by everything that I was seeing. I've never seen so many cars and cool buildings with electricity before.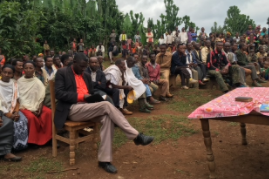 I met Meseret and Melaku because we spoke the same language, Sidama. We liked to play soccer, basketball, and watch movies. We would have school in the morning and they would teach us to count numbers and write letters in English. We wore bright purple vests for school. 
   Even though I liked living there, I was missing my family more and more. 
   Worried about my family, I asked one of the workers how my family was doing and their response shocked me. They said that my grandpa had told them that my mom had died. From that moment on, my life changed. I was suddenly sad and depressed every day.
   Several days after the terrible news, the workers told me that I was meeting my new parents.
   When my adoptive parents arrived, they were super nice and bought me food. They told me that they were going to be my new parents. I was happy, but I wasn't sure what was going to happen with my family back home in the village. My new parents seemed very friendly and kind. Whatever was happening, I knew it was something special but hoped that I was able to see my family again also.
It was a dark early morning when my new parents put me inside of a huge plane. I remember when I had seen these fly over my house once in awhile. It was exciting to see and I'd always wave and run after it. Knowing that I was actually flying in a plane was crazy to think about. However, I was a little scared at times when I looked outside the window and saw an ocean below us. Overall I loved the ride and slept through most of it.
   Later, we arrived in the US, and my parents took me to a huge house. There I was welcomed by my sister and brother who were about the same age as me. I was very scared because I didn't know what was going to happen. This place was filled with people and things that I've never seen in my life.
   However, my parents promised me that everything will be fine; in fact, it was much better. A few years later my parents hired someone to go back to my village and find out how my family was doing. They told me that my grandpa had lied to the people at the orphanage about my mom dying. They said that he had to lie in order for me to get adopted. At that moment all I could think about is, "Why would my grandpa ever do this to me? Doesn't he want me to be happy?" I felt very angry about my grandpa, but knowing that my mom was alive changed my life around.
   I ended up feeling much better with my family's help.  Everyone was nice to me and gave me a lot of attention. Although at the time I struggled to understand English, it didn't take away my ability to understand people through their expressions. For example, people would smile, high-five me, and play fun games while laughing.
   I realized that this was a safe place for me and that God had provided me with many opportunities. I was even told that I could visit my family someday. In 2014 and 2016, that dream came true and I got to go back to my village and see my family. 
    It is hard to believe that someone like me, from a small village in Ethiopia, is experiencing this. It is so rare to have this happen in your life because there aren't very many people who get this chance. I am very lucky to have two awesome parents in my life; it's a totally different world.
   I will never forget this experience and how life can change so quickly.
   I am hoping to see my family again soon. I am 18 years old now and in 12th grade hoping to find a college that is a good fit. Because of my hard work and determination, I hope to find a good career path and one day help my family in Ethiopia as well.