From Holland to Kabul: The winding path of Marine Cam Hillerich
West Ottawa graduate Cam Hillerich was in the back of a BearCat driving to the south side of the airport in Kabul, Afghanistan when he heard machine-gun fire going off and saw tracer rounds lighting up the sky. "We all thought we were about to get into a gunfight with the Taliban. Little did we know it was the Army firing warning shots in the air to try and push back the thousands of civilians who broke into the airbase."  
   Officers were screaming orders at Hillerich and his fellow Marines to get in line shoulder to shoulder and push the civilians back to the civilian terminal–about half a mile to the south. It was mass chaos with minimal intelligence about the situation. 
   "It was dark, we didn't know who these people were or if any enemy had embedded themselves within the civilians. Everyone had backpacks, and we all were anticipating an attack the whole time. Lucky that wasn't the case."  
   Hillerich has lived many adventures as a soldier. 
    Here at West Ottawa, Hillerich demonstrated the traits of a Marine. His teachers and coaches remember him as a dedicated, devoted student. "It was obvious that Cam understood the importance of the team and the role each player had in making a team better," 8th-grade basketball coach Jeremy Heavilin said.
   Instructor Lindsay Walcott said, "When he told me he was going to be a Marine, I was struck by how perfect that career choice was for him." 
   In 2016, shortly after ISIS' attack on Brussels, Hillerich felt the call to serve his country – a desire that had been blazing within him ever since he was just a child watching the Twin Towers fall after 9/11. He decided to visit a recruiter. 
   "I remember watching Marines on the news taking Fallujah, and fighting in Marjah," Hillerich said. "I picked the Marines because they're known for being the hardest and the best. I wanted that title, and I liked the 'first to fight' motto. When I thought of the Marines, I thought of a Warfighter, and that's what I wanted to be. A month or so later I sat down with the recruiter again and chose the MOS 0311 infantry and went to MEPS in East Lansing to be screened. After I was medically cleared, I enlisted in the United States Marine Corps."
    Hillerich's first year of Marine life was primarily training, fighting, and running. He rarely got more than six hours of sleep – sometimes even less if he was on guard duty. 
   After thirteen weeks, Hillerich graduated from bootcamp, where he then went to the Infantry Training Battalion. Here he learned offensive attacks, defensive positions, and how to use artillery such as snipers, shotguns, and rifles. To his surprise, Hillerich found himself learning non-lethal training. 
   "We did some non-lethal training where I was OC sprayed (pepper sprayed) and practiced riot formations with riot shields. I'm thankful for that training. I always thought non-lethal training was pointless because we're a 'lethal organization' but it definitely came in handy while I was deployed in Kabul, Afghanistan."
   After he finished his training, Hillerich was deemed ready to take on the life of a Marine. "Once I was finished with BSG, I was ready to hit my first unit. I was stationed in Yorktown, VA at the Marine Corps Security Forces Regiment with the Bravo Fleet Anti-Terrorism Security Team. I also did a couple of miserable Field OPS, trained with the Marine Corps Special Forces, and did a deployment to Japan, all within my first year," Hillerich said.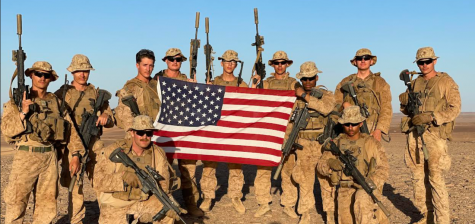 Despite the craziness of his first year in service, Hillerich managed to establish life-long friendships with two of his fellow Marines, both of whom accompanied him on all three of his deployments. "Those two know more about me in four years than some of my friends back home that I've known for fifteen years." 
    Hillerich has experienced three deployments – Japan, Cuba, and the Marine Expeditionary Unit (MEU), where he was able to serve his country on a boat rather than a continent. This would also prove to be one of the most exciting moments of Hillerich's three deployments. "This [the MEU] was by far the most interesting. It brought me to the Middle East for the first time. We happened to be in the right place at the right time to get the call to go to Kabul,  where we would help evacuate over 130,000 people during the Non-Combatant Evacuation Operation that made global news in August." 
   Hillerich is, of course, referring to the Taliban's sudden return to power in August after the widespread withdrawal of U.S. troops from Afghanistan. Kabul itself is the capital of Afghanistan, and Hillerich had a front-row seat to the fall of the Afghanistan government and its subsequent takeover by the Taliban.
   Despite the many miles and months he spends away from not only America but his family, Hillerich would never change his decision to become a Marine. "All Marines have different experiences," Hillerich said. "It's what you make out of it. If you ask an Infantry Marine what their reality is, it'll probably sound miserable, lonely, and frustrating. But the best part about the awful times is you're going through it with your brothers and sisters. You form a bond like no other. We work hard, and when we're not working, we play even harder (to keep it PG). Your reality will not be the reality of others. It's what you make of it, how hard you put out every day, and who you surround yourself with."
   And what is Cam Hillerich's advice to young Americans looking to protect and serve their country? "If you plan on becoming a Marine, make sure it's what you want to do. It's a commitment of at least four years. It's not only a commitment to yourself, but to your country, and the Marines to your left and right."
    The very same West Ottawa student who was  "always self-disciplined" in Instructor Kristen Bentley's class helped hundreds of men, women, and children to safety after the fall of Afghanistan to the Taliban, has journeyed through three deployments, and has even served as a squad leader for a Marine regiment. 
   Hillerich's journey from bootcamp to the battlefield shows us that heroes come from anywhere and everywhere – all it takes is heart, determination, and hard work.