The world needs more female leaders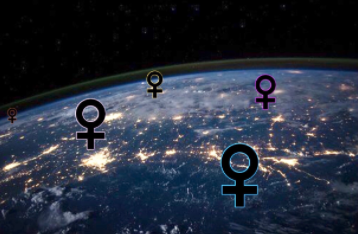 40.8 million cases. 
40,870,648 people. 
40,870,648 people diagnosed with a life-threatening virus. 
   All in one country. The United States. That's more than the population of Canada. Would this have happened with a female leader? Female-led countries might be responding better to climate change than male-led countries as well. Is the United States really doing enough to reduce gas emissions and contribute less to global warming? Let's compare the United States to female-led countries. 
Jacinda Ardern – New Zealand 
   Look at New Zealand for example, with only 3,866 cases. Granted, the U.S. and New Zealand have a large population difference, but if percentages of how many Covid-19 cases in a population are calculated, we can truly grasp the difference between how a female leader and a male leader handled the covid pandemic differently. 
   Only 0.08% of New Zealand's population contracted Covid-19 whereas nearly 12.3% of the U.S. population had covid. That's an 11.5% difference.
   Currently, New Zealand has a female leader named Jacinda Ardern, the prime minister since August 2017. Ardern is also the youngest prime minister for New Zealand at 37 years old in over 150 years. 
    Ardern successfully took early measures against Covid-19 back in March 2020 by implementing lockdown policies that lasted for three months. After those harsh restrictions, New Zealand had zero covid cases. 
   Around the same time as New Zealand reaching zero cases, the United States reached 2 million covid cases.
         Unfortunately, not all states were on board with mask mandates or stay-at-home orders, so our country as a whole couldn't recover. Since then, the U.S. has had over 40 million cases and rising even with a vaccine available. 
   Joe Biden is the current President of the United States. Previous Presidents included Donald Trump, Barack Obama, and 43 other male Presidents. The U.S. has never had a female President and currently has some problems compared to other female-led countries.  
Sanna Marin – Finland 
   Ardern isn't the only female leader who has had successful Covid-19 results. Sanna Marin of Finland established an adequate covid record of just 2.4% of covid cases in the population. The several policies Finland implemented made the country so successful in containing the virus. 
      The Emergency Powers Act closed all schools down from March 18th, 2020 until May 3rd, 2020. Restaurants and other facilities were also closed down to prevent the spread of the virus. Although restaurants still allowed takeout. On May 31st, 2020, restaurants re-opened after being closed for over two months. 
   By June 12th, 2020, there were less than 20 Covid-19 cases reported a day in Finland. These extensive measures paid off. The United States had over 20,000 reported cases that same day. 
   Finland also has some ambitious climate change goals. By 2035 the country plans on becoming the first climate-neutral country. With the current global warming issues, the steps they are taking are necessary. 
   Marin has been the prime minister of Finland since 2019. She presented the climate change idea at the Climate Ambition Summit in late 2020. 
   "We commit to promote sustainable food systems and fight against biodiversity loss. Renewable energy, nature-based solutions, circular economy, innovation and digital transformation are all key areas in Finland's climate action," Marin said. 
      This idea should be a goal for all countries. Many countries that contribute the most to climate change haven't taken enough action. The top five polluters in the world are male-led countries: China, United States, India, Russia, and Japan. With global temperatures increasing, it is important for everyone to do their part. 
Mette Frederiksen – Denmark 
    Denmark wasn't behind New Zealand in its early decision to lock down the country; in fact, Denmark carried out lockdown procedures before New Zealand did. Not only did the prime minister shut down all schools on March 16th, 2020, she also heavily encouraged the public to follow Covid-19 guidelines and follow social distancing. 
   Who is the prime minister? Mette Frederiksen is her name. She is the current prime minister of Denmark and has been since June 2019. Frederiksen shut the Denmark borders back in March 2020 which was early compared to most countries. 
    Denmark has a population of about 5.8 million. Only 2,604 people have died from the coronavirus in Denmark compared to over half a million Covid-19 deaths in the United States.
      The United States never had a national lockdown, lockdowns were decisions made by individual states. Is this an instance where the United States could have reacted differently with the pandemic? While other countries shut down the entire country to prevent the spread of the virus, the U.S. was giving lockdowns as an option for states to choose. Denmark was smart for making a national quarantine. 
   Clearly based on these stats, we need more female world leaders. The way these women handled the Covid-19 pandemic was effective and contrasting from the way male leaders handled the virus. The quick action from these female leaders is what made the country's response to Covid-19 so effective. 
   In late 2020, the Danish parliament decided to make its carbon reduction plan a law. Denmark will remove 20 million tons of carbon from the economy in order to reduce emissions by 70% of their original 1990 emission levels. 
      These strides taken by Denmark and Finland will impact the rate of climate change and hopefully how other countries respond to climate change. Other countries should take knowledge from female leaders and take serious action against climate change. 
   We need ideas from women to solve problems. Not that men can't solve problems, but women seem to have more successful solutions to many current issues. These solutions seem to be long-lasting as well. 
   Having female leaders is a huge advantage to countries. Based on the way these women take action, the future will be brighter if we have many female world leaders.