A musical pandemic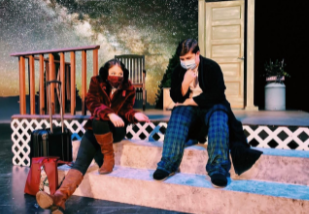 Twelve Angry Jurors was the last show the West Ottawa Theater had performed in person and since then, the Performing Arts Center doors have remained closed, audience seats collecting dust. What once was a packed auditorium enjoying theater performances, concerts, and dances, was shut down due to a worldwide pandemic. "Guys and Dolls Jr" was supposed to be showing that same spring but was canceled right when rehearsals started, leaving the middle school cast at a loss of hope, as well with the cancellation of West Ottawa's annual Collage concert in March and several State Solo & Ensemble performances.
   Music and theater can make an impact in many different ways. It can be an escape from the world around one, a coping mechanism, a stress reliever, a way to express your feelings, and just for fun. Who knew that something as simple as a virus would put limitations on something so freeing. " 'Is it worth it staying in the arts?' Is a question so many of us asked during this pandemic. It gets exhausting having to worry about if you're even going to be able to do some of the things you would give the world to do. Asking ourselves if it's worth the trouble helped me and many others realize a passion, and so many others realize they have some other passion that isn't in the arts…" said Soph. thespian, Karalynn Davis. 
For the next following months, it was almost like performing arts had been silenced never to be mentioned again. Music classes have resumed but with alterations and rules other than being 6 feet apart; band and choir classes had to do a 10-minute air change after playing and singing for half an hour. Once those 10 minutes pass, their music-making can resume which took a toll on how much rehearsal time the music group can get with each other. The air that comes out of the instrument and when one sings spreads into the air, contaminating aerosols and spreading germs one can inhale, which meant no open performances. 
   Singing and playing in masks became a struggle for many choir and band students. "The only thing I wish was different is that it was safe enough that we weren't required to wear masks because it's difficult to sing and learn to sing with a mask on." said Jr. Vocalaires member Kira Guerrin. Theater wasn't any different either. "Obviously, it is harder to act in masks. Your face is so important to your character…Singing in a mask is all I've really ever done, seeing as I started choir amidst a pandemic. But, it can be much more difficult to catch your breath with masks," said Davis. Directors were frustrated watching their students being quarantined left and right having to come up with a new learning plan every day not knowing if school would go online or not. "I wish I could sit next to my bandmates, not only to focus on the music better but further the friendships started through band." said Jr. band member, Timothy McDonald. 
   But where does the idea of performance come in? It was difficult trying to create an ideal plan to have people come to sit and watch performances in a closed auditorium where everyone is breathing the same air especially during this worldwide pandemic so the planning of any performances rarely came onto the table and because of that, the West Ottawa fall musical never happened. 
However, the curtains didn't remain closed forever. Almost, Maine student ran, opened later that winter that included 8 different love scenes but it was run differently than your typical theater performance. Masks were one of the big things, but one change was that certain students were assigned different ways to come in to act or do their crew assignments. After months of rehearsing and preparing, the theater was successfully able to promote and broadcast their winter play online for many people to view, marking this as WO's first virtual theater performance. 
   As this school year passed on, band and choir started slowly making a comeback. Band director Michael Hamann was able to pull off an indoor concert with the exception of limited audience members and a few room changes for circulation to clear out. Choir director Erin Stier had successfully devised a plan to pull off an outdoor spring concert with a clever song selection sung by Vocalaires; Sing Gently by Eric Whitacre who was "inspired to write the piece by the breadth of the pandemic and its effect on society". Being able to hear the sounds of applause and cheers from a live audience had emotionally moved many students because of how absent that was to a musician, and the worry about when was the day we'd all make music together again had slowly perished.
"It's amazing to think that the Virtual Choir started as a simple experiment some ten years ago. We have all known its special purpose over that decade – joining people from around the world through music – and it has brought us particular comfort this year. That said, we all look forward to the day when we can safely make music together, in person." -Eric Whitacre