A dream that became a nightmare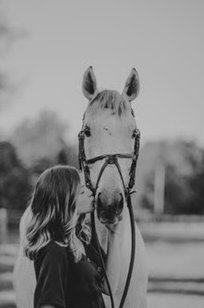 "Land, one, two, three," a voice said. I turned to the commotion and saw my dream horse soar over a four-foot jump. My dream of owning an athletic grey horse galloped towards me. 
    I wish I could tell my eighth-grade self that a dream come true isn't always butterflies and rainbows. 
   The summer before sixth grade, I attended a weeklong horse camp at the Grosse Pointe Hunt Club; I was hooked. 
   After horse camp, I began a working student position at the barn. I enjoyed tacking up horses for my trainer to ride. I watched in awe as he made complicated four-foot hunter courses look flawless. While attending a horse show, I would imagine myself on a large grey horse galloping away from the last jump. I turn to the clock and realize I had won the class, so I pat my horse in celebration. 
  After three years of gaining experience and working hard, I half leased an old sassy mare. Although I wasn't too fond of her because she was 25 and I thought she would collapse every time we jumped, I remained ecstatic to lease a horse.
   Less than a month had passed and I walked into the barn on a scorching hot day, expecting to give Bunny a bath. I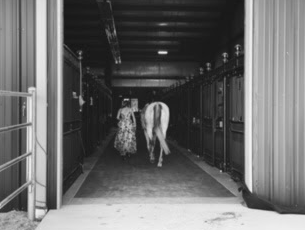 turned down the aisle and a huge red bow hanging from Bunny's stall door caught my eye. I walked closer to see a massive grey horse in Bunny's stall. I looked around, wondering who the horse belonged to. Seconds later, my parents and grandparents emerged from a stall and I realized. I realized he belonged to me. On June 28, 2018, I was surprised with a 16.3 hand Dapple Grey Thoroughbred gelding named Blue. My biggest dream came true.
   I sat in the arena with my trainer and made a list of items I needed for my new horse. We talked about shows we would attend and planned Blue's training day by day. I found his favorite itchy spot, I sat with him when he lay in his stall, he followed me around in the arena. We built an unbreakable bond. He became my best friend.
   Winter came and Blue, along with other horses, were neglected by the staff, which resulted in Blue having extreme weight loss, so we had to move barns. 
   The new barn was great, but not for long. My new trainers started telling me Blue presented lameness and that he needed to see a vet. I didn't think much about the situation because my previous trainer never mentioned any problems.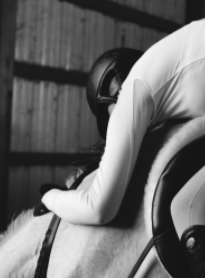 We started with a regular vet who didn't find much and recommended hock injections. After injecting his hocks, my trainers were convinced that the injections did not help and brought in a lameness specialist. The lameness specialist took blood, gave lameness exams, blocked nerves, took ultrasounds, injected his hocks, performed acupuncture, and gave a chiropractic adjustment. She diagnosed Blue with IBD and the same mild lameness as before. Treatment options for IBD included a dietary supplement, or an expensive trip to MSU for steroid injections, so we chose the supplement route and thankfully, his IBD resolved as he finally started gaining weight. The vet recommended rehab and light work for his mild lameness.
   Months went by with no improvement. The lameness specialist came back and continued to recommend rehab and light work. Knowing that my best friend was in pain, but not knowing how to help him, tore me apart. I set my dreams aside to ensure Blue still had my heart. 
   I handled the situation well until one conversation sent my mental health over the edge. A meeting with my trainers discussing my next steps in leasing a horse turned into an ambush. "He is broken and worthless, you need to sell him," my trainer said. I was appalled. My trainers saw Blue as a burden to my riding career, while I saw him as the light in my life. The heartless nature of the people at our barn pushed us to move again.
   The new barn welcomed Blue and I. Blue and I thrived in our new training program. Blue couldn't jump, but we intensified his flat work. Soon after the move, Blue became lame again and I was crushed. I thought Blue had healed.
   My new trainer recommended a bone scan, or a trip to another lameness specialist. 
   A visit to the lameness specialist revealed an extremely damaged ligament in Blue's back. Blue needed six months of rehab, two of those months including strict stall rest. Blue's prognosis predicted he would recover 100%. Hearing Blue's prognosis ignited the flame in my body that had gone out. My best friend will be pain free.
   Blue hated stall rest. He became highly unpredictable. I encountered countless unsafe situations because of Blue's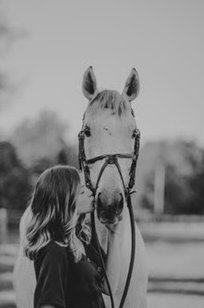 energy increase. I knew Blue would never hurt me on purpose, but too many close calls of getting kicked in the head developed my fear of my horse. I was disheartened. Not only could Blue hurt me, but he could hurt himself and undo his rehab. Going to the barn every day got more difficult. Doubting was inevitable. I waited for the other shoe to drop.
   Towards the end of rehab, the positive results were nowhere to be found. Blue remained the same.
   A consultation with a veterinarian from MSU concluded our journey. The vet looked over Blue's medical records and my explanation of his problems. The vet explained that a $3,200 bone scan would be the best option, but most likely would not provide results. The phone call destroyed me as I knew our next step. 
   Seven vets and thousands of dollars later, I decided to retire Blue. This decision took everything I had. I didn't want to put Blue through any more pain. I feel that I've let Blue down, but I know this decision is best for us. 
   Three years of constant downs have prepared me for this outcome. Blue will remain in my possession, as I can't imagine life without him. He taught me lessons no other horse or human could. He made me who I am today and for that, I am forever grateful. 
   Although my dream became a nightmare, I'd take Blue over any horse every time.