A dream come not so true: How Covid stole a dancer's dream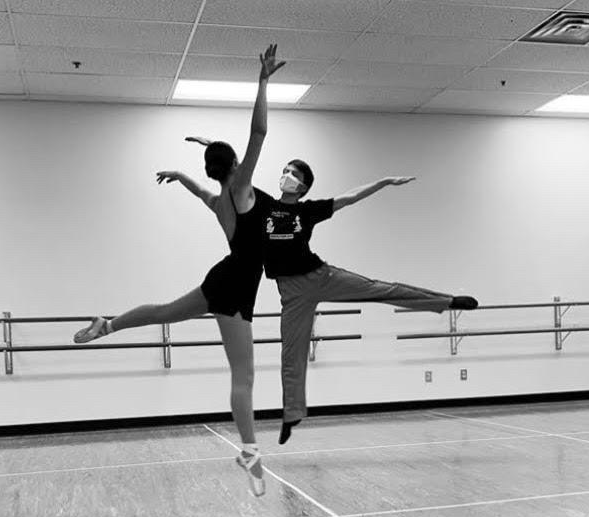 "The moment before going on stage is very exhilarating. The adrenaline is flowing and you're nervous but excited…I can hear the audience quieting down and I see the rest of the backstage members getting ready…It's time to make it all worth it, and perform like I never have before…There is no better feeling." Imagine what makes you the absolute happiest, getting ripped away from you. 
   Cora Grissom is a 15-year-old sophomore at Holland High School. She has been dancing for 12 years. She first started dancing at Ballet Minnesota and then she moved to Michigan where she now dances at Avalon School of the Arts. She trains many days a week in multiple demanding styles of dance including ballet, jazz, and modern.  
      During the spring of 2020, the world was struck with Covid-19. Many dancers including Grissom were concerned about how dance would be affected because of the pandemic. Many dancers had to start taking classes virtually via Zoom. "Doing classes and learning choreography over Zoom was horrible. I felt like it was pointless to attend class because it didn't feel like I was learning or doing anything. It's really hard to get corrections over zoom, and choreography is hard to learn since you can't see the tiny details or ask specific questions," Grissom said. "I don't think anyone who isn't a dancer can imagine how difficult it was." She explains that she struggled to stay motivated in dance during the pandemic, and it was difficult to stay positive about the future. "I don't think anybody at my studio thought we were going to be able to ever put together a show in the middle of COVID. It kind of felt like everything we had worked on that year had been put on pause."
   During the height of the pandemic(Summer 2020), something most dancers had on their minds was The Nutcracker Ballet. The Nutcracker is a Christmas ballet that many companies begin preparation for in the summertime. Every young ballerina dreams of this show. The beautiful orchestral music of Tchaikovsky, the graceful powdery snow that falls during the waltz of the snowflakes But most importantly, the beloved lead character, Clara. Clara is a set goal for many young dancers. But out of the hundreds in a company or a studio who thrive to be her, there can only be one. 
   When Nutcracker season came along, there was a buzz in the air but also a sense of worry. Many dancers including Grissom were anxious about what the show was going to be like. "I was relatively worried about COVID when it came to the Nutcracker season…I was worried about not being able to dance on stage, in front of an audience, or having to learn choreography virtually," Grissom said. 
   The week came about where it was time to find out who would be playing the desired role of Clara. "Clara has always been my dream role since I was little," said Grissom. "I've wanted to be her since I could remember(for 12 years)…I had been refreshing my email every second during the time the cast list was supposed to go out. I remember it popping up and getting so excited to read it." The moment of suspense before reading the cast list is a feeling like no other. "You are nervous because you could have your heart set on a role that you might not get, but there is always a sense of hope," said Grissom.  "When I opened it and I read my name as Clara, I was quite literally jumping for joy. I was super excited and told all my friends." She felt good knowing her work had finally paid off. 
   Grissom knew that the circumstances were going to be unusual because of the setbacks of COVID, and after all of the excitement of her role died down, she started to worry again about what her experience would really be like. A few weeks after rehearsals started, it was announced that The Nutcracker was not going to be performed on stage with a live audience. Instead, it was going to be performed at an outdoor amphitheater and it was going to be recorded instead of having an audience. " We were in our ballet class when I found out. After finding that out I was pretty much trying not to cry the rest of our class. It was pretty terrible and I did end up bursting into tears after. I kind of already knew it realistically wasn't going to be live but I was hanging onto the small hope that it was," Grissom said. "Part of the magic of the show is the bright lights, the applause of the audience, and the feeling of the music all around the theater. It broke my heart that it wasn't going to be like that." 
   She mentions that staying positive during the circumstances was not easy. "In all honesty, I couldn't stay positive. I really tried to act like it was fine when in reality it was not. Everyone told me it's a memorable experience and I tried to go along with that idea but it just wasn't it. I had to constantly remind myself that I was still achieving my childhood dream no matter what."
   Because of the pandemic, multiple setbacks continued to follow. "We had to push the filming dates up to a week earlier due to COVID which means we lost a week of extra rehearsals. That was rough because I hadn't even learned all of the choreography for certain things yet. I mean we were literally learning choreography for the end scene during the filming. Another thing is we had to perform on a concrete stage outside. That was really horrible because it was freezing out and my ballet shoes ended up being ruined and torn up from dancing on the dirty stage."
   Grissom explains that throughout the production she felt as if she could not complain due to her lead part in the show. "I knew I needed to be thankful for the role and I was, but it felt as if because I got the lead role that I couldn't complain about things not being ideal." It was hard for her to pretend that everything was okay when it really was affecting her greatly. "I think people didn't realize how much it affected me deep down…I feel like everyone else in the show just thought of this year as 'the COVID Nutcracker'…Like it didn't really matter to them, but it was very important to me," said Grissom. 
   When it was time to record the performance, all of the dancers were told they had to perform with face masks on. "The mask was way too big on my face and it was nude color so it looked like I had no lips. It also would ride up to my eyes so it was hard to see…Something that is so important to Clara's character is her emotion and I was scared I wasn't going to be able to perform that part as well with most of my face covered," Grissom said.
   Recording the performance was full of mixed emotions for her. "I was very happy and grateful to be playing Clara but everything just felt off. I feel like the pandemic had just taken away what could have been such an incredible experience." It was not how she would have imagined her debut as Clara to be like. "The specific Clara role I wanted to play was a production done by Ballet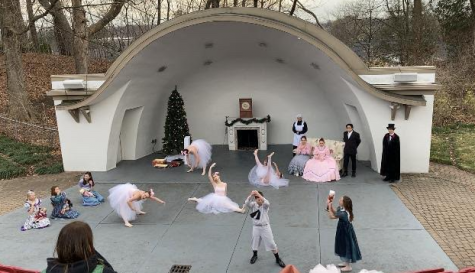 Minnesota…I always dreamed of being on a huge stage with a big audience." Dancing in front of a half-empty amphitheater and a video camera was never what she had in mind. "It was weird. The only ones there were cast members and teachers."
   The most important part Covid-19 took away that she missed the most during the whole production wasn't dancing without a mask, it wasn't having a spotlight on her, it was the audience. "Personally for me, the magic of dancing comes from the audience. If you aren't a dancer, you don't understand that feeling and energy when all eyes are on you. Most of us dancers were once little kids who dreamed of being that dancer on stage so it's magical when you are able to see the joyful faces on the kids and I was sad that I wasn't going to be able to do that."
   Grissom mentions that at one point she did want to give up her lead role. She felt that it was a one-in-a-lifetime opportunity to play Clara and the circumstances were the complete opposite of what she had always dreamed of as a young dancer. "I took all of the setbacks of the show and the effects of COVID very personally. I felt sad and angry that my one chance to play this part was so different from what I had always dreamed of…At some moments It didn't feel worth it…But I had to remind myself that even though the situation was not ideal, it was going to be a memorable experience," said Grissom. 
    "After the show, I was very thankful that the teachers were willing to give up their time to try and make the best out of the situation. COVID hit pretty hard and it's amazing to see my teachers trying so hard to make the show work out to some degree instead of giving up…even after all of the emotion and obstacles I faced…I am incredibly grateful that I was given the opportunity to pursue my dream role and bring some magic into a community that had been affected so dramatically by Covid-19."
   "At the end of the show there was a part where I could take my mask off because it was just me on stage; It was the finale. While we were filming the very end scene I cried quite a bit. It's an emotional scene in itself as Clara wakes up finding the crown she received in the land of sweets realizing it wasn't a dream. The music plus the scene made me crazy with emotion and I was sad that my entire Clara experience was coming to an end. I think I also had many pent-up emotions from the whole situation. I just cried."
   Grissom's love for dance continues and she is hopeful that she will be able to return to the stage this year and find a sense of normalcy in dance again. She is so grateful that she was given the opportunity to perform her dream role even with the hardships of COVID. "There was definitely a possibility of the show not happening, but I am so glad that we pushed through and were still able to do it," said Grissom. Many dance studios and companies were affected by the pandemic and some weren't able to perform all year so Grissom is very grateful that her studio still found a way to put on this beloved show. "Even though the circumstances were far from perfect, I feel like I've grown a lot as a dancer and a person. It also makes me so excited to hopefully soon be back on stage again."