America: On fire and under water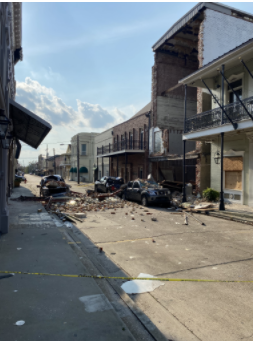 Roaring fires wilt vegetation. The smell of burnt leaves wafts through the air. Four million acres of the West Coast have been ravaged by the wildfires. California is in flames. 
   People in Louisiana slosh through backyards to push old wooden canoes out of storage. The water is rising. Time is running out.
   A family of five trudges through their home, pushing past floating furniture. Flooding has swallowed New York, and citizens are gasping for air. 
   Climate change is no longer debatable; it is real, it is dangerous, and it is affecting the lives of Americans.
   California is no stranger to wildfires, but the 2021 wildfire season has been remarkably destructive. The fires have been more detrimental than ever, wiping out cities, homes, and forests. 
   Nicole LaBore, a resident of Woodland Hills, California, has noticed the contrast between this year's wildfire season and those in the past. "Our summers are ridiculously hot, and this year, drier than ever. So we've had some larger fires around us earlier this year," she said.
   Nicole, her husband Pete, and their family have grown accustomed to the looming threat of California's wildfires. They both recall their first year living in California and receiving a text late in the night that instructed them to prepare for evacuation.
   "Since it was our first experience, we had no idea what to do. Was this real? If we do leave, where would we go? How much do we pack? Where would we take our animals?" Pete said.
   Each wildfire season, that threat becomes more prevalent; the same is true now as intense droughts make the environment more prone to fires.
   Wildfires are overwhelming the West. 
   "It's a fear lingering almost the entire year. You hear the constant roar of planes and helicopters fighting the fire. Roads are closed, hiking trails are closed, and sometimes you could literally see the fire when driving down the road," Pete said.
   Luckily for Nicole and Pete, the fires that scorched California have spared their home, although the threat remains.
   "We've had friends that have had to evacuate their homes or had to miss work or school due to evacuation. We've also had school canceled due to smoke," Pete said.
   The state of California is up in flames. People are losing their homes, possessions, and ways of life. 
   In the Southeast, Americans are facing another type of threat.
   Hurricane Ida originally touched land in Cuba on August 27, 2021. Two days later, the storm reached Louisiana. 
   As a category four hurricane, Ida was dangerous. Power outages, flooding, property damage, and evacuations have become all too familiar for Louisianians. 
   Robbie Dakel, a principal in Alexandria, Louisiana, has seen hurricanes impact his community before. "Last year, almost exactly a year ago, our town was struck by Hurricane Laura. With that storm so close in our memory, we were definitely worried about Ida." 
   "When we saw the storm forecasted about a week before landfall, everyone stocked up on supplies," he said. Equipped with power generators and portable air conditioners, Dakel and his family were prepared for the storm.
   The majority of Ida's devastation in Alexandria was from rainfall and wind damage; however, the hurricane was more destructive to the east. 
   Dakel and his church members made the few-hour commute to Thibodaux, Louisiana, to deliver essential supplies. "In Thibodaux in particular, they were without power for a week. Deeper into the storm, it was even longer. The entire city of New Orleans lost power because several of the main lines – the giant towers, not the regular poles – collapsed into the Mississippi River."
   These severe conditions have forced citizens to face the idea of leaving everything behind. "Many people evacuate, but many are not able to either because they choose not to, or they can't afford it. Even in Alexandria, all the hotels sold out," Dakel said.
   The state has made efforts to protect its citizens, but there is only so much that can be done. 
   Dakel, familiar with Louisiana's weather, recognizes the lasting impacts Ida will leave behind. "The dangerous conditions can last much longer than the initial storm," he said.
  Outside of Louisiana, Hurricane Ida has devastated numerous other communities. The aftermath of Ida has brought along countless issues.
   As the storm surged on, Northeastern America experienced flooding so powerful it nearly overtook cities.
   In just one day, New York experienced more rainfall than it typically does in an entire month.
   Nina Davis, a high school student in Brooklyn, New York, watched the water submerge both her town and her home. 
   "It was scary to go down in my basement and see the water pouring in through the wall. It kind of looked like a faucet was on, but it was the wall," she said. "Then the next day, I was trying to drive out of the city into upstate New York. I actually couldn't make it. There were all of these cars that were abandoned in the middle of the street because they had flooded. They were just left there."
   As the streets and underground infrastructures filled with water–suspending subway lines and ways of transportation–many cities in New York declared a state of emergency. 
   West Ottawa alumni Lily Peters recently moved into her apartment in New York City. The flooding did not wait for Peters to situate herself in her new home.
   "It had been raining for a while, but it was getting dark and visibility was decreasing. We were sitting in a group of stopped cars for a few minutes when we saw cars ahead of us turning around and driving back west on the eastbound freeway," Peters said.
   Confusion settled in for a moment before Peters and her family realized what was happening. "After a few more minutes, enough cars had cleared that we could see there was a significant amount of standing water on the road. We watched as a sedan trying to get through the water started floating and got pushed against a side rail. I looked out the window and saw more and more water streaming down the shoulder. I was terrified, and it was becoming clear the flooding was only getting worse," she said.
   Peters found a hotel to stay for the night and continued moving in the next day.
   "In the morning, we learned that several people had died in the floods. The weather was beautiful and surreal. It was sunny and dry, almost like nothing had happened," Peters said.
   California is on fire, Ida is relentless, and New York is underwater. The time to deny climate change has passed.