Comparing high school and college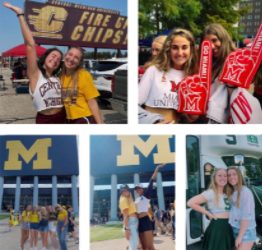 Sitting in the bleachers of the West Ottawa High School gymnasium I scanned for my sister in the rows of students, seeing her in a white gown I directed my family's attention to where she stood. In the middle of the back left row, standing next to her friends she was directed to the stage.
   "It all happened so fast that I don't remember exactly how I felt, I remember thinking 'don't trip, don't fall' and to make sure I stood in the right place for the photo, and then just like that it was over. I had mixed emotions because I was excited to move on but also sad that this big part of my life was coming to an end," Leah Hopkins said.
   May 28, 2021, was a special day for the seniors at WO; they received their diplomas from Principal Jason Reinecke, announcing their final day of being high school students. 
   Only a few months later, many of those seniors were on their way to college. Leaving their family behind quickly students will create new experiences and take more responsibility in daily tasks.
   NEW RESPONSIBILITIES  
  Frosh. Leah Hopkins (University of Michigan)
   "My lifestyle has changed quite a bit since coming to college. When I was in high school I always considered myself to be independent, but now I have to be. I have a lot more free time than I did at home, considering all the classes and homework I have. I am responsible for getting my own food, cleaning my own living space, advocating for myself in such a big place, meeting new people to make connections to those around me, and keeping myself on track and focused." 
   Frosh. Aubrey Patchin (Central Michigan University)
   "I think the newfound responsibility I've taken adjusting to is you don't have your parents around reminding you to do some things and it's just a whole new world basically. Finding balance in everything takes time but it's also so great to be out on my own."
   Frosh. Genna Lebster (Michigan State University)
   "Every day I have a new class time, a new practice/workout time, and new eating times so having an inconsistent schedule is probably the biggest change so far. New responsibilities I have taken upon myself have decided when and what I'm going to eat each day instead of my parents making me food."
   Frosh. Kennedy Dumas (University of Michigan)
   "I've had a lot more work to do in terms of school work. I feel like I've been doing homework nonstop since I got here. On top of the workload I've had, the other day it was so hot in my dorm it was so difficult to focus. I've had to learn to live independently and not rely on anyone holding me accountable for my schoolwork, exercise, and other basic daily tasks." 
   Frosh. Lydia Foy (Miami University)
   "My lifestyle has changed so much. I find myself taking more responsibility in general. I have become so much more independent! College makes you want to take care of yourself and your well-being!" 
   FAVORITE EXPERIENCES
   Frosh. Leah Hopkins (University of Michigan)
   "I have enjoyed a lot about being in college but one of my favorite parts is experiencing a new community. I haven't lived in a city before, and since it's such a big school, there is always something to do! Although I miss the woods from home, being in a city is so exciting. I also enjoy going to sporting events and seeing all the school spirit!" 
   Frosh. Aubrey Patchin (Central Michigan University)
   "My favorite experience so far has definitely been game day, it's so fun to see everyone come together and it's so fun. It's also just so cool to do something normal again after the past year and a half!" 
   Frosh. Genna Lebster (Michigan State University)
   "My favorite experience at college so far is meeting all the new people on my team and on my floor in my dorm, all of them are so fun and unique. It's so exciting getting to know them!" 
   Frosh. Lydia Foy (Miami University)
   "I have loved meeting new people in college, there are so many different people here from all over the country. Making new friends with different life experiences has taught me so much."           
   Frosh. Kennedy Dumas (University of Michigan)
   "My favorite college experiences so far have been game days and being able to go watch football with friends in person. Also, club tennis practice where I've been able to meet other new people and stay active."
   HARDEST CHALLENGE/EXPERIENCE
   Kennedy Dumas (University of Michigan)
   "The hardest thing I have encountered so far is having to start over. It's extremely hard to meet new people and create an entirely different group of friends when you haven't had to do it in so long."
   Genna Lebster (Michigan State University) 
"The hardest thing that I've encountered so far is trying to get my schedule down. I feel like I'm constantly running around and I don't have a good schedule of my days planned out yet."
   Aubrey Patchin (Central Michigan University)
"I think the hardest thing I've encountered so far is just the school/life balance. While being here it's just so different since you're living at school everything revolves around school and you have to balance social things too so you're not just doing school 24/7. It's definitely an adjustment but a good one at least!"