Sarah Moraw: Her accomplishments speak for themselves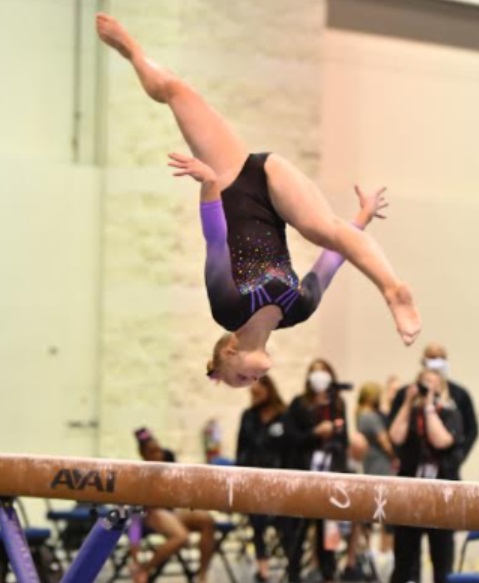 With a deep breath, Sarah Moraw ducks under the lowest of the uneven bars and steps onto the trampoline. With no hesitation she jumps, launching herself into the air before grasping the tallest bar. She hoists herself up until she is in a handstand on the tiny bar. 
   Moraw leans forward and whips around the bar twice before letting go and flipping through the air. In one swift motion she grabs the bar and launches to the other bar. She is flying. 
   Last month, Jr. Sarah Moraw and the best gymnasts in the country competed at Nationals held in Daytona, Florida. After a long day of carefully executed routines, Moraw walked away as the All Around Senior A National Champion and Senior A National Beam Champion. 
   Moraw said, "I think my last two routines, bars and beam, were most crucial to my win. I had a pretty successful two events, so just being able to keep the trend going was very important because it is about how you perform on all four, not just one."
   Moraw definitely kept her momentum going throughout the competition scoring 9.525 on balance beam, 9.625 in floor exercise, 9.625 on uneven bars, and 9.600 on vault. Moraw had an overall score of 38.375.
   Despite appearing to execute her routines with ease, Moraw has put many hours of practice into each specific part of her routine. 
   One specific skill, the Jaeger, was a key part of nailing her uneven bars routine. The Jaeger is a complex move on the uneven bars that requires the gymnast to release the bar mid swing, do a front flip, and catch the bar. 
   While Moraw makes all her skills look easy, skills such as the Jaeger take many years to master.
   Head coach of Champion Gymnastics Tami Schaafsma said, "Learning a skill like this takes literally thousands of turns. At first you miss but each miss gets you closer to doing it correctly."
   Skills such as the Jaeger require an immense amount of patience and determination to learn. Teammate Jr. Stephanie Lebster said that Moraw is an extremely hard worker which allows her to be so successful. 
    "She always has the best attitude and comes at every challenge with optimism," said Lebster.
   Moraw said she first started working on the Jaeger around three years ago. Her first steps to learning the skill actually started without the bar. 
   "First we start off not even really on the bar, more like the self awareness in the air. So a lot of stuff on the trampoline and drills like that, doing like front tucks and half out and stuff like that," Moraw said. 
   After gaining the self-awareness that is so crucial for the Jaeger, Moraw moved to the bar to practice the timing of the skill. She practiced the grip and the reaches on the low bar in order to get a sense of the movement.
   Moraw said timing is very important for technical skills,  "You have to be at a particular point or everything else is messed up," Moraw said.
   After learning all the individual parts of a skill, gymnasts practice putting all the parts together. "In most cases, we are able to attempt new skills on softer landings like into the foam pit or onto a really soft mat," Schaafsma said.
   Moraw said she is no stranger to falling while learning new skills, especially while she learned the Jaeger. 
   "If you fall on the mat it's not terrible because we have like an extra one that we throw under the bar when you let go just in case you fall which happens a lot for me because it's not my best skill. But it doesn't feel great so it is nice to catch the bar," Moraw said. 
   Weeks before the competition, Moraw and her teammates mainly completed mental sets and pressure sets to prepare for Nationals.
   During the mental sets, Moraw imagined every individual aspect of the routine, the Jaeger, the handstand, the flips, and the dismount. 
   "[We were] doing more on the mental side because at this point in the season we have been doing a lot of numbers so it was more just trusting in your training," Moraw said.
   In addition to mental sets, the girls also did pressure sets to prepare to compete under the extreme amounts of pressures at Nationals. 
   Moraw explained that in pressure training, her and her teammates were put in a situation that evoked the feeling of stress that they would encounter during their routines. For example, if they fall off the beam in practice, they would have to do five rope climbs.
   "You are like 'oh I gotta make it now.' So it's like that feeling you get when you are competing in front of a bunch of people, which is helpful to practice," Moraw said. 
   At the competition, Moraw used the techniques she practices in her mental sets to clear her mind before her uneven bars routine.
    "I took a deep breath and told myself 'I can do this' and I envisioned past routines that I had made and told myself I just had to do one more just like that," Moraw said.
   After clearing her mind, Moraw glanced over at the judges and saluted, signaling it was time to go.
   She heard her teammates and coaches screaming and cheering as she approached the trampoline. In one swift motion, Moraw leapt into the air and grabbed the bar.
   "Once I start the routine I pretty much block out all of the sound around me," Moraw said.
   She pulled herself up into a handstand before leaning forward and flipping around the bar. Once she reached the top of the bar again, she did a half turn to set herself up for the Jaeger.
   Once she reached the back of the bar, Moraw let go. She felt her body stretch and contract as she flipped mid air. 
   "It looked like I was too far away. In my head I was going 'oh crap' and then I stretched my arms as far as I could and trapped the bar by my fingertips," Moraw said.
   After nailing the Jaeger, Moraw felt a wave of relief and flew over to the shorter bar. She pulled herself up and stood on top of the bar. With her arms outstretched she jumped and caught the taller bar.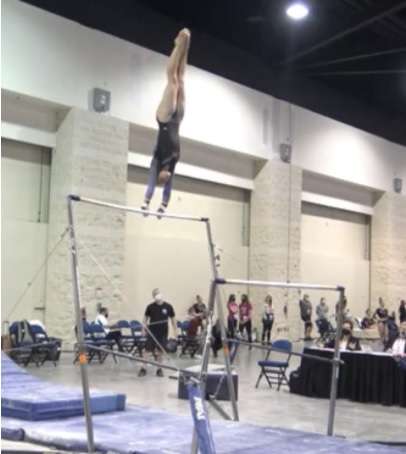 Moraw pulled herself up into a handstand one last time and leaned forward. She flew around the bar three times before letting go and executing a series of flips before hitting the mat. 
   Despite the Jaeger's difficulty, Moraw's hard work paid off and helped her earn crucial points in her uneven bars routine. 
   Schaafsma said that Moraw's dedication to learning the Jaeger was not unusual. She notes that Moraw consistently is a hard worker in the gym and that her dedication is evident in every routine. 
   "She tries to make each turn her best turn. She's someone that we can always count on to make her routines in competition and score really well and that's a testament to the way she practices everyday," Shaafsma said. 
   Lebster agrees, explaining that Moraw is resilient and always has a positive attitude despite the challenges she faces. 
   Lebster explains that Moraw has had some shoulder issues the past couple of years. Despite her injuries, Moraw continuously trains with 100% of her effort. 
   "Instead of making excuses she just pushes through, does extra therapy and conditioning, and keeps a positive mindset," Lebster said. 
   Lebster said that Moraw is a great role model for all the younger/ lower level girls at the gym because of her drive to reach her goals and support her team. 
   In addition to being a hard worker, Moraw's coaches and friends say she is also extremely humble.
   Shaafsma said, "Sarah is very humble, likes to try new skills, and is always pushing herself to be the best she can be."
   Jr. Anna Krupka, one of Moraw's closest friends, said, "Half of the time when we are with someone and they ask about her gymnastics, I have to tell them how good she is." 
   Despite her humility, Moraw's accomplishments speak for themselves. While she makes flying through the air look effortless, hours and hours of hard work are put into every aspect of her routines. 
   Moraw is planning on attending and competing at Minnesota University after she graduates from West Ottawa. Until then, she plans to continue to work hard to improve her skills.