Former All-American and National Champion, coach Danielle Barnes knows a lot about winning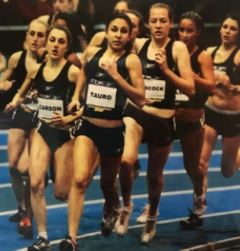 Before Danielle Barnes was a national champion, before she had even put on a pair of running shoes, she performed on a stage not on a track. 
   The summer before her freshman year Barnes had hoped to land a part in the school play. Throughout middle school, she was an active member of her school's theatre department participating in a variety of plays and musicals, running wasn't even on her radar. 
   After the mile run in gym class, the girls varsity cross country coach approached Barnes. She remembers him giving her a handwritten letter recruiting her for cross country. "It talked about how he sees potential in me and that got me really excited. I was like 'oh my gosh someone believes in me.'"
   Barnes went out for cross country midway through the summer with absolutely no experience and an obliviousness for competitive running. "I didn't even own a pair of running shoes. I literally showed up to practice in one of my theatre shirts, and I didn't have a sports bra or running shorts."
   Brian Zatorski, Barnes' high school coach, vividly remembers Barnes' first day of practice. He said, "You showed up in your skateboard shoes, and on the warm-up lap you had this look of absolute terror in your eyes of 'oh my gosh, what did I get myself into here.'" 
   While Barnes didn't have prior running experience, she had some experience with physical activity. "I did dance and that was fun and got me fit and active so I had a base under me, but it was a whole different activity and exercise that I was leaping into when I started running. But it was worth it."
   With only half a summer of training, she ran her first 5k. Looking back, the time was pedestrian, but it was just the beginning.
   Zatorski remembers the only time in Barnes' career when she was average, "You ran 27 minute 5ks because I have results of you running 27 minute 5ks. They exist, I have them."
   By the end of her freshman year, Barnes had shaved off almost five minutes from her 5k time and was no longer suffering through every run.
   Rachel Ruggiano, one of Barnes' teammates, did not have high expectations for Barnes. Ruggiano said, "I was thinking -good lord…this girl is not going to last…and here we are, boy am I glad I was wrong!"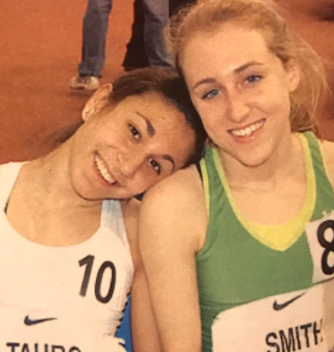 Barnes said, "I remember we had a two-mile freshman cross country race, and I was in front of the pack for the first time. I started to compete and my killer instinct started to surface for the first time in my life. I wound up winning the cross-country freshman title, but more importantly I started to have glimpses of promise in myself. And eventually it did all click and it all began in my first freshman cross season."
   Barnes continued to train and ultimately decided to run indoor track instead of drama. She said, "I would say my progression during indoor wasn't huge but it was really important for setting me up for a successful outdoor season." 
   Barnes had only been running for nine months when she entered her first outdoor track season, but it was during this season that she became a true competitor and showed her real talent.
   A big turning point that season was when she went against a previous state champion in the 1600 meter run. She said, "I just sat on her and took off like he (Coach Zatorski) said I should and didn't slow down. I think the girl probably thought I miscounted laps or something. By the time she realized I wasn't slowing down, it was too late for her to close the gap and I finished and ran like a 5:11 mile." 
   As the season progressed, Barnes continued to improve and developed her killer instinct and thirst to win. She said, "I just wanted to win things. I didn't know what that was going to do for me, I just wanted to win."   
   At the Meet of Champions, Barnes remembers lining up next to the fastest 1600 meter runner in the state, but instead of intimidation, she felt determined. "I sat on her and 300 meters to go I ran like I was running for my life, and I ended up winning with a time of 4:52." 
   The true highlight of her season was a few weeks later. "We went to Nationals, and it was so much fun. As a team, we got to be All-Americans in the distance medley relay (DMR) and got on the podium. So that was my freshman year and it just took off from there."
   With more experience and training, Barnes continued to improve during her sophomore year track season and earned herself a spot as an individual in the 1600 meter run at Nationals. Barnes said, "I went out way too fast like in a 2:16 that first 800. And I was hurting. That third lap I was going backward, I was in third and then I fell off. Then I heard my coach say, with about 600 meters to go 'Don't forget what you came here for.'"
   Barnes had come to be an All-American, so she dug deep and with 400 meters to go she took off. She remembers the deep concentration she had on the girl in third and she could feel herself being pulled forward.
   Catching the girl on the line and placing third, Barnes ran a 4:43 in the mile and took the title of All-American.
   After her amazing performance at Nationals, Barnes was not fully satisfied, so she set new targets and goals. "I wanted to be a four-time New Jersey state champion in the mile. I wanted to be a national champion. I wanted to win relays as a team."
   Barnes' junior year was no disappointment. She ran a 4:39 in the mile and won Nationals at the High School Championships.
   After winning Nationals, Barnes went on to compete at the USA Junior Nationals Competition for 16-19-year-olds in the 1500-meter run. This was Barnes' first taste of professional competition and a chance for her to get international exposure.
   Going into the race Barnes remembers thinking, "I'm going to fight like hell to win this race and if I die I'm going to die trying. I'm going to leave it all on the track. That mentality took me far."
Barnes recalls the race going out in her sweet spot, not too uncomfortable, but still hard.
   At the 800-meter mark, she settled and waited for the pace to increase. With only 300 meters to go everyone began to take off and Barnes was leading the pack. She could feel a freshman from Baylor coming up behind her and at 200 meters left she found another gear.
Barnes said, "I look back and watch videos and it looks like a wind-up toy. The pace at which my legs were moving was so fast. When I finished that race, I secured my ticket to Beijing, China to compete in the World Championships."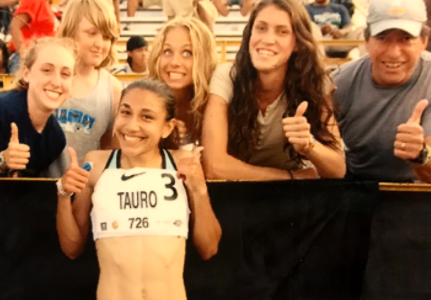 Beijing was the first opportunity Barnes had to wear the USA uniform, an experience she says she will never forget. Barnes said, "China was such a wild and cool experience that I wouldn't have got to experience and never would have dreamt of had I not gotten involved in this sport. I'm sure I would have enjoyed theatre, this would have never been on my radar, but like man I am just thankful I took that chance."
   Coming back from China and going into her senior year, Barnes was overwhelmed with school, training, and the college recruitment process. Barnes had the goal to sign early, which meant she had to sign with a college team by November of her senior year.
 In order to reach her goal, she was flying across the country most weekends while continuing to train, causing her to burn out mentally and physically. She said, "It was exciting and fun but it was also hard to balance all the work and school I was missing. It was just chaos. I had to open my first race of the season at states. It was so nerve-wracking. I knew I could win but it was a lot of pressure and there was a lot of stress that went with that."
   After graduating from high school, Barnes continued her running career at the University of Michigan.
   High school running to collegiate running was a major transition. She remembers the training styles were drastically different, and trying to excel on the track and maintain good grades in the classroom was difficult. Barnes said, "On the starting line of workouts, I'd pr in the 1000 meter rep that we just ran and then I would just be on my hands and knees until we started the next rep. I did the most incredible workouts I had ever done. But by the time we would get to races I was toast. My legs were just dead."
   While the initial adjustment was difficult, as time went on she began to have more success.
   Three out of her four years of college, Barnes and her teammates were All-Americans in the DMR at Nationals. Every year, Barnes and her teammates won Big Tens in the DMR. Barnes said, "It was just cool to continue focusing on those relays, and yes as an individual I got better but my focus was on the team. So it was fun to see us improve and compete at a high level."
   After her senior year of college, Barnes had a season of eligibility left so she stayed a fifth year to train for the US Olympic Trials. 
   During that year, Barnes focused on the 1500 meter run and saw a lot of improvement; however, she didn't end up making the Olympic Trials. Barnes said, "They take 30 people in the Olympic trials in the 1500 and I think I was number 38. I was pretty disappointed, but I stayed in Ann Arbor and was still training to do some professional races in the summer."
   With the disappointment of not making the Olympic Trials and a summer of training, Barnes moved back to New Jersey and ran for a professional track club, the New Jersey-New York Track Club. The track club consisted of professional athletes sponsored by different running shoe companies. 
   While Barnes didn't have a sponsorship when she joined the track club, she was trying to earn one. It was a long year of competing and she remembers feeling emotionally and physically drained.
   An important factor in Barnes' running career had always been her bond with her teammates, but during her professional career that feeling of "family" was missing. Barnes said, "It was a hard dynamic because some athletes that were in that club were my high school rivals. So it was weird then going on being teammates with them. It was this feeling of mistrust and I know that they want to beat me all the time. And yes we are competitors but I don't want to think about my teammates like that."
   Barnes no longer had a healthy relationship with running. The track was no longer an escape; instead, it was a stressor on her life.
   Realizing that it was her life and her story, Barnes ultimately hung up her spikes and ended her competitive running career.
   At the end of the summer, Barnes went out with a bang by competing for Team USA in Israel at the Maccabi Games. Barnes said, "I won the 1500 meter run there, and that was a really cool experience again just running for team USA. And then I was done after that."
   Now, Barnes runs for pleasure and coaches the girls cross country and track and field teams at West Ottawa High School. She said, "Being able to coach and help athletes find themselves in the sport, hopefully fall in love with the sport, and make them see that they are capable of more than they ever believed is just a really cool opportunity. It all just comes full circle."